"Until the very end": Human Rights Watch issues report on political prisoners in Uzbekistan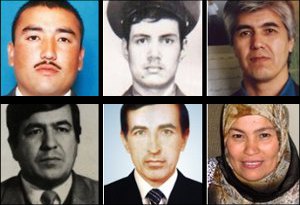 Human Rights Watch presented a report entitled "'Until the Very End': Politically Motivated Imprisonment in Uzbekistan" in Warsaw, Poland. The 121-page document is based on 150 in-depth interviews with the relatives of political prisoners, their lawyers, human rights activists and former Uzbek officials. The report author Steve Swedrlow of HRW told Fergana the compilation of the report in question took six years.
"We used information shared with us by 10 former political prisoners, who were released over the last two-to-three years: Turaboy Juraboyev, Norboy Kholjigitov, Abdurasul Khudoynazarov, Makhmadali Makhmudov, Farkhodkhon Mukhratov, Kayum Ortikov, Nematjon Siddikov, Mutabar Tajibayeva, Sanjar Umarov and Gulnoza Yuldasheva. We have interviewed the relatives of currently incarcerated prisoners and those recently released, as well as lawyers and human rights advocates. We had a thorough discussion with an official, who worked in the penitentiary system of Uzbekistan for seven years."
How did you encourage the relatives to speak up? Are they still hopeful or did they actually lose any hope, given the fact they agreed to be interviewed?
"I believe this is one of our victories – many relatives were able to overcome their fear and got involved. The Muhammad Bekjan family is a case in point. They remained silent throughout the 15 years of his imprisonment. They then approached us and said, "You know, we did what diplomats suggested – we remained silent. What did that bring us? To an extension of [his imprisonment] time?" (Muhammad Bekjan was slapped additional five years of imprisonment only a month before his official release date – editors.) So people are starting to understand that the "soft approach" yields no results. During our research, we saw them become resolute to testify and fight for the release of their relatives, and that was courageous."
Aygul Bekjan: "I hope my father returns"
Aygul Bekjan, the daughter of the imprisoned journalist and oppositionist Muhammad Bekjan, joined the HRW news conference in Warsaw. The Uzbek secret services abducted Mr. Bekjan, then chief editor of the Erk [Freedom] newspaper, in Ukraine and charged him with involvement in the February 1999 bombings in Tashkent. Mr. Bekjan denied all of the charges. He was subjected to brutal torture during investigation, and was convicted to 15 years of imprisonment in August of the same year. In 203, Mr. Bekjan's imprisonment term was shortened as part of amnesty and he was to be released in February 2012. However, in January 2012, he was imprisoned for another five years for "disobeying lawful demands of the administration" of the prison.
The application of Article 221 of the Uzbek Crime Code, as in Mr. Bekjan's case above, is quite regularly used almost immediately before the official release date. Article 221 is especially "applicable" in cases of those inmates, whom the authorities do not want to see free. For example, Murad Jurayev's terms is frequently extended by this method since his conviction in 1994. In 2009, additional 3 years and 4 months were added to his imprisonment term for "cleaning carrots in a wrong way" in the prison kitchen.

"A new feature of our report is that we were able to identify the practice of extending [imprisonment] terms based on absurd justifications," Steve Swerdlow told Fergana. "This distinguished Uzbekistan among other nations that imprison [people] on political motives. Neither the convict nor their relatives or lawyers are able guess what justification would be used to extend [imprisonment] terms and what could be considered a 'violation of prison rules.' This is [widespread] practice: of the 34 cases described [in the report], at least 14 faced such a situation. The international law classifies such a treatment as 'inhumane and degrading human dignity' and that is only one level shy of torture. When they announce, just five days ahead of your release after 13 years of imprisonment, that you would have to spend so many more years imprisoned for violating the prison rules – it hurts so much that it can destroy [said inmate] both psychologically and physically."
Aygul, when have you or your mother last talked with your father?
We are three sisters and none of us has seen our father in 15 years since his imprisonment. We are now U.S. citizens but my mother retained her Ukrainian citizenship to be able to visit Uzbekistan to see him. The last time she was there two years ago. I tried traveling there several times, but they refused to issue me a visa.
Why does your mother have Ukrainian citizenship?
She is Ukrainian. When we fled Uzbekistan for Ukraine, she still had her old Soviet passport and my mother was able to get Ukrainian citizenship. We lived there for five years until my father was abducted.
So your mother saw your father two years ago?
Yes. She was unable to recognize him. Yet, he was looking a little better than those times when additional five years were added [to his imprisonment term]. He weighed 60 kilograms while his height is 183 centimeters as if he was in a concentration camp. He suffers from inguinal hernia and yet he is forced to work in a brick factory. My father also has problems with his liver, and he had tuberculosis. My mother says the situation is very tense and it is impossible to fight tears when you look at him.
Do you know why those five years were added to his term? What was that alleged "disobedience to the administration's demands"?
Nobody knows [the reason] for certain. We requested [they provide information in this regard], but they did not respond. But I do know that they come up with trivial excuses: he put a white T-shirt on or he cleaned carrots in a wrong way… I think my father did something petty like that as well – he had a wrong instrument to clip his nails, I think.
How do you receive information from him?
Through his relatives. (Muhammad Bekjan is the brother of Muhammad Salih, the oppositionist leader of the O'zbekiston Xalq Harakati [The Popular Movement of Uzbekistan], who is currently based in Turkey – editors.) My father's two brothers and their children live there [in Uzbekistan; both of the brothers mentioned have also served prison terms and are currently released – editors.] When my mother goes there, she takes our letters for him, but I don't know if he actually receives them, because sometimes the prison administration decides to withhold some letters. Sometimes, very seldom, he is able to send us notes. His notes are brief, and he mentions almost nothing about his health, because he knows those notes wouldn't leave the prison if he wrote about it. My mother is currently in Uzbekistan and she may be able to visit him on September 29. We are awaiting news.
Are you not afraid that she would not be allowed to see him, given your participation in the presentation of a report on political prisoners [in Uzbekistan]?
I am indeed very concerned about that. But, at the same time, I am also hopeful that this could actually help. We were frightened all these years into keeping our mouths shut and demanded to do just that in order to avoid making things worse. But given that my father's [imprisonment] term was extended by five more years right on the eve of his release, we don't even know what can actually get worse. I am appealing to international organizations and tell them our family's story. I tell that we are a family that once was a happy family. And I am very hopeful that my father will be released and will live with us in the USA.
Muhammad Bekjanov is only one of thousands of real or perceived opponents to the government and critics of authorities that the Uzbek government has been sending behind bars since early 1990s based on political motives, the HRW report reads in part. There are representatives of various categories of people among the victims of repressions, including human rights advocates, journalists, political opposition activists, religious leaders and believers, artists, businessmen and others, who were deprived of freedom for only peacefully exercising their right to freely express their opinion and for being considered "the enemy of state" by the Uzbek government.
On tortures in Uzbekistan. video by Human Rights Watch
Human right advocates emphasize that there are thousands of political prisoners in Uzbekistan. The report "Until the very end" tells about and provides documented specific stories of 34 individuals, who are currently incarcerated for political reasons; some of them, e.g. Murod Jurayev, have been imprisoned for over 20 years.
Among them are 15 human rights advocates: Azam Farmonov, Mekhriniso Khamdamova, Zulkhumor Khamdamova, Isroil Kholdorov, Nozim Isakov, Gaybullo Jalilov, Nuriddin Jumaniyazov, Matluba Kamilova, Ganikhon Mamatkhanov, Chuyan Mamatkulov, Zafarjon Rakhimov, Yuldash Rasulov, Bobomurod Razzokov, Fakhriddin Tillayev, and Agzam Turgunov. There are five journalists: Solijon Abdurakhmanov, Muhammad Bekjanov, Gayrat Mikhliboyev, Yusuf Ruzimuradov, and Dilmurad Saidov. There are four oppositionists: Murod Jurayev, Samandar Kukanov, Kudratbek Rasulov, and Rustam Usmanov. There are three independent religious personalities: Rukhiddin Fakhriddinov, Khayrullo Khamidov, and Akram Yuldashev. There are seven more people reported about: the Uzbek government considers them to be critics of authorities and eyewitnesses of the massacre in Andijan on 13 May 2005: Dilorom Abdukodirova, Botirbek Eshkuziyev, Bakhrom Ibragimov, Davron Kabilov, Erkin Musayev, Davron Tojiyev, and Ravshanbek Vafoyev.
"The cases here do not constitute an exhaustive list of all persons convicted on politically motivated charges in Uzbekistan, nor is their selection meant to privilege some cases over others. Instead, these 34 prisoners, who come from every region of the country, shed light on larger trends of political repression in Uzbekistan and on the government's attempt to suppress a wide range of independent activity that occurs beyond strict state control. At the same time, many cases illustrate the remarkable talent, creativity, and contributions of Uzbekistan's independent civil society to the country's civic development, as well as the immense loss that is caused by their continuing imprisonment," the HRW report reads in part.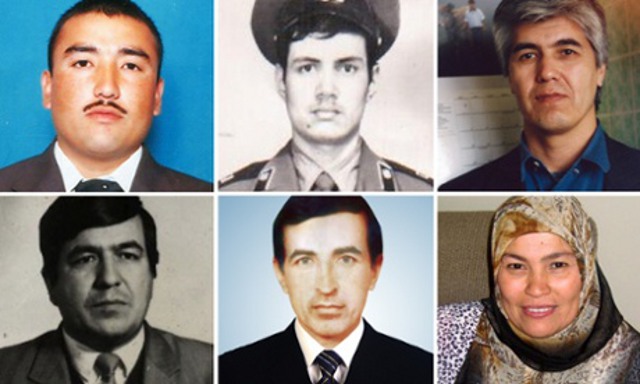 A few of political prisoners; top row left to right: Azam Farmonov, Gaybullo Jalilov and Muhammad Bekjan; bottom row left to right: Isroiljon Kholdorov, Murod Jurayev and Dilorom Abdukodirova

Of the 34 inmates in the report:
- at least 29 reported having been tortured and treated in an inadmissible manner during pre-conviction detention and in penitentiaries;
- at least eight were refused to access a lawyer at decisive phases of investigation and trial, including the period after conviction, i.e. when additional imprisonment terms are added to the initial imprisonment verdict;
- at least eight were kept in temporary complete isolation that lasted more than provided for by the Uzbek legislation and international laws;
- at least six are held behind bars for over 15 years or more, including Murod Jurayev and Samandar Kukanov currently serving prison terms exceeding 20 years; 22 persons were imprisoned to more than 10 years of imprisonment;
- at least nine are over 60 years of age; the gender of is female, which qualifies them for amnesty annually, but they were repeatedly refused amnesty often for minor violations of prison rules;
-at least 11 convicts' prison terms were arbitrarily extended while they were imprisoned based on unpublished, unspecified and extensive list of "violations of rules of internal rules." Several inmates' terms were extended several times; the term of one of the inmates was extended four times;
- at least 15 had or still are suffering grave health issues, such as tuberculosis, nervous system injury, broken bones, hypertonia, heart attacks, and stomach ulcer;
- at least nine claim they were deprived of access to emergency medical assistance;
- at least 12 say they were subjected to brutal, inhumane and degrading punishment via extensive exposure to heat and cold or extensive solitary confinement;
- at least four served or are serving part of their imprisonment term in the Jaslyk Colony, which is known for more than 10 years due to statements on tortures and inadmissible treatment, and urges by various governments and international bodies to close it;
- five were abducted from the territory of foreign countries, including Kazakhstan, Kyrgyzstan, and Ukraine, and were forcibly returned to Uzbekistan bypassing any and all legal procedures or meeting international norms of human rights;
- at least one convict was forced into incommunicado state: the authorities have been providing no reports about his whereabouts or condition for so long that it is unknown whether he is alive or dead.
"You are demanding the Uzbek government immediately release political prisoners and no conditions be attached," we inquire from the report author Steve Swerdlow. "But the Uzbek government has repeatedly stated that there are no political prisoners there and that all of them are imprisoned for committing specific criminal or economic crimes. What mechanism are you proposing to break this vicious circle? Reconsidering the cases of each convict who was noticed in political events, human rights advocacy and criticism of authorities before imprisonment? Reconsidering the cases of each convict whose prison term was extended for disobeying the prison administrations? Compiling specific lists of those who are to be immediately released?
First, as far as the 34 inmates reported are concerned, we are calling for their immediate release and believe that no mechanism is necessary here: the Uzbek side has all facts necessary to confirm the necessity in their immediate release.
We understand the problem: How to fight the practice of politically motivated imprisonment implemented in Uzbekistan? We have collected enough information to arrive at the following conclusion: the system that imprisoned these people does not function in accordance with the Constitution and international norms. The trials that were held [and resulted in the imprisonment of said inmates] many years ago do not meet international norms; therefore, these people are to be released in the first place. If the Uzbek side has grounds to think that any of these inmates committed an act of violence or was involved in acts of violence, then they must establish conditions for an objective investigation and then only speak of new judicial proceedings or new charges.
Over the entirety of the five-year period after the European Union cancelled sanctions, we have been observing the Uzbek government release one political prisoner every six or 12 months. Very frequently a condition is attached – either the person in question must immediately leave the country, as was the case of Sanjar Umarov or one is released when he/she is on the brink of death and is no longer capable of resuming human rights advocacy or civic activities. (The human rights advocate Abdurasul Khudoynazarov died from cancer 26 days after his release in May 2014. Prison administrations kept ignoring his appeals to access medical assistance over eight years – editors.)
We want the Uzbek government to seriously consider our statements and release all the 34 convicts. President Karimov can do that instantly, if he wishes to do so. And we think that Europe, the USA and other partners of Uzbekistan must openly state that in case the political prisoners are not immediately released, then [incompliance] would affect their ties with Tashkent.
Mariya Yanovskaya
Fergana international information agency.