DRD Partnership: Gulnara Karimova under house arrest, while "global support grows"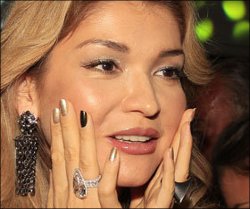 A new letter DRD Partnership circulated late Tuesday is entitled "Recent reports about Gulnara are false and deliberately misleading." "Gulnara" here is the elder daughter of Uzbek President Islam Karimov, while DRD Partnership is a London-based consulting company that calls itself "an official representative" of the beleaguered and disgraced Uzbek "princess."
"A number of recent reports contains unhelpful speculation that Gulnara Karimova has been released from house arrest. The more fanciful suggest she has escaped to Russia, Europe, and even South America. Her spokesman Locksley Ryan of Davidson Ryan Dore today issued the following statement on Gulnara's behalf:
"I can confirm that Gulnara Karimova is still under house arrest in Uzbekistan, having not been able to have any meaningful contact with the outside world since February. She and her 16-year-old daughter, who is being held with her, both remain in urgent need of medical attention. Any reports that Gulnara has been released are false and deliberately misleading. The only conclusion I can draw about this misinformation is that those keeping Gulnara under house arrest for their own political gain are now panicking under the pressure of objection from all those around the world and within Uzbekistan demanding that Gulnara be allowed to face a fair trial."
This statement Gulnara Karimova's representatives released is devoid of any specific information and only contains a collection of high-flown sentences. The letter provides no details as to who are "those keeping Gulnara under house arrest" and what "political gain" they are pursuing. No light has been shed on those exerting "pressure of objection from all those around the world and within Uzbekistan" and demanding justice for Gulnara. Seeking more information on "a number of recent reports" within the letter proved equally futile.
Locksley Ryan circulated his previous statement among journalist just last week. That statement, too, claimed that support for Gulnara Karimova was growing on the global scale and cited the latest report by Human Rights Watch on political prisoners in Uzbekistan.
The statement in question read that given the criticism of the Uzbek judicial system, especially on the part of Human Rights Watch (see the "Until the very end" report), Ms. Karimova believed she could only hope for fair trial at an international court.
Background: Gulnara Karimova used to be quite willing to be interviewed by local and foreign mass media; she liked to discuss only haut couture and jewelry collections, thereby masterfully avoiding responses to serious questions, including those on fair judicial trials in Uzbekistan. For instance, two years ago, Andrew Stroehlein, International Crisis Group's media programs director, asked Gulnara via Twitter if she was aware of tortures in the country her father rules.
The Twitter dialog finished with the following statements the Uzbek president's daughter made: "I think it's time to wrap up the PR of those miserable ones that live others' lives and will become known for a moment only when we pay attention to them. Of those whose names will be remembered only because they had once written about or made a scandal around powers-that-be! May they be in peace!"
Fergana international information agency.