Only Janaozen female convict released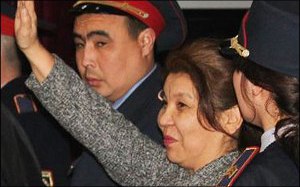 Roza Tuletayeva, a female convict in the Aktau Prison, has been released. According to Galym Ageleuov, the president of the Liberty Public Fund, mass media outlets, human rights activists and any interested in the events in Janaozen were able to obtain information only thanks to Ms. Tuletayeva.
Background: Seven long months of rallies preceded a shooting of oilmen in in Janaozen in December 2011. The oilmen in strike initially advanced demands of exclusively economic nature. However, they realized that neither the government nor oil and gas company owners would pay attention to them, which led to the inclusion of political statements into the demands. The subsequent bloody events in Janaozen paved way for political repressions nationwide: opposition was crushed, draconian laws on mass media were introduced and independent mass media outlets came under pressure. A total of 19 oilmen were convicted as a result of an investigation into mass disorder in Janaozen.
Mr. Ageleuov reminds that the Janaozen strike was kicked off by a hunger strike announced by Roza and her friends on 26 May 2011. The main precursor for the strike were pressures on oilmen of the KarajanbasMunayGaz (KMG) who went on strike to protest the arrest of their leader, the KMG lawyer Natalya Sokolova, for eight days in Aktau on May 17. This is exactly when a demand to release Natalya Sokolova appears among other demands the oilmen were advancing, including a salary raise, improvement of work conditions, transfer of the central government form Astana to Mangistau and the removal of the director of OzenMunayGaz. On May 26, the Janaozen City Court ruled the OzenMunayGaz oilmen's demands illegal, in response to which Roza and her friends started a hunger strike.
They were subsequently hospitalized in 12 days. Roza was suffering from acute gastric attack. She was fined for participating in the hunger strike with 100 times of a minimal salary. In June 2011, a criminal case launched against her based on Article 164 of the Kazakh Crime Code (inciting social discord).
"Roza was one of those few who did not fear to tell how people in Janaozen were shot on 16 Dec 2011," Mr. Ageleuov writes. "Thanks to this, Roza has become the symbol of Kazakh citizens' freedom of speech and conviction.
Following the shooting of Janaozen strike participants, Roza has personally come to the commandant's office to defend her name and reputation; she was arrested there. Ms. Tuletayeva's case among those so-called "The case of 37 oilmen," 13 of whom were subsequently convicted, including Ms. Tuletayeva. Nineteen defendants claimed being tortured during an investigation into the case.
"Roza Tuletayeva, the 46-year-old mother of three children at the time, was hung by her hair and suffocated with a trash bag and… an iron rod was pressed against her intestinal walls during questioning… When she was describing the hell she went through at the hands of the National Security Committee and police in Janaozen, nobody in the courtroom was able to hold their tears back. The lawyers filed a motion to inquire about the torture and the court required the Janaozen Internal Affairs Directorate [to report on the matter]. Police responded, claiming no torture was practiced. No investigation was held," Mr. Ageleuov writes.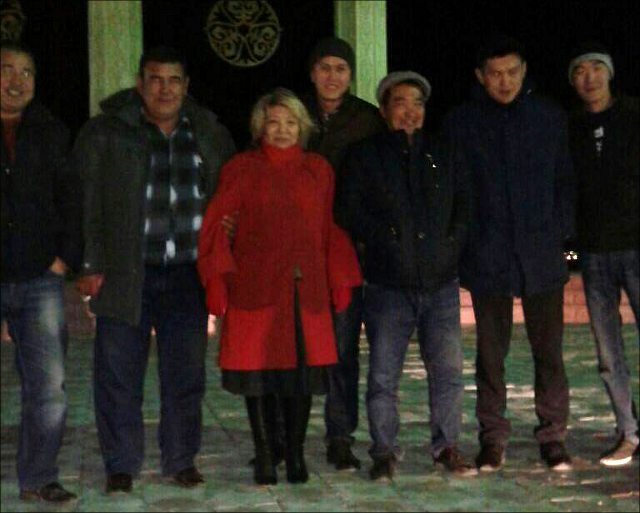 Oilmen meeting Roza Tuletayeva immediately after her release

Excerpts from Roza Tuletayeva's testimony:
"On that day, I came to the area, and our guys were there. Closer to 11 o'clock… oh, what happened on December 16… Maybe I have seen such a thing only on TV. Shooting started and bloodied people with holes [in their bodies] were carried right in front of my eyes. You know, the stress I experienced on that day still impacts me… I don't remember much from that day. Apparently I don't remember the way the square looks. I only remember the blue color. Events of the day surface in my memory like pieces of a torn picture; one piece is there, the other piece is lost. I don't remember what I said when I was questioned. I didn't understand what they wanted from me…"
Were any illegal methods of questions applied to you?
"On December 21, the Yelbasy [Kazakh President Nursultan Nazarbayev] came to our Uzen and said, 'The oilmen are innocent and their demands are lawful.' I was happy like a child when I heard [him say] this. The Yelbasy also said that investigators were arriving to investigate into this particular case and a special commission was established. I remember telling myself, 'Well, finally, they are paying attention to us.' When I heard about the arrival of a special investigation team, I went to the Janaozen city internal affairs directorate. I waited for audience in a corridor. A man came up to me and said we needed to go to one place. Suspecting nothing, I took a bus and I was quite calm. When we rode into the second micro-district, I understood that I was being taken to the National Security Committee's regional department. I asked about lawyers just in case, but no attention was paid to my words. I remember a NSC officer called Yerjan started questioning me. I was assaulted from all sides as soon as we arrived at the NSC. Every one of them said to me, "That's it, we got you! You burned 20 yurts down! You are dead now!" And that Yerzhan kept saying, "You have a 14-year-old daughter, I am going to turn her entire life into misery…" They were all wearing plainclothes. There was a man with a machine gun behind me and the tip of the weapon was poking my back. An NSC officer told him, 'Say the prayer and put her down...' I never understood what he wanted to say. Another NSC officer told me, 'We put up 20 yurts and you [and your accomplices] burned them down.' I asked him, 'Are you saying the NSC installed those yurts?' He didn't say anything. He then said, 'You started fire on the Alliance Bank, because you borrowed money from them. You have done that on purpose to avoid paying it back.' I responded, 'The [fact] that bank burned down changes nothing. They have an electronic database, which has everything.' There were other people in charge at the NSC, who had lists of my relatives. They threatened to eliminate them. An officer of the department called Ruslan, who has a scar on his face, suffocated me with a trash bag. You cannot even image what a horror that is when you don't have enough air, eyes are jumping out of sockets and when that bag is abruptly yanked off your head. When this bag torn, he would run for a new one… Then I was hung on that bag tied to my hair. I felt as if sand was coming off of my head. When I returned to the cell, that hair… I put my hands on my head and ripped out hair was in my hands; I kept them… Questioning started on December 27 and there was no lawyer present at questioning…"
What was your psychological condition?
"I was unable to eat by then. There were times when I wanted to commit suicide. There was another woman in the cell with and thoughts that my death could be put on her shoulders stopped me [from committing suicide]. After December 16, I could not eat for almost a weak. I could not even open my mouth, my teeth would not open—they would cling to each other. I woman was placed into my cell and she fed me. Then I realized that I was no longer able to eat. I now suffer from mastopathy, ill kidney, stomach, feeble heart and shattered nerves… I want to say that there was discrimination during investigation… I am a native of Turkmenistan… The investigator kept insulting me, saying, 'Why did you come here? If you do not like it here, why are you not leaving?
"I am asking to hold an investigation into torture that I was subjected to during investigation. I am unable to saying a lot of thing… My relatives and next of kin are sitting here and I am ashamed to tell everything that was done to me… There are certain things that one is ashamed to talk about… I was threatened; they said they would bring my daughters, strip them naked and do to them that, which I am ashamed to even retell…"
According to the initial court verdict, Roza Tuletayeva was convicted to seven years of imprisonment, but an appeals court decreased the imprisonment term by two years. On November 19, Ms. Tuletayeva was released on parole before the official release date. She is now at home in Janaozen.
Fergana international information agency.