Believe not, fear not and ask not: Russia "disowns" Turkmen opposition figure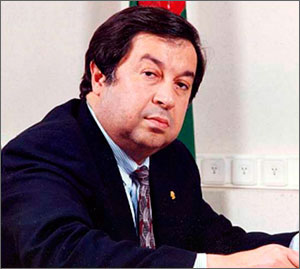 On 31 October 2014, the Presnenskiy District Court in Moscow dismissed the complaint lodged by Tatyana Shikhmuradova, the wife of Boris Sikhmuradov who is imprisoned for life in Turkmenistan. Mrs. Shikhmuradova lodged a lawsuit against the foreign affairs ministry of Russia, which has applied no effort over the last 12 years to find out about her husband's fate. The most shocking event for Mrs. Shikhmuradova at the court was the foreign ministry representative's claim that Mr. Shikhmuradov is not a citizen of Russia.
Boris Shikhmuradov, a former minister of foreign affairs of Turkmenistan, was convicted for life-long imprisonment in December 2002. Mr. Shikhmuradov was charged with an attempt on then-Turkmen President Saparmurat Niyazov's life and an attempt to stage coup d'état. The alleged attempt on the life of the head of state led to subsequent mass arrests: over 60 people were convicted (of those, five were convicted for life) and 56 were declared traitors between December 2002 and January 2003.
The entire world watched late December 2002 how nonsensical and cruel the Turkmen "justice" is. The Khalk Maslakhaty (The Popular Council) with the participation of then-President Niyazov was broadcast live. Boris Shikhmuradov's "confession" was shown on a screen in the council room. Mr. Shikhmuradov was shown saying, "Living in Russia, we used narcotics substances and recruited mercenaries for terrorist acts while we were intoxicated… We are an organized criminal group and we are a mafia. There is no single sane person among us. We all are nothingness." The Turkmen "people" demanded their execution, but the Supreme Court convicted Mr. Shikhmuradov to imprisonment for life.
Leonid Komarovski, a US citizen, was arrested under the same attempt on life and America was later able to get him out of Turkmen prison. In an interview several months later, Mr. Komarovski talked about torture and injections of psychotropic substances, which make the subject forget what they say.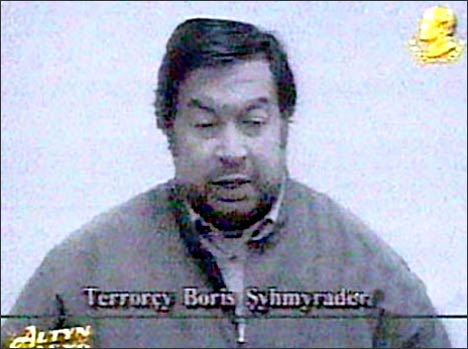 Boris Shikhmuradov's "confession"; a screen grab from the Turkmen TV

Twelve years elapsed since then and neither Mr. Shikhmuradov's family nor lawyers nor international observers are able to obtain information about his current status, or whereabouts and statuses of other convicts in the case. Asghabat remains deaf and mute.
Tatyana Shikhmuradova speaks: "Lots of different rumors reached us over the [12 years]: 'Boris was no longer in Turkmenistan; he has been in Russia for a long time.' Someone else said he was seen somewhere in Ashgabat. I also received information that Boris was no longer alive: first such news came in December 2006, following the death of Saparmurat Niyazov. Several people I personally knew before came to me and said, 'We do not want to sadden you, we are sorry, but we have information that Boris passed away three months prior to Niyazov's departure.' I was later given several more dates [of his purported death]. Of the latest, I was told that Boris passed away in 2012 and supposedly people with knowledge [about the matter] recommended I mark December 17 as his death date.
"The question whether Boris lives or not is not essential—I believe that he is alive whatever they tell me. I only want to draw attention to [the fact] that he is 65 and his health was frail even before the arrest. He suffers from chronic diseases, his gallbladder was removed and he suffered from heart-related issues since childhood…
"Those times when I would overreact to all these rumors are long gone. The only thing I now want is obtaining official information on my husband's whereabouts, whether he is alive or not; if he is alive, then what is his condition. I want to obtain official documents from the Turkmen side, read the conviction verdict, because I cannot seek even legal assistance if I do not have it. I have no official documents, all information [I have] is from the Turkmen mass media outlets only."
Why did you file a lawsuit against the foreign affairs ministry?
"I complained against their inaction. After Boris's chilling "confession testimony" and that "trial" shown on TV, I did not know what to do and who to ask for help. But everyone I talked to about the matter said that the only organization able to help me is the ministry of foreign affairs of Russia. My husband was the minister of foreign affairs of Turkmenistan and was personally acquainted and maintained friendly relations with all then-active foreign ministers: Andrey Kozyrev, Yevgeniy Primakov, Igor Ivanov, including Sergey Lavrov, then-head of the Russian mission to the UN. I wrote an electronic message to them in the first place. I was hoping to get their support and thought that they would at lease advise me.
No responses followed. I wrote and wrote… for three years. Then I decided that I needed put together a packet of documents and confirmations of my correspondence. So, since 2006, I started sending regular, almost monthly in the beginning, inquiries addressed to the minister of the Russian foreign affairs, the foreign affairs ministries department of the CIS, the Russian embassy to Turkmenistan. I did not receive any, even formal, responses in the first two years.
At the same time, I sent inquires to Turkmenistan as well. I was not surprised there were no responses from Ashgabat. But our foreign affairs ministry's silence…
Only after I started writing letters to [then-President Dmitriy Medvedev's] administration and my complaint was referred to the foreign affairs ministry, I started receiving responses from the ministry. But they all were the same: the foreign affairs ministry would inquire from the Turkmen side [about my husband], and the Turkmen side would remain silent. I received the last response to that effect in December 2013.
I have no doubt that the [Russian] foreign affairs ministry wrote letters to the Turkmen authorities. But there is no result whatsoever. Also, not one, not two and not four, but twelve years have passed! Therefore, I think that the Russian foreign affairs ministry failed to act [to benefit] a citizen of Russia. So, we never received either a copy of the verdict or information about Boris's whereabouts."
How did Boris Shikhmuradov's non-citizenship issue arise at the court in the first place? Did he renounce the Russian citizenship?
"When, all of a sudden, they told court Boris does not hold the Russian citizenship, I was not just surprised, I was rather shocked.
"Boris was born in Turkmenistan in 1949. He graduated from the journalism department of the Moscow State University named after Lomonosov, he has then worked at the Novosti Print Agency (to be renamed RIA Novosti later). As of January 1992, according to information provided to me by the RIA Novosti, he was the deputy head of the APN Information Center in India. These centers were under Russian embassies and Boris had a high-ranking diplomatic status equal to an advisor. I presume he was in the foreign affairs ministry's roster and his personal file must be somewhere in the ministry's archives. On 18 May 1992, Boris was relieved of his post "due to transfer for employment to the Ministry of Foreign Affairs of Turkmenistan."
Did Boris accept the Turkmen citizenship?
"The Supreme Court of the Russian Federation ruled in 2003, "The passport of a citizen of the USSR that establishes the identity of a citizen of the Russian Federation shall be considered valid until it is exchanged for a passport of a citizen of the Russian Federation in appropriate terms." No specific terms for exchanging the Soviet were established by bylaws, so one could exchange it even now.
"As far as I know, [he has] not. [An intergovernmental agreement between Russia and Turkmenistan allows for dual citizenship – editors.] He was given a Turkmen diplomatic passport to work as a minister of foreign affairs of Turkmenistan. I know that when our diplomats would gather in informal meetings, the Turkmen foreign affairs minister's Russian citizenship was always brought up in friendly jokes among them. Boris did not have an internal passport of Turkmenistan; he had our Soviet passport. I do not know where that document is now; perhaps he had it with himself when he was arrested.
In May 2001, Boris was given a Russian passport for traveling abroad; the document was issued in Moscow, Russia and indicated his citizenship as Russian. In November 2001, Boris resigned from his post and stated that he was joining open opposition to Saparmurat Niyazov's regime. While his Turkmen diplomatic passport was cancelled the very next day, Boris traveled to Turkey, Europe and the USA with his Russian travel document throughout 2002. The Federal Migration Service confirmed in 2003 that Boris held the Russian citizenship, in response to an inquiry by Gosduma MP Vyacheslav Igrunov.
Law and justice
The law on the Russian citizenship reads in part:
Article 4: A citizen of the Russian Federation shall not be deprived of Russian Federation citizenship or of the right to change it.
Article 7: The citizens of the Russian Federation who stay outside the Russian Federation shall be granted the Russian Federation's defence and protection.
2. The governmental bodies of the Russian Federation, the diplomatic missions and consular institutions of the Russian Federation located outside the Russian Federation, the officials of the said missions and institutions shall assist in Russian Federation citizens' getting an opportunity to enjoy the full scope of all the rights established by the Constitution of the Russian Federation, federal constitutional laws, federal laws, generally accepted principles and norms of international law, international treaties of the Russian Federation, the laws and rules of the states where Russian Federation citizens reside or stay, and also an opportunity for defending their rights and law-protected interests.
Article 18: Citizenship of the Russian Federation shall be terminated as a result of surrendering Russian Federation citizenship.
Article 19: The surrender of Russian Federation citizenship by a person residing in the territory of a foreign state shall enter force by means of voluntary expression of his/her will…
Fergana interviewed Yuliya Nasonova, a lawyer who represented Tatyana Shikhmuradova's interests at the Presnenskiy District Court:
How did the foreign affairs ministry defend its position?
"The representatives of the foreign affairs ministry simply did not participate in the initial stages of the trial. I insisted they must be present and solicit the case in their hands on Mr. Shikhmuradov. I have also lodged a motion to acquire information on Mr. Shikhmuradov's citizenship from the migration service. I clarified that this fact had to be established for a correct resolution of the case, since we only have information that he had a passport of a USSR citizen. The judge overruled my motion.
"However, only five sessions later, when an attaché of the foreign affairs ministry showed up at court and lodged a similar motion that was approved by the judge, everything became clear. In other words, the court and the foreign affairs ministry conspired and established a scheme to deny Tatyana's request. The trial was reminiscent of a battle against windmills. It has been a long time since I have last seen such boorishness and unprofessional behavior at court and experienced so much aggression on my person.
"The trial was brought to an end on the same day as soon as information was received from the migration service that there was no data on Boris Shikhmuradov's Russian citizenship. The foreign affairs ministry's position built its case solely on the fact that the Russian Federation is not obliged to take care of non-Russian citizens; hence the foreign affairs ministry's actions were lawful. I posed a question, 'Why did you then maintained correspondence with Tatyana and misinformed her for so many years?' The response was, 'Do you even know what year it is now? It is October of 2014. We are not providing any responses to Tatyana. As soon as we learned about this fact, we stopped issuing responses to her inquiries.'"
Will you appeal the verdict?
"Of course. As Tatyana Shikhmuradova mentioned in the interview with Fergana, 'One of the responses to my letters was signed by First Deputy Foreign Affairs Minister Andrey Denisov. If a first deputy minister responds to my complaints, saying they requested the Turkmen side to cooperate, then they had to first have established whether Boris Shikhmuradov is a Russian citizen.'"
Lawyer Karinna Moskalenko characterized the claim that Mr. Shikhmuradov is not a Russian citizen as "utter cynicism" and told Fergana that in case her appeal is unsuccessful, she would lodge a complaint with the European Court of Human Rights (ECHR).
"The life of a Russian is a subject of special care by the Russian authorities," Karinna Moskalenko says. "If a Russian's right for life is under a threat, the Russian authorities are obliged to protect this life. Referring to this or that person's lack of Russian [citizenship] is utter cynicism.
"The Russian authorities are actually promoting an inappropriate treatment of a Russian citizen and are even creating conditions for an unpunished physical elimination. Because Russia failed to fulfill its positive obligations at the national level to defend one of its citizen's right for life and failed to appropriately act, [by making] inquires and demands that Mr. Shikhmuradov is treated in a legally [permissible] manner. On top of this, [Russia] is ignobly hiding behind an excuse that Mr. Shikhmuradov is supposedly not a Russian citizen. Do not forget that both Turkmenistan and Russia are signatories of the International Covenant on Civil and Political Rights. This would be my argument before the ECHR after I exhaust all means of defense inside the country. Perhaps, after Yuliya Nasonova justifies this argument during appellation, the Presnenskiy Court's ruling would be overturned and the case would be retried. Who knows… But if [the ruling] enters force, I will go to Strasburg."
"Does the claim that Mr. Shikhmuradov is not a Russian citizen remind you of the situation with Bukovskiy? (The Russian foreign affairs ministry is not issuing a Russian passport for Vladimir Bukovskiy, a well-known dissident and human rights advocate, demanding he pass a procedure of citizenship establishment.)
"I do not like analogies. Mr. Bukovskiy is one case, while Mr. Shikhmuradov is a different one. But both [cases] are a manifestation of the Russian state's so easy renunciation of its own citizens… Speaking of Boris, a different disgracing story comes to mind actually. The notorious Garabayev case, which Anna Savitskaya and I were able to win in the ECHR. [In 2002, Murad Garabayev, the former accountant of the Central Bank of Turkmenistan, was extradited to Ashgabat upon the decision of then-Prosecutor General Vladimir Ustinov. However, the ECHR's involvement revealed that the extradition was illegal, because Mr. Garabayev holds dual Russian-Turkmen citizenship. He was returned to Moscow and put in the Lefortovo jail – editors.] Mr. Garabayev was extradited to Turkmenistan, where he was subjected to horrifying torture in jail. To justify their actions, following an emergency communication with the European Court, the Russian authorities – attention! – arranged for a divorce of Mr. Garabayev from his much beloved wife in a Turkmen court to prove he is not a Russian citizen. This was purely absurd for two reasons: 1) the poor spouses did not even have an idea that their marriage was dissolved based on forged documents in Turkmenistan, while they were enjoying a love-filled life in Moscow; 2) this "divorce" did not salvage the disgraceful position of the Russian authorities, who had no right to even arrest Mr. Garabayev for extradition, because a Russian national may not be extradited to a different country, which is clearly stated in the Constitution of Russia. [Ironically] the Russian authorities immediately recall this provision when someone is asked to be handed over to the United Kingdom for questioning in regards with the murder of Aleksandr Litvinenko there. In this case, the Russian authorities are quick to recall constitutional rights and guarantees [the Russian citizens enjoy]… What disgusting hypocrisy!
"The Boris Shikhmuradov Case"
The case of Boris Shikhmuradov is on the agenda of the UN Working Group on Enforced or Involuntary Disappearances. "Working Group regularly inquires from the Turkmen side, and keep this issue on their agenda," Tatyana Shikhmuradova says. "But, like in the case of inquiries the [Russian] foreign affairs ministry submitted, no responses are issued.
"In April 2011, I lodged a complaint with the UN Committee on Human Rights, complaining on the Turkmen side's violations of a number of articles of the Covenant on Civil and Political Rights. The consideration process is a lengthy one. The Committee must make several inquiries from the Turkmen side, wait for some time provided for [receiving] an answer… I have recently received a letter, reading that my complaint would be considered in one of the immediate sessions of the Committee, and the Turkmen side will be absent," Mrs. Shikhmuradova says.
The name of Boris Shikmuradov is included into the list of victims of the Turkmen regime, which was filed members of the Show them alive! international campaign. The campaign was launched a year ago and aims at drawing the attention of international organizations, governments and the general public to the fact that numerous people in Turkmenistan are unaware of the fate of their convicted relatives and next of kin for over a decade. Rights advocates demand Ashgabat provide information on the fate of these convicts, their whereabouts and allow their relatives to contact them.
"I was always surprised and continue to be surprised that neither the foreign affairs ministry nor international organizations possess efficient tools to influence the Turkmen side. Yes, they do send inquiries to Ashgabat and adopt resolutions, including those via the UN and the OSCE, but they [Ashgabat] remain silent and nothing can be done about this," Tatyana Shikhmuradova says.
* * *
Twelve years will have elapsed on November 25 since the so-called attempt on the life of the former Turkmen President Saparmurat Niyazov. It is still unclear what actually happened in Ashgabat on that day. Rumor has it a truck blocked the president's cortege. Rumor has it a rally was planned near the parliament. Eyewitnesses and those who believe they were aware of oppositionists' intentions claim that nobody was planning to assassinate President Niyazov. And that statement is a convincing one: it would be impossible to hope for recognition as a legitimate power after such a theatrical assassination of an incumbent ruler. Rumor has it some wanted to take President Niyazov to the parliament and force him to step down, and then have elections.
However, ambiguities are abundant; lack of trust for Turkmen official media only contributes to the overall confusion. All "evidences" are derived from confessions extracted under torture. Holding a new independent investigation is impossible either, because the Turkmen side would not allow. It is impossible to even find out whether those convicted for the alleged assassination attempt are alive or not.
America was able to get Leonid Komarovski, a US citizen, out of the Turkmen prison after he was convicted as part of the same case. The Russian foreign affairs ministry not only failed to save Mr. Shikhmuradov, but also failed to find even one opportunity to come to terms with Ashgabat regarding the case and was unable to even obtain a piece information about him. So much for the "Russia does not leave its people" claims… Indeed, the Russian foreign affairs ministry decided to completely disown one of the citizens it is established to serve.
Mariya Yanovskaya
Fergana international information agency.