Ex-Irish Deputy Premier: «Azimjan Askarov must be free»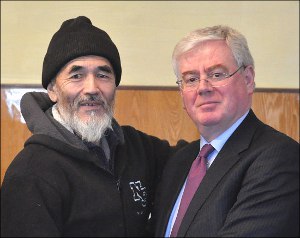 Eamon Gilmore, the former deputy prime minister and the former minister for foreign affairs of Ireland, visited Аzimjan Askarov, a human rights activists imprisoned for life, at the proposal of Front Line Defenders on the eve of the International Human Rights Day. Mr. Askarov has told about his case to Mr. Gilmore in details; the latter has then discussed the matter with Kyrgyz officials.
Upon completion of his trip to Kyrgyzstan, Mr. Gilmore is planning to not only meet representatives of the EU and the UN to raise the issue of unjust conviction of Mr. Askarov, but also send a letter to the Kyrgyz president with a request to assist in freeing the world-renowned rights advocate.
Mr. Gilmore has kindly agreed to an exclusive interview with Fergana.
- Several requests our news agency filed to visit Azimjan Askarov were rejected. Have you also faced any difficulties in obtaining permission to visit him in prison?
- Azimjan Askarov's case is very well known among the international community, which has undertaken various actions to achieve his release. Already back in 2011, when I was the foreign minister of Ireland and a chairperson of the OSCE, I was interested in his case and raised the issue of Mr. Askarov's release with representatives of Kyrgyz authorities.
After leaving the aforementioned positions in July 2014, Front Line Defenders, an organization actively engaged in defending human rights activists, asked me to get involved in this case. They have also asked if I could travel to Kyrgyzstan and visit him in prison? I agreed and a visit was arranged for. As far as I am aware, there were no difficulties faced in obtaining permission to visit him in prison; we were received rather well.
The meeting lasted for almost an hour and a half. During the meeting, Azimjan told me about the conditions at his arrest, the beatings and tortures he was subjected to while he was under investigation and trials in the south [of Kyrgyzstan]. He has also stated that he is innocent and was involved in activities of peacefully defending human rights.
It was important for him to learn that the international community has not forgotten about his case.
We have also discussed his health condition. As is known, Azimjan suffers from health problems. Although I have personally met him for the first time, my colleagues of have met with him before and they told me that he has become significantly frail over the last several years. In this connection, I am going to ask the officials in Kyrgyzstan to apply humanitarian law clauses in his case and release him from prison.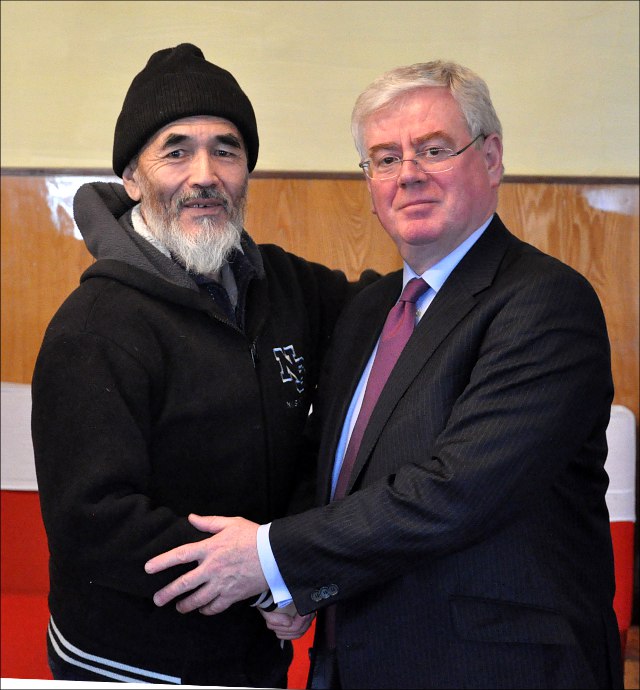 Azimjan Askarov and Eamon Gilmore

- Who else was present during your meeting and how open was Azimjan Askarov with you?
- The meeting took place in the presence of two prison employees who have not intervened in our conversation at all. I was not under the impression that Mr. Askarov was holding himself back. He spoke quite convincingly.
- Have you two discussed his life in prison?
- He did not talk about the conditions of his life. It was important for him to tell about his arrest and the way the trial went, which he believes was unjust and unfair. He has clearly emphasized his innocence and he is certain that he is unjustly convicted.
What official person from Kyrgyzstan were you able to meet with?
- Immediately after visiting Mr. Askarov, I met with MP Kanybek Imanaliyev, who is the chairman of a committee for international affairs of the Jogorku Kenesh (the parliament). I have told him about the visit I paid to Mr. Askarov and emphasized that the best outcome would be releasing him on humanitarian grounds. I also think I will write a letter President [Almazbek] Atambayev with a similar request upon the completion of my trip [to Kyrgyzstan].
The international community is very interested in this case and we are applying every effort to support Mr. Askarov; therefore, I will talk about visiting him with my colleagues and will prepare a report.
I have already shared my vision concerning this case with OSCE representatives in Bishkek; I am also intending to discuss this matter with representatives of the European Union and UN bodies.
- Why did Imanaliyev say?
- You better ask himself about that. In his response he has laid out the position pertaining to the legal aspect of Mr. Askarov's case. (Fergana did contact MP Kanybek Imanaliyev, who said no conversation could be had regarding outcomes of his meeting with Mr. Gilmore at this time. He also said he would soon receive documents of Mr. Askarov's case, which he will familiarize himself with and only then comment on the case).
It is also important that Mr. Askarov's complaint was lodged with the UN Committee for Human Rights and I hope we will hear from the UN.
However, leaving the legal aspect of the case aside, one has to remember: This man has serious problems with health, his [body and spirit] have become significantly frail and these are [sufficient] humanitarian justifications for his release.
- Do you believe his release is still possible given the Supreme Court's ruling, which cannot be appealed, and a refusal to re-try his case?
- Yes, and taking other similar cases into consideration is enough for that. I can provide examples of those cases that I am personally familiar with; there have been many cases during the resolution of conflicts in Northern Ireland when these cases' legal aspects were put aside, and people were released on humanitarian grounds. Some of them [were released] because much time has passed since their conviction, while others [were released] because the process of peaceful resolution of the conflict was underway. Therefore, I believe that [the Kyrgyz authorities' political] can solve the issue.
Besides, I believe that such a generous act on the part of the Kyrgyz government would improve the country's image at the international level.
- What is your impression on Mr. Askarov's mood?
- He is in a very complex situation. He is an elderly man. His health is deteriorating. Nonetheless, I think he is a realist who does not lose hope.
* * *
Maria Chichtchenkova, a protection coordinator and research with the Front Line Defenders, was present at the meeting of Messrs. Askarov and Gilmore. Maria and Azimjan have met before. Having seen her, Azimjan broke into tears…
«He has told us directly that he was imprisoned because he is an Uzbek, - Ms. Chichtchenkova says. - He said people were released in other cases, while his case was stalled. He has told us how horribly he was treated and that he was almost driven to committing suicide. It was very difficult to listen [to his story]. I was present at the initial trial in Nooken [in Southern Kyrgyzstan] and it left dreadful impressions. But at that time the court itself was no longer important for us, because after an only two-month-long investigation when inmates were subjected to impermissible methods of interrogation, there was no hope justice would reign. We thought getting Mr. Askarov out of the South as soon as possible was very important. We were hopeful that time would pass and a conflict resolution process would kick off. And then there could be reason to hope for a fair court trial and an investigation into torture allegations. In accordance with international standards, the very fact of torture is a good enough cause for re-trial of the case. However, that did not happen. Nonetheless, we continue to believe that this case will be resolved for the better sooner or later».
Yekaterina Ivaschenko
Fergana International Information Agency