Washington practices "strategic patience" toward Uzbekistan despite rampant rights violations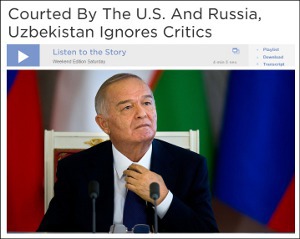 Speaking during a show on National Public Radio, Nisha Biswal, the U.S. assistant secretary of state for Central Asia, said despite serious problems in the field of human rights in Uzbekistan, the US is prepared to practice "strategic patience" towards this country.
A transcript of the radio show published by National Public Radio on 10 Jan 2015 reads that despite increasing tensions between the US and Russia, both countries continue cooperation with an authoritarian leader in Tashkent, who is at the helms of a strategic country in Central Asia. The country is Uzbekistan, and the leader in question is Islam Karimov, turning 77 late January, who was a communist leader of Uzbekistan and has subsequently became president immediately after the Soviet Union imploded in 1991.
Despite a lengthy record of human rights violations, Uzbekistan was a key regional partner for the US in its war in Afghanistan. Now that the US is gradually decreasing presence in Afghanistan, human rights groups demand Washington take more stern position in regards with the violent regime of Islam Karimov, the transcript reads in part.
"Uzbekistan's atrocious human rights record is no surprise to anyone," says Steve Swerdlow, the organization's researcher for Central Asia. "Some of these prisoners have been languishing behind bars for no other reason than peacefully exercising their right to free speech."
According to Mr. Swerdlow, President Karimov has used the prison system to crush his opponents.
"Political prisoners in Uzbekistan are not only suffering torture," he says, "but also experiencing solitary confinement and a very cruel policy of extending their sentences for years and years and years on absurd, farcical grounds."
Mr. Swerdlow brought up the case of Murod Jurayev, a former MP, who was imprisoned for 12 years in 1995. Mr. Jurayev's imprisonment term was extended by courts three times; each time the verdict was handed down almost immediately prior to his release. The same charge was leveled against Mr. Jurayev—violating internal [prison] regulations. [For more see an article on the Jarayon website.]
Another outstanding example of human rights violation is the case of journalist Muhammad Bekjan (Bekjanov). Rights advocates narrate time and time again the story of his 15-year imprisonment conviction in August 1999, and his expected amnesty in February 2012. However, in December 2011, a trumped-up charge based on Article 221 (Disobeying lawful demands of penitentiaries) and Mr. Bekjan's imprisonment was extended by another five years.
The convict's daughter, Aygul Bekjan, and her family currently live in the State of Washington. Only her mother, Ms. Bekjan's spouse, was allowed to travel to Uzbekistan to visit her imprisoned husband. Aybul Bekjan says her mother saw a man who looks much older than his 60 years of age.
"He contracted tuberculosis, liver disease. Of course from torture, he has broken bones, his arm was broken in a few places and his leg was broken in a few places," NPR quotes her as saying.
Both the State Department and the UN Committee for Human Rights have repeatedly stated that torture and violent treatment are widely practiced in the Uzbek prisons. However, over many years, the US provided assistance to the Karimov regime; most of the assistance was provided to ensure safety and security of cargo transportation to Afghanistan.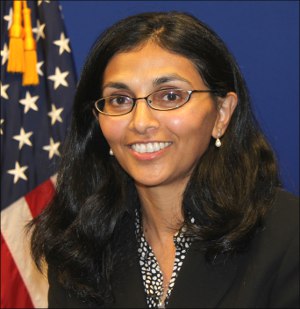 Nisha Biswal. Photo courtesy of the US State Department website
Nisha Biswal, the U.S. assistant secretary of state for Central Asia, visited Uzbekistan early December 2014, and met President Islam Karimov in Tashkent. Local mass
media outlets
covered the visit in their traditional manner, using watered-down phrases they receive from official sources. No report was made on pressing humanitarian issues raised during the meeting.
However, speaking with a journalist of NPR, Ms. Biswal said she held talks in Tashkent on the issue of human rights as well, wherein local human rights groups were present as well. Ms. Biswal called this "a breakthrough."
You may listen to the original story on NPR here.
"We absolutely have talked about the specific cases of individuals that Human Rights Watch and other organizations, as well as we put in our human rights report, to urge some sort of amnesty or clemency, on humanitarian grounds, for these individuals to be released," NPR quotes her as saying.
That said, Ms. Biswal adds that Uzbekistan remains vital to stability in Afghanistan, providing it with electricity and a vital rail link.
Despite this backdrop, the US State Department official says despite "deep human rights concerns," it's better for the U.S. to remain engaged with Karimov, the transcript further reads. "It's a combination of the right balance of pressure, partnership and a certain amount of strategic patience in how change can take place," Ms. Biswal is quoted as saying.
While Human Rights Watch's Mr. Swerdlow agrees that Uzbekistan is an important ally, he says a country that's "ruled by fear and human rights abuses will be an unstable ally in the future."
Fergana international information agency.