Kazakhstan: Domestic homicide provokes another pogrom against ethnic group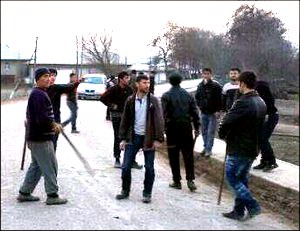 Journalists based in South Kazakhstan kindly provided Fergana with photographs from the scene of events; said journalists are unable to publish these images in their own mass media.
In the evening of February 5, disturbances took place in the village of Bostandyk in Saryagash District of South Kazakhstan Region. Over a dozen of vehicles were destroyed, while several houses were looted and burned during the disorder. Fortunately, as the saying goes, no victims or casualties are were reported.
The news about the events broke only the next morning. The rumour has it an aggressive crowd of several tens of people that organized the pogrom was eyeing the property belonging to third-generation ethnic Tajiks living in the villages of Bostandyk and Yntymak. However, a brief press release circulated by the Internal Affairs Department (IAD) mentioned nothing about the ethnicity of those who wreaked havoc.
Police maintain that a murder preceded said events and the case is investigated into. The IAD claims the crime in question was a domestic issue caused by mutual claims grounded on purported "household matters."
"Tajik" villages
Ethnic Tajiks started living in South Kazakhstan since 1930s. Official data suggest over 60,000 ethnic Tajiks live in Kazakhstan today. At least 5,000 or 7,000 live in ethnically diverse adjacent villages of Bostandyk and Yntymak.
Kazakhs, Russians, Uzbeks, Tatars, Korean and Turks live here as well. "Ninety percent of Bostandyk residents are ethnic Tajiks, while more than half of Yntymak's population [is Tajik]," a local resident, Artur [name is changed], told us.
Saryagash District is almost the warmest part of Kazakhstan that gets the biggest number of sunny days. Tajiks were forcefully relocated here by the Soviet authorities and settled in swampy and undeveloped areas. They have worked hard for several decades to turn these areas into blooming fruit and vegetable gardens.
Murder
According to local police's preliminary investigation findings, the murder in question, which triggered the disorder, took place in the night of February 4. The breathless body of Bakhytjan Artykov, 30, was found with stabbing wounds outside the village of Bostandyk. "It has become known immediately that Naumiddin Narmetov, a local resident of Tajik ethnicity, born in 1976, is suspected in committing this crime. People knew that they had some problems. But nobody paid attention; no one even knew who actually was wrong [in the quarrel]," the village residents say.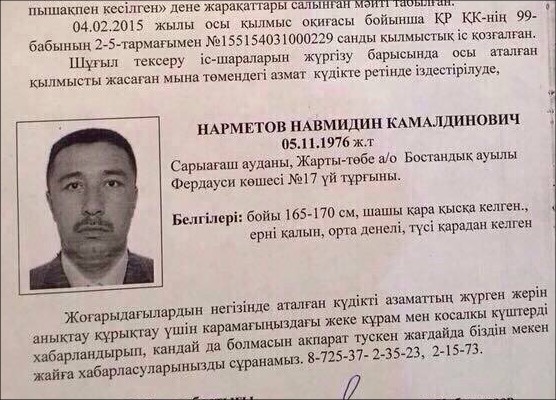 The description of the suspected murderer

"The murdered was buried on the fourth [of February]. There was nothing extraordinary during the funeral. Locals bury their dead in silence and organize no loud rallies. Nobody even suspected pogroms would unleash the very next day," Artur continues.
"Misunderstanding"
Police first said "misunderstanding" happened between Tajiks and Kazakhs in Bostandyk. Saryagash District Governor Bukarbay Parmanov told Azattyk reported over the phone that no disorder has actually taken place. So, what happened in the evening on February 5?
"In the evening, at around five o'clock, Kazakhs came in two groups of sixty to eighty people from different directions—they turned onto the street where the murder took place and started smashing windows, stormed a school and scared the children there; they pelted stones. They then set about 20 cars ablaze."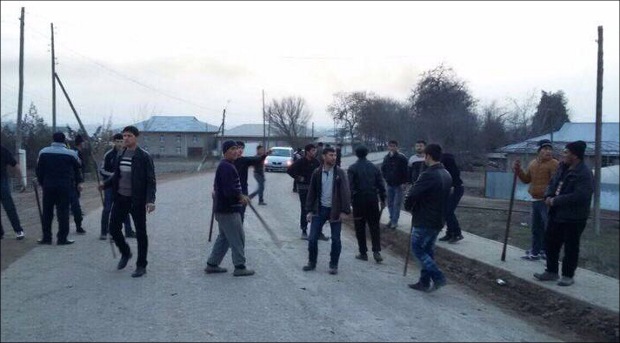 "It is curious that neither the Internet nor cellphones worked in Bostandyk at that time. All means of communication stopped working about 15 minutes before their arrival. Therefore, we were simply unable to report the pogroms to police. Even landlines were not working."
"They had bottles with gas. Tajiks immediately hid in their house and did not come out and kept their doors shut. Police only arrive in about an hour after the disorder broke out. However, they were unable to, or simply did not want to, immediately stop; we don't know. They tried to convince the crowd to return to their homes, but pogroms continued."
To protect and to serve?
"Looting took place on our street—houses were looted, things were taken, some people's valuables were stolen, and a car was hijacked and burned down. All that was happening looked like a conspiracy between those wreaking havoc and police. Even when they were retreating they continued doing what they were doing. Police officers and firefighters were useless."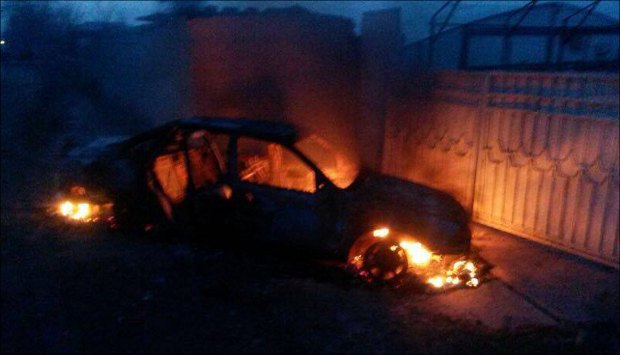 "Today [February 6], people from the regional administration came; the regional governor was here as well. They walked around and [tried] to calm people down. But no investigation is underway. So we are sitting here and thinking whether the culprits will be held accountable?"
"Many people left our village. Some left for Uzbekistan, because the [Kazakh-Uzbek] border is only two kilometres away. Others left for Shymkent to join their relatives. The school is still closed and will probably remain closed next several days. There is simply nobody in village streets—Bostandyk looks dead."
Information blocked
The Kazakh authorities have been applying efforts necessary to hinder the dissemination of independent information since the events started unfolding in Bostandyk. As soon as the website of Azattyk Radio posted news on disorders in Saryagash District, it was immediately blocked.
Kazakh online publications and agencies told Fergana that prosecutors and information ministry employees are calling website editorial offices and forcing them to remove and delete videos and photos; they are told to use only the interior ministry's information or face permanent blocking of their websites.
The question of why do the Kazakh authorities try to block issues of pogroms against ethnic minorities remains unanswered. Perhaps the officials do not want to upset the president. After all, he is claimed to have secured one of the most important achievements of modern Kazakhstan—the "interethnic harmony" that is talked about so much.
Situation in South Kazakh villages stabilizes; disorders subside
The situation in the villages of Yntymak and Bostandyk in Saryagash District stabilized as of Sunday, February 8, 2015. No violations of law were reported, while law enforcement agencies are investigating into the facts of pogroms, arsons and looting.
Fergana contacted several residents of Bostandyk, who wished to remain anonymous. Here is what they told us.
"The situation is [back to] normal. Nobody is doing pogroms. Police are working. They are very attentive people, who diligently recording testimonies. They are promising those pogrom organizers will be punished. They are recording the amounts of damages inflicted. They are accepting statements, testimonies, and complaints. So there are no claims against police anymore. We hope no such will happen again."
Internet connection has been restored in Shymkent and other cities in the region. However, according to several residents there, groups of hooligans roamed the streets in three vehicles the Saturday night and robbed a passer-by. "They screamed and fired shots in the air. No police could be seen because they have all been deployed to Saryagash as reinforcement. However, no matter how strange, the number of [illegal and criminal] events registered throughout Shymkent was less than usual."
Fergana international information agency.