Pulat Ahunov: Headsprings of Uzbek autocracy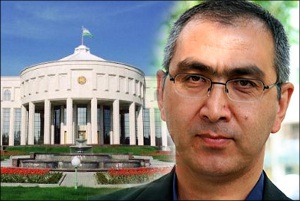 Pulat Ahunov is an oppositionist from Uzbekistan, who is chairman of the Sweden-based Association Central Asia and the founder of the Foundation for Combatting Corruption in Uzbekistan. Mr. Ahunov shares his memories of meetings with Islam Karimov in late 1980s to mid-1990s.
* * *
A presidential decree on my early release from prison was signed on 3rd of November 1994. I was then serving term in penalty and labour colony No. 64/47 near the town of Kyzyl-Tepa in Navoi Region. When the news regarding the decree reached the prison, I was recovering in prison's medical facility, having ended up there after a three-week hunger strike. The chief of the prison—whom inmates call The Master—came to see me in the infirmary the very same day. He has always been friendly to me; however, he never shied from repeatedly signing papers to restrict me into solitary confinement. This time, though, his face elicited a mysterious smile. Having briefly asked how I was feeling, what he said next sounded as if he was exhaling, "Domulla [a term of respect for educated individuals, teachers], a decree on your release was issued. I received the order to deliver you to Tashkent. Since you are released based on a presidential decree, there will be no convoy and I will take you there in my personal car." Then he thought for a moment, and then added, "Probably you will be taken to [see] the president directly…"
Inmates do not require much time for packing; I collected my books, received belongings from the prison storage and off we went on the long journey from Kyzyl Tepa to Tashkent. I was almost intoxicated by the endless images in the car window that I was swiftly leaving behind and the air of freedom. We travelled several hours across unpopulated areas. Our first break was at a rather cute-looking roadside caf?, which was emanating luring smells of cooked dishes. The Master parked the car and offered to have a bite. He did not hide his curiosity with me during the meal, and finally said, "Honestly, Domulla, I did not think you would leave [the prison] alive. Everyone was saying the president is very angry with you, [because] he treated you well and offered high-ranking positions. But you would sometimes say such things to himself, which he never forgives. Despite all this, apparently President Karimov has special [feelings] for you if he is mercifully releasing you [from prison]..."
Perhaps The Master was unaware of the fact, that the authorities were pressed into releasing me under the pressure of an international campaign in my defence. After all, Amnesty International, Human Rights Watch, Yelena Bonner (the widow of Andrey Sakharov), and many other well-known people were involved in it. Personal appeals on the part of [then] Russian President Boris Yeltsin and [then] French President Francois Mitterrand played the most crucial part. But even I was not aware of this back then, so my response was something like the following: "I don't know about his mercy, but most likely he is freeing me exactly because of all what I told him in person and rejected his offer to work for the System…"
Having finished our meals, we resumed the trip… The feeling of freedom and a delicious meal overwhelmed me, so I started drowsing. Memories started cycling through my mind as images in old films only occasionally disturbed by The Master's words.
* * *
Starting in March 1989, I attended many meetings and sessions as a People's Representative of the USSR, where representatives of highest echelons of power in Uzbekistan, [the Uzbek Communist] party's regional secretaries, members of the [Uzbek Communist Party] Central Committee, parliamentarians and others participated. Obviously, Islam Karimov was among them. It must be said that this person had nothing exceptional compared to his colleagues.
Telegrams from Uzbekistan
But there are a few memories about this man coming to mind, nonetheless. Of such is an event of June 1989, which has changed my life forever and led me to the path that I am on to date. During a session of the People's Representatives of the USSR on 2 June 1989, I violated the standing orders by coming up to the tribune and stating that the floor was not given to those Uzbek MPs who have differing views on the status quo in the Uzbek Soviet Socialist Republic that differed from the colourful reports of the republic's leadership. "Why are we not allowed to speak about the catastrophic state of affairs in the republic?" was the red line in my speech. It is difficult to describe the feelings that overwhelmed me then. I was only 27 years old and was speaking at the pulpit of the Kremlin Palace of Congresses. Meanwhile, over 2 000 People's Representatives of the USSR were watchfully listening to me on the one hand, while Mikhail Gorbachev and other leaders of one of the global superpowers were watching me on the other.
The most incredible [event that day] happened during the recess, when Andrey Sakharov himself came up to me, saying: "I have received so many telegrams from Uzbekistan… I think it would be appropriate to hand them over to you." The attention of and a personal communication with a greatest advocate for justice and a laureate of the Nobel Peace Prize touched me to such a degree that my eyes watered. Barely keeping my voice calm under nervousness, I could only say, "Thank you!" — and suddenly we just hugged each other like brothers. Andrey Dmitriyevich smiled barely and encouraged me: "That's fine, be courageous, it is only starting for you…"
After the session, Rafiq Nishanov, the first secretary of the central committee of the Communist Party of Uzbekistan, told all representatives of Uzbekistan to gather in the hall, including Islam Karimov, who then was the first secretary of the Kashkadarya regional committee of the Communist Party. First Secretary Nishanov started screaming at me in front of all others: "Do you even understand what you have done?! What you have put on your own life!" Nishanov continued expressing his indignation theatrically and grandiloquently: "Who has given you the right to say such a thing?!" Despite these words, one could clearly see this normally friendly man was not keen to make the air blue or humiliate his colleagues and subordinates. I was taller than him so I literally looked down on him and calmly said, "I am a [people's] representative; my voters are behind me and they gave me this right. And you may not dare to scream at me, because you and I are bestowed equal rights and powers here." First Secretary Nishanov, obviously, thought of my behaviour as of an unprecedented audacity. However, Rafiq Nishanovich had a specific inner intelligence, so he realized he was wrong at the moment and the situation was hurting his position; he suddenly withdrew his attacks on me.
Vytaustas Landsbergis, a representative from Lithuania, who then was the leader of the Sayudis Opposition Movement and later voter Speaker of Seimas, became an involuntary witness of this squabble. He came up to me after my colleagues' failed attempt to bash me and said with a soft Lithuanian accent, "It is not easy being a democrat in Uzbekistan…" He then threw an ironic glance at the Uzbek representatives petrified from surprise and continued, "I don't understand why they keep sending me those telegrams from Uzbekistan all the while you are there?" He, too, handed me a pile of telegrams from my country, in which Uzbek nationals expressed indignation with their representatives for unquestionably joining the ranks of "aggressively submissive majority." I still keep all those telegrams. That said, we still maintain friendly relations with Mr Landsbergis, who is an elected Europarliament member. We often exchange opinions on current global politics and discuss socio-political processes in the formerly Soviet countries.
A horrifying person
This story took an absolutely unexpected turn that same night. Secretly from each other, all of the first secretaries of regional committees in the Uzbek SSR visited me at my hotel room to say that they were throwing their support behind me in the conflict with Nishanov. Among them was our hero, Islam Karimov, whom I was seeing for the first time then. He, too, came to my hotel room and said some to the effect of "you did a great job; hang in there; be not afraid of and bravely criticise him; we all support your position," etc.
Back then I had not even slightest of idea about Karimov, his personality or attitudes. Having later learnt Karimov appointed First Secretary of the Central Committee of the republic's Communist Party, I asked a female representative from Kashkadarya Region I knew to tell me about him. The response of this common Uzbek woman astonished me: "We all are afraid of him—he's just a horrifying person…" "What do you mean 'horrifying'? Why so?" "I don't know, but everyone is afraid of him here—the collective farm director, the regional committee's first secretary, including myself…"
It appears that everyone who came in contact with Islam Karimov's work style and methods could clearly see blemishes in his nature. For instance, during a session of the Supreme Council of the Uzbek SSR in April 1990, Representative Shavrukh Ruzimurodov from Kashkadarya Region wanted to speak against nominating Islam Karimov for presidency, but he was not given the floor. So he just took to the centre of the session hall and screamed, "Do not vote for this man! He is a horrible person! You will regret and repent bitterly!" Everyone was looking at him as if he was an insane person. Representative Ruzimurodov was later stripped from his mandate, thrown in jail but the public's pressure forced the authorities to release him in 1991. I travelled to Karshi several times back then and organised rallies against his imprisonment, and the authorities forcibly removed me from the region every single time.
Representative Ruzimurodov was released only because Karimov has not reached absolute might and unquestioned authority yet. But the release did not mean pardon. This courageous man was not left unpunished for his "crime": Mr Ruzimurodov was killed in the internal affairs ministry's building [in Tashkent] in July 2001. May he rest in peace and may his executioners be cursed!
During one of the sessions Islam Karimov chaired as First Secretary of the Central Committee, I asked him several questions that have stirred an uncovered irritation. Salijan Mamarasulov, then First Secretary of Tashkent Regional committee of the Communist Party, approached me after the session. He was one of the most influential first regional secretaries in the country; he enjoyed respect in Moscow and personally from Mikhail Gorbachev. President Gorbachev paid personal attention to him and would talk to him privately from others. I was acquainted with Mamarasulov since 1979, when I spoke in his presence with criticism of rather miserable working and living conditions students found themselves during cotton-picking campaigns. Mamarasulov was then First Secretary of the Andijan Regional committee, while I was a 17-year-old student. Salijan Mamarasulov comes up to me after the session and said, "Pulat, run while you still have time. He is a very horrible person; he will not leave you alone, or your oppositionist friends or us who know him. Yes, we are now doomed too." At the time of that conversation, I thought to myself that Mamarasulov was only trying to save myself from my thoughtless audacity so I would stop making the leadership angry; but he was absolutely serious. Karimov used the first chance to sack Mamarasulov and forced him into retirement.
People deserve their lord
Islam Karimov was appointed first secretary of the Communist Party of the Uzbek SSR in 1989. He probably imagined his job just as his predecessors Nishanov, Usmankhojayev, Rashidov, Yusupov and Ikramov did. That is, Moscow tasks him with oversight of the status quo in Uzbekistan and he reports to the Centre on his acts. Even when many were already talking about independence, Islam Karimov argued against the idea, claiming independence would be the country's doom. I remember him saying that our country does not have access to sea and would wind-up in a "stone sack." He also said, "If we become independent, embassies would have to be opened in many countries… Where are we going to get money for that?" Reading newspapers of the time would suffice to learn Karimov's position in regards to sovereignty. That said, he led preparations and administration of a referendum for preserving the USSR.
However, the USSR did implode and seized to exist. The party boss was unexpectedly hit with state independence in his head and he now had to engage in the establishment of an independent state against his will. Naturally, first several years in the life of the young nation were the most challenging ones, because there were hundreds of fields to get actively engaged in. The primary task was putting together a team and involving those who would acknowledge him as their leader, be loyal to him and not betray him in critical situations.
Islam Karimov had a quite big number of opponents in early 1990s, because the spirit of perestroika and glasnost were still present in society. On top of that, legal political was conceived in the country, which initiated political battles in the parliament and regions. Karimov was on the verge of removal from office several times. For instance, the Supreme Council discussed dismissing the president in the autumn of 1991; the people's representatives were authorized to remove him from office by simple voting. But the future usurper withstood, having mobilized all of his resources and his talent to weave administrative games and intrigues. He made a very important conclusion after that event: the parliament's independence may put an end to his career as head of state. Ever since, Karimov pays a special attention to the parliament's structure and members to ensure it is unable to play a political role independently. Karimov's desire is to bar personalities capable of resisting him or even conspiring against his single-handed authority from becoming members of parliament.
He would not have been able to become such an authoritarian dictator in the Soviet political system. Truth be told, he could not become who he is in independent Uzbekistan if the separation of powers were established in the very beginning, the opposition were allowed to gain force, independent mass media outlets were allowed to work. He would have stepped down after his constitutional term expired, and we would see a different scenario of development in Uzbekistan.
That said, not only he, but also we all are guilty of allowing him to establish single-handed authority and force everyone into unconditional submission to his orders. We have created a dictator; it was our obsequious Uzbek nomenclature backed by the weak-will intelligentsia who turned him into a tyrant. Writer Sergey Borodin paraphrased a Russian proverb "Judge the flock by its priest" in his book "The stars over Samarkand" in search for an answer to the question of how could such an odious personality as Timur the Lame could ascend to the throne in our Chagatay society and involve everyone in his large-scale shady ventures. It is so surprising to see how the aforementioned proverb uncovers the phenomenon of Islam Karimov: this "priest" is the best description of the Uzbek "flock."
I participated in a session of the Supreme Council in the autumn of 1989, since this still was the old parliament elected in mid-1980s. Then recently appointed First Secretary Islam Karimov was sitting at the presidium table with a grim expression on his face and silently observed the proceedings. He did not speak at the session or even say word; he only silently and attentively watched the events unfolding in front of him throughout the entire business day. I approached him during a break and expressed my indignation with the disorderly debates at the session. He pursed his lips in a sneer and told me with a muffled voice, "You can see what kind of people they are, right? Can anything possibly be done with them? Just hang in there, the elections are coming up. We will elect new people and everything will then be different…" Meanwhile, as this conversation was taking place, we were looking at a hall full of people's representatives: all first secretaries of regional and district committees of the Communist Party, chairpersons of regional and district councils, chief managers of companies and enterprises. Only a short time elapsed before they all disappeared from the political scene…
During one of the sessions of representatives of Uzbekistan, which was held at the permanent representative office of our country in Moscow, I asked Karimov several questions in regards to his policies towards opposition. He responded in a vague and evasive manner and tried to avoid answering directly. But I did not leave him: I argued against and refuted his inconclusive arguments. Everyone was quietly observing our debate. Suddenly Representative Adyl Yakubov, a popular writer of the Uzbek SSR and then chairman of the Union of Writers of Uzbekistan, jumped up from his chair and started yelling at me, "Stop this! Does everyone have to listen to you? Why do you always impede our respected leadership in their work and constantly bother them with questions? Stop impeding Islam Karimov's work!" I was painfully hurt to see such a respected person lose any shame and feel no embarrassment to public demonstrate primitive sycophant feeling. And that person was considered one of the most progressive among the intelligentsia—everyone admired him and took as an example. However, I did not lose control over myself and have firmly said, "Adyl-aka, we are people's representatives, our work is constantly criticizing the executive branch of power. We must control those in that power and demand that they report." Now the others in the gathering rose from their seats and attacked me. It was then decided to disentitle me from speaking at the session. But Karimov suddenly displayed his mastery of control: he calmed everyone down and said the following words, which were completely unexpected given the situation we were in, "I respect Pulat Ahunov, he always speaks directly and does not beat around the bush. We must allow criticism and we may not prohibit it. You are wrong, my dear Adyl Yakubov! One may not shut other people's mouths…"
If the Uzbek intelligentsia elite did not succumb in front of then still weak authorities, and instead openly discussed its decisions and correct the newly minted president's and other leaders' actions, we would not be in such disgrace. Karimov could see that well-known elite were ready to pour buckets of dirt and humiliate one another only for the sake of looking good in his eye, hearing a word of praise from him, and a high-ranking position which would grant them the right to issue orders that change people's lives. He saw them through and started simply buying out former opponents. Those known for their opposition-leaning attitudes started lowering their voices against him and later withdrew from doing so altogether. They soon left the ranks of the opposition and resurfaced in high-ranking offices in various institutions.
We, the People's Representatives of the USSR from Uzbekistan, gathered in Tashkent and jointly departed for Moscow in December 1990. The aircraft cabin was quiet and boring: everyone had eaten and was drunk. Islam Karimov turns to [poet] Abdullah Aripov and says, "It is boring for some reason, could you lighten our mood?" Aripov, a renowned poet and the author of the anthem, walked up to the front of the cabin where Karimov and his entourage was sitting, and started reciting satirical poems. While reciting, he made faces and comically gesticulated. He aped. All the passengers were falling from laughing… the only person not laughing there was me. I respected this poet for his wonderful poems and loved his "My first love" poem very much. I came to his hotel room in Moscow that evening and said without even entering, "Shame on you! You are such a renowned person and made a fool out of yourself! You acted like a court jester in front of a shah!" I then noticed he was completely drunk and was barely saying, "What do you know?.. What do you understand?.."
"Although you are my enemy…"
An Extraordinary Session of people's representatives was summoned following the putsch in August 1991. The session lasted for three days—2-5 September—and served as a significant step towards putting an end to the Soviet Union's existence. Important historical documents were signed and decisions were adopted:
1. The declaration of human rights and liberties.
2. The establishment of a new system of interaction among the Soviet Union's member-states, and the announcement of a transition period for preparing a new Union Agreement.
3. A document on branches of power and governance during the transition period. This document essentially cancelled the Sessions of People's Representatives.
It was decided to establish a new legislative body, instead of the dismissal of the Session of the People's Representatives of the USSR, to be called the Supreme Council of the USSR, which would be comprised of representatives elected in the republics of the Soviet Union. The essence of this particular decision was having the Supreme Council of Uzbekistan to elect representatives to the Supreme Council of the USSR and send them to Moscow with the right to defend the interests of Uzbekistan and participate in the process of drafting a new Soviet Union Agreement.
The Supreme Council of Uzbekistan held a session in Tashkent in September 1991, which was broadcast on [Uzbekistan-wide] TV channels, so many saw what was unfolding during the session. If my memory is serving me well, respected Nasrulloh Said, Jakhongir Muhammad and other colleagues were present at that session, so I hope they will correct me if I make any mistakes in narrating what happened there, or fail to mention something.
It would be far-fetched to say the session saw heated debates or discussions, because all of the people to represent Uzbekistan in Moscow were already selected and approved by the president's administration. Renowned writer Pirimkul Kodirov read his report on the selection and approval of plenipotentiary representatives. He then announced a list of candidates had already been drafted and read the names in it. Kodirov then proposed to approve of the list without further discussions.
"Comrades," Pirimkulov said addressing the people's representatives, "our leaders know better than we do. So there is no use in discussing this issue any further." He was hoping to finish speaking when Representative Toyiba Tulaganova came up and said, "I demand including Pulat Ahunov's candidacy into the list of plenipotentiary representatives and urge voting on his candidacy!"
Kodirov turned pale in the face and started mumbling. "Wh-what are you talking about? Pulat Ahunov is our president's enemy! How could we include him into the list? No, no way! To my mind, there is no need to discuss this issue whatsoever! It is absolutely unbefitting to propose the candidacy of a person who constantly criticizes and disturbs our president, so nobody will even consider this proposal. Our respected president is sitting right here, and your proposal is disrespecting towards our respected president!" Representative Abdujabbor Khusanov, then deputy chief editor of the Commune newspaper in the Fergana Valley, rushed to support Kodirov. Having fussily approached the tribune, he started screaming, "Comrades, this is unacceptable! Pulat Ahunov's elections must not be allowed at any cost! I always sit next to Pulat Ahunov during sessions of representatives, and watch everything this man says and writes. He joined the democrats and always supports audacious conversations about our president, and incessantly criticises him. Even during our internal discussions he keeps bothering our president with various questions and interrupts him. We are sick of this man! Who gave this Ahunov the right to question our president? This person is our enemy, so he must not be allowed near affairs of the state!"
Pirimkul Kodirov had glanced back with a content face in order to receive The Master's approval. However, Karimov shocked everyone: "Comrades, to my mind, the issue of [the candidacy of] Pulat Ahunov should be considered. It would be good if we include him into the list of plenipotentiary representatives of our country. This person is someone our country needs." Upon hearing these words, Pirimkul Kodirov had instantly changed his attitude towards the issue at hand and started screaming in front of thousands of people (including those watching TV), "Look! Look! The president is showing generosity! Our President Islam Karimov has said absolutely correct words! [He] made a very good and correct proposal. Of course our president is on the right track: it will be better if our enemy remains amongst us, not outside." So my name was included into the list and unanimously approved. Thus, upon the nomination by President Islam Karimov, I was elected a plenipotentiary representative of the Republic of Uzbekistan in the Supreme Council of the USSR.
Several days later I was at the president's administration to participate in a meeting. I accidentally ran into Islam Karimov in a corridor. We greeted each other, and Karimov held my hand in the handshake and took me aside. "I nominated you as our country's plenipotentiary representative in Moscow, but you did not even thank me," he jokingly chided me. "Islam Abduganiyevich, I am grateful for your trust. However, honestly speaking, I was surprised that you supported my candidacy." He only said, "Although you are my enemy…" but I interrupted him to explain my position in regards to the issue. "Islam Abduganiyevich, as I [repeatedly] told you before, I am not your enemy and I am just a person whose political position is different from yours. I harbour no personal grudge against you. I respect you as the head of state and do not think of you as of an enemy. I believe your attitude towards me as to an enemy—only because I express opinions opposing your policies—is erroneous. I believe this must not affect [our] interpersonal relations."
Karimov was already visibly annoyed when he continued, "Drop it! Don't start these conversations of yours again! Although you are my enemy—or, so be it, although you are an oppositionist, as you would put it—I proposed your [candidacy] because our [representatives] will sit there in Moscow quietly as fish, and you are perfectly aware of this. So I thought that you always express your opinion despite the presence of high-ranking officials and would fight for the republic's interests when necessary at those sessions…"
He has then essentially offered me to join his team. "Actually," he said, "you should not meddle with the opposition, but work with me. I can see the majority of those through: they only make high-flying statements and offer nothing in terms of specific proposals to resolve pressing issues; they only chat and weave intrigues…"
It was not the first time the president was making this offer, so I had an answer ready, "Islam Abduganiyevich, I am always prepared to work and cooperate with you. However, you are in a good mood today and can give me an interesting job. But tomorrow you could be in a bad mood and you will kick me out. However, if you do officially include me into your team as a representative of the opposition as a token of cooperation, then I accept [your offer]." The aforementioned meeting was about to start, so Karimov hurried to the presidium and said, "All right, let's return to this issue later…" But we never resumed discussing the matter…
"Ask whatever you want"
But even those at the grassroots levels showed wonders of vanity, thus strongly "encouraging" Karimov to become a person he was about to become. As I remember, in 1990, we—i.e. the Birlik Party members—demanded soldiers from Uzbekistan to serve in the Uzbek army. In those tumultuous times, cases of beating and killings of ethnic Uzbeks, Tajiks, Kazakh, Kyrgyz and Turkmen soldiers based on ethnic animosity were steadily increasing. A wave of protests rocked the country. Karimov decided to talk to those present in one of such protest rallies, who were standing in an airport near the coffin of a killed soldier. The situation was extremely tense…
Karimov approached the father of the killed soldier and pathetically said, "Ask, Father, anything you want. I will do anything for you." He was expecting harshest reproaches and rebukes, and seemed prepared. However, the answer of a father who just lost his son was astonishing in its inadequacy: "I want the school my son went to be named after him!"
Karimov glanced at him in surprise and said, "We will certainly do that. Now get in the car and organise a good farewell for your son…" It is not difficult to imagine what Karimov thought of the commoners and their sufferings after this encounter. After all, Karimov himself has gone through tough and rough challenges of life. He is very well aware of people's characters: he has an animalistic instinct of which motives move them and can clearly see what is expected of him, and how to treat people…
Namangan and religionists
Religion started filling the void left in the aftermath of an implosion that crushed the Soviet Union. Uzbekistan was no exclusion: People obtained the right to practice the religion of their forefathers without any limits, to build mosques, and to travel to Islamic countries and fulfil pilgrimage rites. Islam Karimov attempted to utilise this new factor in the society's life for his own political benefit—he tried to show everyone that the Islamic revival was taking place in Uzbekistan thanks to him alone. He saw no threat to the foundations of the state, presuming he could control the process. His delusion stemmed from numerous sincere thanks the country's residents expressed for legalizing religious beliefs and practices.
But several events in Namangan in 1991-92 crushed those illusions and have clearly manifested what a dangerous force Islamic radicalism is. Namangan Region turned into a stronghold of Islamists and was de-facto under the control of numerous organisations they spawned. The most known and ominous among those was Adolat, whose backbone was composed of radical clerics, former paratroopers and veterans of the Afghan war. Back then in December 1991, they captured the building of a regional state administration under the leadership of the notorious Takhir Yuldashev in response to awkward actions the local government undertook by ignoring the activists' demands to arrange a meeting with Karimov. The president was in the region the day before as part of his pre-election campaign and had already left for Tashkent… Allow me to remind that the first general presidential elections were scheduled in that year, and the sitting president—Karimov—was a presidential hopeful at the same time.
So, Karimov had to immediately return to Namangan. He refused to have security details, having confidently stated that it was useless in that situation. Islam Karimov and Ismail Jurabekov deserve credit for their courage in that situation in Namangan: they did not fear to meet an outraged crowd, which was ready to tear them into pieces at any given moment, should they say a wrong word or do a wrong gesture. In essence, they were taken hostage, and our hero displayed impressive qualities of a negotiator in order to leave the situation safe and sound. The extremists were able to eke out of him a promise that attributes of an Islamic society would be introduced in Uzbekistan, although they were demanding the Shariah.
That is perhaps when Karimov realized that an uncontrolled development of religiosity in society and flirtations with Islam could lead to catastrophic consequences. Most probably, he made the following decision right there and then—sitting there kneeling down in front of that fanatical group and the half-educated youngster Tahir Yuldashev: it is necessary to undertake harsh measures in order to rein in the threat of "crawling expansion" of religious extremism; otherwise radical groups' influence would swiftly expand onto the entire country. Such a trend would jeopardize his power and the existence of a new state, which Karimov started building in accordance with his own imagination and vision.
Islam Karimov since then launched a campaign to eradicate these threats—harshest possible persecutions and prosecutions of religious groups and activists continue to this date. Many religious leaders were physically eliminated, while tens of thousands of believers were thrown behind bars. One could assume that the fear of responsibility for those repressions was one of the important factors that influenced his decision of late 1990s not to forfeit power, despite the fact he already served two presidential terms. Karimov made the final decision to that effect after the Andijan Massacre on the 13th of May 2005; it was the point of no return lest he wished fatal outcomes for himself personally and his family. Most probably that deathly drama was the final missing piece in the puzzle that shapes into the image of President Islam Karimov serving as the head of Uzbek state until his soul leaves his body…
This 1991 video was watched over 40,000 times on Fergana's YouTube channel
Seeing enemies everywhere
Everything in the new state was built and established according to Islam Karimov's design. At least that is what he thinks. The state symbols, a new governance apparatus, the army, security and law-enforcement bodies, courts, legislature and everything else is under the watchful eye of Papa, as he is known among the bureaucrats and officials. Clearly, the feelings of being a builder of a new home and a founding father boost his self-esteem and pave way for thoughts of "ownership" over the country; after all, he is "an outstanding historical personality." There are very few who ponder over the fact that these "reorganisations" were stitched together using Soviet "material" under the slogans "borrowed" from [the now opposition] Birlik and Erk parties.
Official documents and history books talk about only one person—Islam Karimov, who has created everything! Nobody else is mentioned. He did, indeed, worked on all this surrounded by nomenclature and opposition, who he thought were his enemies burning with desire to throw him off the much-desire throne and occupy it. Everyone was an enemy in his eyes: the controlling and demanding Moscow coupled with the local party nomenclature that thought he was only a lucky arriviste and dreamt of throwing him out using behind-the-curtain intrigues. He was especially disgruntled by the presence of Moscow's "commissars"; he particularly hated Second Secretary Yefimov and used every single chance to demonstrate his disdain and independence.
He also thought of the Birlik and Erk opposition organisations as of his enemies, because they openly spoke out against him and demanded democratic transformations; they saw a threat to his own grip on power in them. He saw enemies in everyone throughout his entire life so he can fight and destroy them. I don't think Karimov was initially planning to rule the country utilising repressive methods, jailing people, killing or exiling Uzbek citizens. However, as misdeeds piled up and criticism increased, he thought there were forces impeding him from achieving targeted goals, and he believed he had the right to eliminate those by any means necessary.
Karimov told a session of the Oliy Majlis (the new name of the parliament) in June 1992, "I am ready to crack some people's skulls to ensure everyone else lives in peace in our country." Several days prior to this signature statement, unidentified individuals beat up the leader of Birlik, Abdurakhim Pulatov, with iron batons and broke his skull; Mr. Pulatov was left on the street because the assailants thought he was dead. Other opposition activists were not spared. I also felt the "enjoyment" of experiencing an attempt on my life: unknown people in plainclothes attacked me near the Tashkent airport and tested their iron batons' integrity and bendability on my body. The iron batons, by the way, have become a signature tool during such intimidation campaigns. Another signal was sent several months later: I was jailed for 15 days based on a trumped-up charge of resisting police. False accusations and falsifications then started befalling me one after another: violating the public order, an escape attempt from the Andijan prison and attacking a guard, and systematic violations of prison rules, to name only a few. A court hearing in Andijan was followed by 18 months in the Andijan prison; then came "re-exile" to Tashkent, and I finally found myself in my final incarceration point in Kyzyl-Tepa. The repression machine was gaining traction…
* * *
Our trip was coming to its end as we were entering Tashkent. My conscience started returning back from these sad memories and thoughts of the reality of the moment. I started thinking as to how to live further…
We, the Uzbek nationals, must get rid of the major illusion, i.e. our belief in the just ruler. This is the biggest mistake our nation and the majority of intelligentsia committed. One may not believe in the existence of a just ruler; instead, the system of checks and balances must be introduced. The principles of establishing and functioning of the governance system must be just and fair, in order to enable both good and bad leadership to follow the same rules. Only then it could be guaranteed that they would not trespass their boundaries.
There is a "dictator" in each and every one of us on par with the current president of Uzbekistan. So if left unchecked, then anyone of us would assuredly turn into a new Karimov, should they come to power of whatever level. We did not support those who fought against the dictators when he was only gaining force. We silently observed and did not protest when those fighting the authorities' arbitrariness were thrown in prisons. We were happy to receive his hand-outs in the form well-paid positions. We joyfully participate in various kinds and levels of corruption schemes, and practically do not even hide our enjoyment. Moreover, giving and receiving bribes has become a solid sign of entrepreneurship, while "resolving problems" in such a manner is becoming a kind of "valour" in the minds of our nation. Such a psychological atmosphere surely corrupts anyone in power—even if that someone is of democratic and liberal views…
Pulat Ahunov, March 2015. This essay was written exclusively for Fergana.
Fergana international information agency.