Luggage packed, planes boarded—to Riga! A brief story of small and medium business in Uzbekistan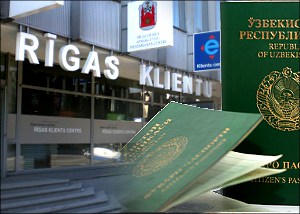 It would be difficult to overestimate the role small and medium businesses and enterprises play in any country's economic development. The experience many developed nations have suggests that this particular sector ensures an economy enjoys necessary flexibility and capacity to appropriately respond to economic and political crises. In other words, it is easier to establish small enterprises and change their profile and production if such a necessity arises—they demand far less resources and capital than their larger counterparts. In those countries that create necessary and favourable conditions for business, small enterprises funnel funds to the development of new products and services on the one hand, and increase output and production capacities on the other. These moves, in turn, bring about conditions and opportunities for economic growth, reduce unemployment, and improve the overall life standards in that society. Small and medium businesses—with their ability to quickly respond to changes in the business/investment climate—serve as a kind of indicator of governments' successful economic policies and their efficiency.
High state ranks elicit high praises?
The Latvian Chamber of Commerce recently hosted a workshop entitled "Establishing partnership between companies of Uzbekistan and Latvia." Uzbek Ambassador to Latvia Afzal Artykov and Marat Jurayev, the head of the international cooperation and protocol department under the Chamber of Commerce of Uzbekistan, spoke at the workshop.
Both gentlemen painted the brightest possible picture of the Uzbek economy's roaring growth and great opportunities for small and medium businesses. Mr Jurayev was exceptionally descriptive: "An e-government system has been launched in our country, where one can register a business among some 194 services provided by 110 state organisations. Now one can apply the 'single-window' principle for business registration, i.e. one only needs to visit one institution, not many [to register a business]. The tax burdens decreased threefold over [the last] 15 years. There are three industry and economic free zones in Navoi, Angren and Jizzak, which not only provide tax incentives but also boast a developed infrastructure. The Navoi free trade zone also has an airport."
The high-ranking official of the Uzbek chamber of commerce said many more praises to Uzbekistan and its successes. That said, as President Islam Karimov likes to say, one must beware of "falling into euphoria" because of such epithets. Indeed, too many praises and phrases that have nothing to do with the current reality in Uzbekistan.
Small and medium entrepreneurship in Uzbekistan is primarily concerned with simply surviving, avoiding corrupt officials and racketeers, pressures on the part of officials and regulatory bodies, which not always fight for the state's interests.
Cutting the billions dollars-worth branch the government is sitting on
The reality in Uzbekistan is that even launching a business starts with nearly insurmountable roadblocks and significant difficulties. For instance, a future businessman needs at least a month between the start of the registration process and an actual launch of the planned business. According to Fergana's own sources in Tashkent, a business registration must take about 14 business days. However, each future company must acquire three permits and certificates, which take another 15-17 business days. In case an entrepreneur wishes to get involved in an activity that requires licencing, standardisation and certification, then obtaining one single licence will add another 17 business days on average to the registration process, while acquiring a confirmation of meeting a standard will add 10 more days and a certificate will require another six business days.
In case a businessman wishes to get involved in agriculture business, then he/she must brace for additional difficulties: acquiring land, necessary equipment and technology, ensuring sufficient delivery of lubricants and fuels for the latter, and water and fertilisers for crops.
Given that businessmen are not allowed to launch the planned business until they acquire all required licences and permissions, the longer the registration procedure, the more financial damages businessmen incur. According to some economists, the state budget lost over 11b Uzbek soums (about $2.7m at the "black market" exchange rates) every single day when some 60,000 companies registered in 2014 did not function. In other words, the Uzbek state lost almost a billion dollars last year alone by simply preventing its citizens from launching their already registered businesses.
No currency exchange = higher prices
One of the largest hurdles Uzbek entrepreneurs face—along with the rest of the population—is the lack of free purchase and sale of foreign currencies. The government claims the currencies exchange is actually possible. However, doing so in practice is simply impossible. To be more specific, when a company wants to purchase a foreign currency for importing purposes, considering the company's application to do so may take as long as six or more months. Such delays cause serious problems with foreign suppliers who eventually either refuse to provide discounts or simply put an end to cooperation with Uzbek companies. Adding insult to injury, the applying company's funds meant for conversion are frozen for the duration of their application's processing. The extensive amounts of time required for processing applications coupled the inflation, exchange rate fluctuations, and foregone profits due to frozen assets lead to significant financial losses.
This is the reason why many small and medium enterprises are forced to purchase foreign currencies on the "black market" and obtain materials and components at much higher prices from middlemen. Such circumstances obviously bring about a significant increase in the product's retail price. Hence the Uzbekistan-made products' complete inability to compete at international marketplaces, while Uzbek nationals are forced to purchase products and goods whose prices constantly increase.
Rendering economic development impossible
According to TRACE International, an international anticorruption association, Uzbekistan was the 194th among 197 countries assessed in 2014; Uzbekistan was found the most corrupt among all the ex-Soviet countries. TRACE International assessed countries using such criteria as the level of interactions between businesses and governments, anticorruption legislation and its application, transparency of state bodies, and public control opportunities and arrangements.
Further, Uzbekistan was on the 166th place of 175 in the international index of corruption perception Transparency International compiled in 2014, i.e. Uzbekistan was again found the most corrupt nation among the ex-Soviet countries.
Transparency International's Board of Directors Chair Jose Ugaz said the following in this regard: "The 2014 corruption perception index shows that economic development becomes impossible and anticorruption efforts are rendered inefficient when leaders and high-ranking officials abuse power in order to misappropriate state assets for personal gains. Corrupt officials are transferring ill-gained assets to safe locales by the means of offshore companies and they face absolutely no accountability. This is especially well illustrated in the example of several countries in Africa and Central Asia."
Riga ahoy?
Perhaps Uzbek diplomats' and officials' high-flying phrases and praises sound so realistic and convincing on the shores of the Baltic Sea because Latvia has lately become a country that some affluent Uzbek nationals came to like. For instance, over 500 Uzbek citizens acquired permanent residence permits in Latvia between 2010 and 2014.
Those Uzbek officials and their relatives and businessmen who do not trust the Uzbek state and wish to "hit the road" are actively transferring "shadowy" monies to Latvian banks before the system in the country of their current "permanent" residence collapses. The Latvian banks do not inquire about the origins of invested capitals, while almost every single person in Riga speaks Russian that most Uzbek nationals are comfortable with. What else would the latter need for complete happiness? Having made that fortune, one needs to quickly move it out of Uzbekistan to some European country. After all, why lose money in your home country where legal and honest business is practically impossible?..
Fergana international information agency.