Yelena Urlayeva: "I feel humiliated, but I will continue fighting this criminal regime until the end"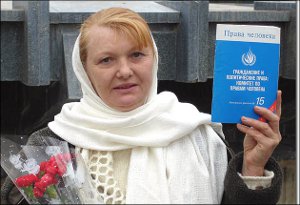 Reports on humiliations detainees and arrestees are subjected to in Uzbekistan rarely leave the walls of police stations, pre-trial detention facilities or torture chambers. One would hear about the cases of only those who died in detention or those so desperate and hopeless that they no longer fear the regime's wrath and revenge. Indeed, the regime can "break" anyone.
However, there is one person who fears no reprisals, does not fear speaking out and does not care about allegations of mental instability—Yelena Urlayeva, head of the Human Rights Alliance of Uzbekistan (HRAU). After all, the Uzbek authorities themselves are vile and inadequate. Law-enforcing agencies turned into highway robbers and prosecutors patron mafia, while officials of various ranks and levels turned into mute witnesses of arbitrariness on the part of the stronger ones. That said, the latter often initiate persecutions of those they dislike.
For more than 15 years Ms Urlayeva has been openly defending the rights and interests of victims of human rights violations in Uzbekistan. She regularly visits agriculture fields to document facts of illegal use of adult and child labour, arranges rallies supporting those unfairly convicted and demanding the authorities respect citizens' constitutional rights and liberties, participates in peaceful protests with signs of opposition, and responds to local residents' requests for assistance…
Ms Urlayeva's activities bring about lots of trouble for the Uzbek authorities, which are used to citizens' submissiveness and meekness and the lack of any negative response to their arbitrariness. The authorities apply every effort they can to silence Ms Urlayeva. Threats, insults, detentions, beatings, convictions, fines, confinement to mental clinics—this is a list of reprisals against Ms Urlayeva, which have already become part of this brave rights advocate's life. Despite all this, she continues to speak out for the defence of those, whose rights are violated, which, in essence, is the majority of the Uzbek population.
Two-legged beasts in uniforms
On the last day of May, Ms Urlayeva was taken to the Chinaz City Internal Affairs Directorate, where she was practically abused—both physically and psychologically. Fergana has written that the rights advocate was subjected to humiliating personal search, radiography and several hours of questioning. Ms Urlayeva later decided to speak about the shocking details of the event that she has so far chosen to do so due to the stress, shame and humiliation she was experiencing.
Ms Urlayeva was detained near the city hospital in Chinaz, where she was photographing medical staff preparing to be bussed to cotton fields for forced labour, and then taken to the internal affairs directorate. [Policemen] demanded she give them a flashcard with photographs, beat her on the head and insulted her with profanities.
"They were screaming that I am an agent of America; I shame Uzbekistan in exchange for money and disclose state secrets to other countries; [they said] they could force all the human rights advocates—enemies of the state—to shut up and only I and Ada Kim were left to take care of," Ms Urlayeva says. "They screamed as to why I still have not left the country and torment them by taking photographs and organising rallies."
Emergency medical team, called in by the police, gave Ms Urlayeva three shots, which caused her experience weakness and loss of ability to resist; however, she remained conscious. She was then brought into a room on the first floor and put on a bed; the deputy chief of the directorate then ordered the doctor to look for the flashcard in Ms Urlayeva's genitals—initially using hands; then the doctor used a gynaecological tool while Ms Urlayeva was seated in a chair. Policemen held Ms Urlayeva's arms and legs all the while this humiliating search was underway. The doctor's manipulations caused bleeding, which those present simply ignored: the deputy chief ordered the weakened rights advocate's rectum examined. Having failed to find the flashcard, Ms Urlayeva was put on stretchers and taken to a hospital, because the policemen decided she swallowed the device. Therefore, Ms Urlayeva was twice subjected to X-ray imaging of her chest and abdomen. She was then taken back to the directorate.
When Ms Urlayeva requested to allow her to use the WC, the policemen have rudely denied. She has then asked for a bucket, but the policemen said she can do it right there on grass and they will take photos. "And then we are going to post your bare butt on the Internet if you complain against us, bitch!" The rights advocate had to respond to the call of nature near a bush in the policemen's presence, who did actually take photos of her doing so.
But these non-humans' threats did not deter Ms Urlayeva from disclosing the details of violence she was subjected to by police. She started acting immediately, having regained sense and consciousness after stress and humiliation. On June 1, she organised a rally in front of the Ministry of Internal Affairs of Uzbekistan: "right in the view of their [surveillance] cameras with posters and demands to punish the culprits, who tortured me and have forcibly exposed me to X-ray radiation twice searching for a flashcard. I also blew a whistle to attract attention and passers-by could see [me]. I wanted the minister of internal affairs to see my demands and refer me to a forensic examination," Ms Urlayeva told Fergana.
According to her, officers of various secret services immediately arrived at the interior ministry's building. "They were very angry that I was rallying again and complaining against police. I was taken into the reception and I wrote a complaint. They did not arrest me, but accepted my statement and gave me a phone number for contacting them; they asked me not to organise protests again. They then called Ilyas Mustafayev, chief of the department for combating terrorism under the Mirzo-Ulugbek District Internal Affairs Directorate, and his assistant. They drove me home."
But Ms Urlayeva's troubles did not end upon arrival at home: someone pitted her husband against her.
"Somebody called my husband Mansur on the phone. He returned home late at night. He was drunk and aggressive, and started screaming that I must not complain against police and shame Uzbekistan. He said he had strike me a few times and I had to report him to police. He did start beating me, but I was able to run away—I was barefooted and in pyjamas only. Mansur chased me," Ms Urlayeva narrates. "I was able to reach a traffic police post running and ask for help. The officer on duty called police and they helped me enter my flat. My 11-year-old son was sitting there alone and crying from fear. Mansur was not there. I took my son and left for my mother's house."
The rights advocate believes policemen wanted to exact their revenge on her with the help of her husband.
"I am intending to undergo medical and gynaecological examination today, and then lodge statements with the Tashkent Regional prosecutor's office and internal affairs directorate. I am grateful to everyone who has been morally supporting me," Ms Urlayeva says. "Although I am ashamed and feel humiliated, I will continue fighting this criminal regime until the end."
She will do so, trust us.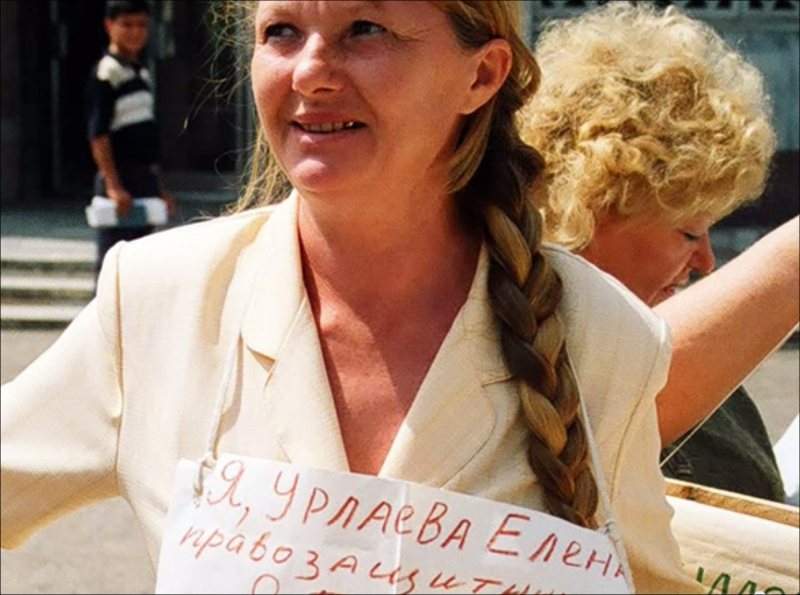 A colleague's opinion
Yelena Urlayeva is one of the few rights advocates, of there is almost nobody left in Uzbekistan, who continues to work despite the hellish conditions. How could the international community help such selfless people? What must be done in order to stop the humiliations the regime in Tashkent inflicts on its own citizens?
We posed these questions to human rights advocate Umida Niyazova, who was subjected to persecutions in Uzbekistan herself and forced to leave the country.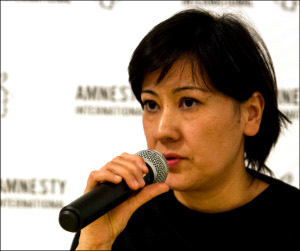 "The issue of protecting such people as Yelena Urlayeva must be one of the key points in all agendas during talks Western politicians hold with the Uzbek regime. [It does not matter] whether these talks are on security, trade or military equipment delivery. One wishes such significant international organisations as the Organisation for Security and Co-operation in Europe, the International Labour Organisation, the World Bank, and the European Union would display principles. These organisations must more insistent in demanding the Uzbek government respect international obligations. There are mechanisms in place for doing so; the issue is to prioritise and realistically intend to raise human rights issues above so-called strategic interests. Demanding respect for human rights must become the most strategic interest in interactions between the international community and Uzbekistan.
"Yelena Urlayeva is the last fearless rights advocate in Uzbekistan. Her courage and perseverance warrant any civilized person's great respect and sympathy. The things that Yelena has told about the policemen and doctor in Chinaz are simply disgusting. What is scarier is that these sadists remain free, continue working and walking in street even though they pose such a great threat to people.
"[Her] demands to fairly investigate into the violence against [she was subjected to] are demands for justice not only for her, but for every citizen of Uzbekistan. After all, police in developed countries detain and isolate criminals and maniacs who hurt people. If there are sadistically inclined people working as police officers in Uzbekistan, then the likelihood of more violence is very high. Therefore, one would wish that the OSCE Centre in Tashkent, for instance, would not only host boring conferences with the Ombudsman, but would also demand fair investigation into tortures," Ms Niyazova says.
And we are only left to wait and hope that the international community will not ignore the facts of repression and arbitrariness in Uzbekistan and will defend Yelena Urlayeva.
The Cotton Campaign coalition urges the Uzbek government to objectively investigate into the fact of violence against Yelena Urlayeva and hold those guilty responsible, and create conditions for monitoring the cotton industry by independent rights organisations, activists and journalists without fearing persecutions. The coalition is also appealing to the USA and European Union to clear explain to Uzbekistan that assaults on rights advocates would have negative impacts on cooperation. The ILO and WB must, according to The Cotton Campaign, inform the Uzbek government that such treatment of rights advocates is completely unacceptable and jeopardizes further joint projects.
According to the RFE/RL's Uzbek-language service, Human Rights Watch is also urging the international community, the USA and EU in particular, to respond to the heinous fact of violation of this well-known human rights advocate's rights.
Fergana international information agency.