Kyrgyzstan: Imprisoned Askarov's son appeals to international community to help bring justice in father's case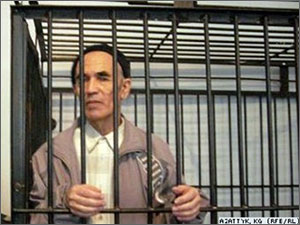 Azimjan Askarov, a human rights activist
Sherzodbek Askarov, the son of a well-known human rights activist and journalist, Azimjan Askarov, is appealing to the UN, OSCE, the embassies of the USA, the Czech Republic, Germany and other countries with a request for assistance in forming a commission for a fair investigation into a criminal case against his father.
Background: On 15 Sep 2010, Jalal-Abad Regional Court convicted Azimjan Askarov to imprisonment for life and confiscated his property. Mr Askarov was charged with participation in mass disorders in June 2010 in southern Kyrgyzstan; particularly, the investigators charged him with inciting interethnic animosity and complicity in murder.
Fergana received Sherzodbek Askarov's appeal via electronic mail, in which he says the following: "He [my father] was detained on 15 Jun 2010, and he was subjected to violent tortures during the investigation. On the hearing day, the prosecutors used testimonies of and information by prosecution bodies—the chief of the regional SNB [the author means the Nation Security State Committee (GKNB)] and his two aides, the chief of district police and 16 district police officers as well as the deputy prosecutor even though everyone knows that law does not all this [i.e. using their testimony]. According to citizen Munira Mamadaliyeva, the deputy chief of district police, Oskonbayev Azizbek, and investigators named Ryspek and Akyl threatened her, saying her son would find himself on the bench next to Mr Askarov if she did not testify against him. Ombudsman Tursunbek Akun claimed that he formed a commission immediately after the June 2010 events, which 'is now in south of the country; having carried out a thorough investigation, it established that Askarov was in a different part of the village at the time of killing of block policeman Myktybek Sulaymanov.' [Then the-deputy premier of the interim government] Azimbek Beknazarov added that he has personally watched a video, which allegedly establishes Azimjan Askarov's presence at the crime scene. If Beknazarov has indeed watched that video, what is keeping him from showing it to others over the last five years [since Mr Askarov's detention and subsequent conviction]?"
"I would also like to draw your attention to the fact that on that horrible day, now mostly forgotten by almost everyone, 23 peaceful citizens were killed in Bazar-Korgon District alone, while 50 more were wounded and over 200 houses were burnt down completely. Five years have passed since those tragic events unfolded, but the interethnic relations still have not improved in Kyrgyzstan and justice is still not restored. The only reason is the lack of interest on the part of the Kyrgyz authorities to impartially evaluate the bloody events."
Further in the statement, Sherzodbek Askarov writes that the Kyrgyz authorities "are still failing to fulfill even one recommendation provided by the international Kyrgyzstan Inquiry Commission for investigating into the bloody evens in southern Kyrgyzstan, which was invited at the initiative of then the-interim president, Roza Otunbayeva." For instance, the commission required to administer a thorough, impartial and independent investigation into crimes independently of the suspects' ethnicity; to immediately stop arbitrary arrests and tortures in detention facilities; to publicly condemn cases of torture and other forms of violent treatment and to guarantee impartial and comprehensive investigations of complaints against such treatment; to judicially prosecute any official suspected of violating the law; to join the European convention on preventing torture and inhumane and/or treatment and punishment; and to guarantee that no testimony obtained under torture or violent treatment shall be taken as evidence in the court of law. The Kyrgyz government was also urged "to demonstrate activities at showing the public in general that victims of the June 2010 events are also citizens of Kyrgyzstan, whose rights and dignity must be respected independently of their ethnic origin, sex, religious or political views."
Sherzodbek is concerned about the future of his father, who turned 64 on May 17: "How much longer does he have to live? Will justice reign in Kyrgyzstan? Will my father, Azimjan Askarov, live to see those days?"
Background: Tragic events that brought about clashes between two major ethnic groups in Osh and Jalal-Abad Regions in southern Kyrgyzstan broke out exactly five years ago—on June 10, 2010. Over 400 people were killed and over 2,000 were wounded during the course of interethnic clashes (see Fergana's coverage here in Russian). The US Embassy and the European Union representative office in Kyrgyzstan made statements in connection with the fifth anniversary of the events, in which they highly praise "democratic achievements after the year 2010" and expressed their commitment to continue providing assistance in "peaceful and democratic" development of Kyrgyzstan.
UN Secretary General Ban Ki-moon is visiting Kyrgyzstan on June 11, and will visit Osh to meet civil society representatives and local authorities. The UN chief will also meet Kyrgyz President Almazbek Atambayev, PM Temir Sariyev and Speaker Asylbek Jeyenbekov.
Fergana international information agency.