"Russia's southward turn": Who benefits?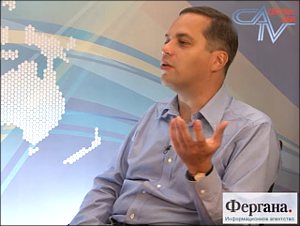 We discussed Russia's "southward turn", a much-discussed topic lately, with Vladimir Milov, a well-known Russian economist, politician and Demokraticheskiy Vybor Party Chairman. After all, the roads to "long monies" that are vital for any economy's survival are closed in the Europe-bound directions. These "road" will likely remain inaccessible for a long time, and the world does not have too many other alternatives to offer. What benefits and risks does this southward repositioning has to offer? What are our southern neighbours' perspectives in terms of cooperation with Russia? Do it entail benefits for them, including the Central Asian nations?..
Sergey Metz, the host: There once was a saying: Moscow is a very large village, where everyone meets everyone else one way or another. I am under the impression that we have somehow missed the moment when the whole world turned into a large village; such seemingly remote countries as Brazil and South Africa have suddenly become so "close".
Today I want to talk about those countries that have always been close to us, but did drift away for some time and then came back close to us again with the Western sanctions serving as a reason for the last rapprochement. The path to the West was blocked; well, we blocked ourselves out of it. Then we turned to south and southeast with triumphant shrieks of "hurrah!", presuming we were in for a big profit, money, etc. I would like to discuss relations between Russia and China, which are separated by the large Central Asian territory. By the way, Central Asian nations are playing an increasingly key role in geopolitics lately, and the same [argument] applies to Iran.
So, what preferences could Russia obtain in China and what pitfalls are awaiting Moscow there? On the other hand, what preferences could China—as well Central Asian nations—gain from relations with Russia?
Vladimir Milov: Discussions about bilateral relations with China have been going on for 15-20 years. The first indications of Russian authorities flirting with China could be seen already back in late 1990s—when Boris Yeltsin travelled there. It is a big myth and a bubble for me. If an informed observer glances at the map, they would see two large countries—one red and one yellow—which share an extensive border.
But let's discuss each point separately. Most of [social, economic and political] activities in Russia unfold and take place in its European parts. The Western Siberia as well as Khanty-Mansiysk and Yamalo-Nenets Autonomous Districts that extract oil and gas are also parts of Europe geographically. In other words, the oil and gas transportation "shoulder" to Europe stretches some 3,000km. This stretch is a big contrast to the distance it would take to "haul" hydrocarbons to China, especially to Chinese economically developed areas. Further, infrastructure was built decades ago with Europe in mind as a market to be supplied. And if you look at the basis of the economic leap in China over the last 30 to 35 years, it becomes obvious that it was possible thanks to turning China in a giant global factory. In other words, they bet on being a champion in production and industry that is capable of serving the rest of the world. The most obvious conclusion is you bet on the production of industry goods, then you are interested in the largest markets, of course. For instance, the USA has been relying on Chinese goods for a long time and produces 25% of the global GDP. Let's look at the European Union, which also produces 20% to 25% of the global GDP. Half of the global economy—the USA and European Union—are countries with high standards and big demand for industry products. Hence, they are the largest supply market for and driving force behind the economy of China.
On the other hand, there is Russia somewhere on the outskirts of this economic motorway, which would produce 2-2.5% of the global GDP in its heyday—twenty times less than the USA and EU put together. This warrants a comparison of a mouse to an elephant.
(...)
Please contact the editor-in-chief for obtaining the entire interview at dan@kislov.ru.
Fergana international information agency.