Uzbekistan: Cotton slaves picked sells well, as usual…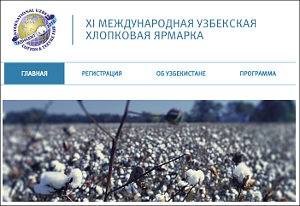 According to many employees of state-funded institutions, who have been forcefully sent to cotton fields in Uzbekistan, they manually collected the entire harvest of cotton this year. They report seeing not even one cotton-picking machine throughout the whole period of their work on the fields. Meanwhile, the official mass media are tirelessly reporting on grandiose achievements in the Uzbek economy's cotton sector. But are falling short to mention these achievements have been secured thanks to almost free-of-charge slave labour.
Vanity fair
"Uzbekistan is a Committed and Reliable Partner in Global Cotton Market." This and other similar bravura headlines are currently ubiquitous in the Uzbek mass media outlets. The reason and cause behind such high-flying words is annual cotton and textile fair that took place in Tashkent on October 16. The Uzbek government, the sole owner of all cotton in the country, inked contracts on exporting 700,000 tons of the Uzbek cotton fibre; contracts worth over 800m USD were also inked on the Uzbek textile products. Official data suggest over 1,000 companies from 40 different countries participated in the fair this year.
The Uzbek press, continuing rich traditions of the Soviet past, continues "feeding" stories about extraordinary achievements and grandiose successes to the Uzbek reader.
"The process of modernising cotton factories is continuing in our country: modern equipment is installed and new enterprises are launching. A new system of packaging is also being implemented in accordance with international reqreuiments…"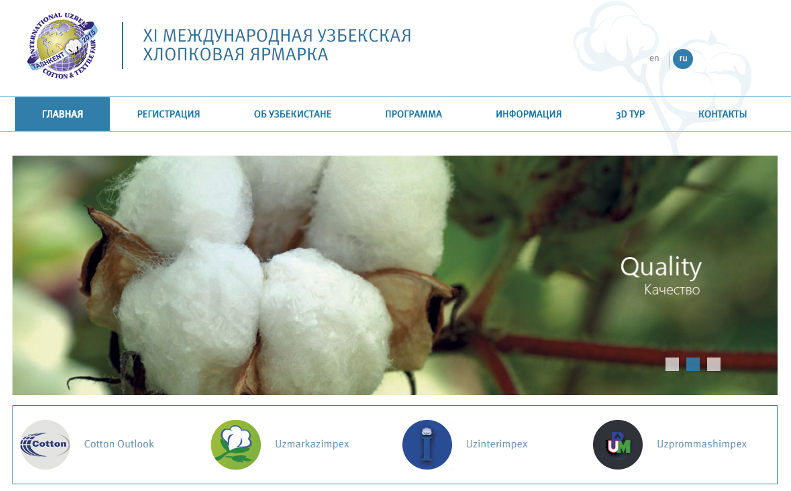 The fair's official website only contains events agendas and general information about Uzbekistan. An inquisitive visitor will not obtain information on the fair's commercial aspect. On October 15, the day the fair was announced open, only 104 visitors opened the website…

Every single article or news piece on the economy and politics mentions the Uzbek president.
"As noted at the conference, held within the fair, Uzbekistan ranks sixth in the world in terms of production of cotton and the fifth in terms of exports. This year our farmers have gathered a rich harvest of cotton. This is the result of wide-ranging reforms under the leadership of President Islam Karimov, carried out in agriculture, cotton and processing industry, as well as consistent efforts to further develop farming movement, to improve the selection, logistics and other related spheres," UzA, the main information agency of Uzbekistan, boasts.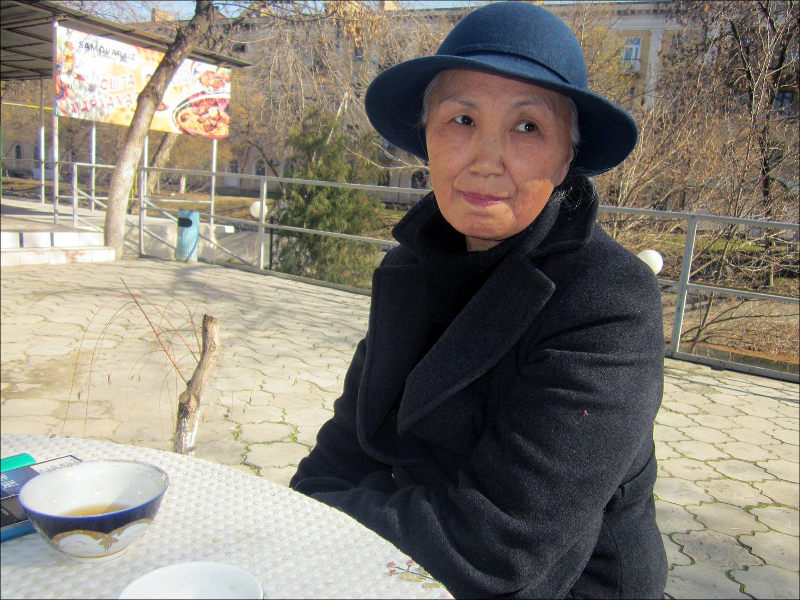 Adelaida Kim, a Tashkent-based human rights advocate, was present at the cotton and textile fair to hold her own monitoring of the situation and obtain information on cotton contracts, the Human Rights Alliance of Uzbekistan (HRAU) reports. However, she was unable to enter the facility throughout he two days of the fair: admittance was only possible in accordance lists of visitors, while the building itself was vigilantly guarded by the Uzbek secret services.

Bare hands
Fergana's own reporters in Uzbekistan have learned that a number of farms in Tashkent Region collected cotton by only using manual labour, and no single piece of machinery was involved. The cause of the situation, according to our reporters, is not always the lack of agriculture technology and machines.
According to a local resident involved in agriculture in Buka District, the several tens of available cotton-picking machines are not sufficient to collect the harvest without manual labour; the labourers in question are mostly forced to contribute to the cotton-picking campaign and have no connection to agriculture whatsoever in most of the cases.
That said, the cotton-picking machinery is deliberately kept in docks because the forced labour—"the voluntary assistant cotton-pickers," in the government officials' words—is sufficient to collect the entire harvest without involving said machinery. Further, according to this interlocutor, the quality of machine-picked raw cotton is usually low, leading to lower price tags at the cotton fair. So, the government can afford refusing the use of machines and doing so is actually far more profitable.
Cotton-pickers in other farms are also reporting either only a few cotton-picking machines on the fields or none altogether. They were told a decision was made to collect cotton only manually this harvesting season, because said machinery was bound to docks due to a lack of fuel and spare parts.
Given the fact such machinery is mostly new, it is difficult to assume all of it has suddenly gone out of order throughout the country at the same time. The claim of lack of fuel reserves is also dubious. After all, everyone in the country knows about fuel shortages private vehicle owners experienced during cotton-picking seasons—agriculture machinery and vehicles are given priority for obvious reasons.
"Apparently they are clinging onto even slightest chances to utilise mass manual labour to collect cotton in places. The cause is of economic nature: even if the cotton-picking machinery would be available, using forced manual labour is economically much more profitable. This means that machine collection of cotton will most probably not develop in Uzbekistan, unless the procurement price for cotton increases thereby increasing manual labour costs [and rendering such labour less profitable]," a Tashkent-based economist, who feared being identified, tells Fergana.
Speaking at a similar cotton fair in 2013, Prime Minister Shavkat Mirziyoyev told the world about fantastic plans. According to his words uttered at the time, 80%, perhaps even 90%, of cotton would be collected using machines in just two-to-three years. However, reports issued this spring cleared any and all misplaced expectations: only some 2,000 machines would be deployed throughout the country to collect just 5% of the harvest.
"Real slaves"
While teachers and doctors, as well as children, do often pick cotton, they are not the best fit for the job—inmates are. The modern slaves are most fearful of inflicting the wrath of wardens; therefore, they unquestioningly endure any humiliation and violation of their human rights.
The inmates are forced into a backbreaking work from early dawn to late evening. Any complaint, refusal to work due to physical fatigue or failure to collect the quoted amount of cotton can lead to beatings and other punishment, including the extension of conviction terms.
"My brother was charged with group robbery of a money exchanger in the 'black market' in 2011. He was initially convicted to 15 years of imprisonment, which was later halved thanks to amnesties. He served four years, including two years in a penal colony. I know from him that 'punishing with cotton' is one of the most violent penalties applied to inmates during cotton-picking seasons. They are forced to work 18-19 hours a day," tells us a relative of an inmate imprisoned in Tashkent Region.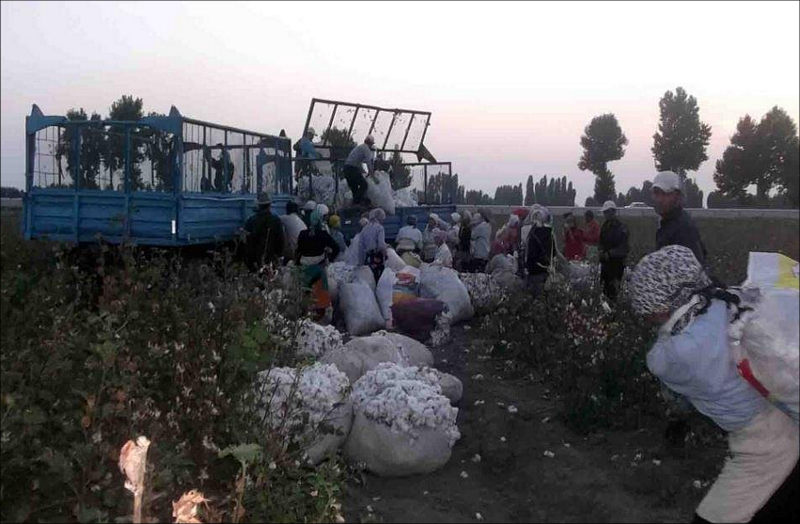 A group of cotton-pickers delivering harvested cotton


"While those free are to collect 60-70kg of cotton during an 8-9 work day, inmates must collect 100-110kg during a work day that lasts between 0440 and 2200 hours! Physically this is impossible—and there has not been enough cotton on the fields in a long time already—some fall unconscious but the penalty institution administration does not care whatsoever. Those imprisoned in penal colonies are first taken to cotton fields and they are the last ones to leave at the end of the cotton-picking season. The hellish labour in unsanitary conditions over several months (despite inappropriate weather conditions) coupled with disgusting foods and virtually no breaks turns even young strong men into old people, depriving them of health and strength," our source continues.
The relative of remember an early October meeting with his convicted brother, who complained about frequent pains near his liver, malnutrition and horrible food.
"[Inmates] with money can buy more or less edible food and water at nearby stores; those without have to put up with inedible meals. Since I saw him the last time two months ago, he lost 13kg of weight; his eyes are deep in sockets; he barely held his tears back while talking about how working 'till the last cotton fibre' is picked (traditionally till late October, but mid-November in some years) could end bad for him. My brother asked me to 'do so that as many people as possible outside prisons know about how inmates are exploited in cotton-picking as real slaves.' He also said he was told by others—he has not seen himself—that young inmates in Uzbek prisons work alongside adults on neighbouring fields every years. At least they are not forced into labouring from the darkness of dawn till the darkness of dusk," our interlocutor concludes.
* * *
Speaking at the latest cotton fair in Tashkent, which has just finished, Prime Minister Shavkat Mirziyoyev has proudly noted, "Ninety-eight per cent of the total collected cotton this year is the highest and first grades" harvest. However, the chief of the Uzbek cabinet of minister stopped short of elaborating on how this harvest was collected and who stands to enormously benefit from it.
Fergana international information agency.