Political prisoner released in Uzbekistan after 21 years, Sec Kerry visit
Fergana just learnt Murad Jurayev, a well-known Uzbekistani oppositional political prisoner, has been released from prison on November 12. The photograph below was made almost immediately after his release and is post on Facebook.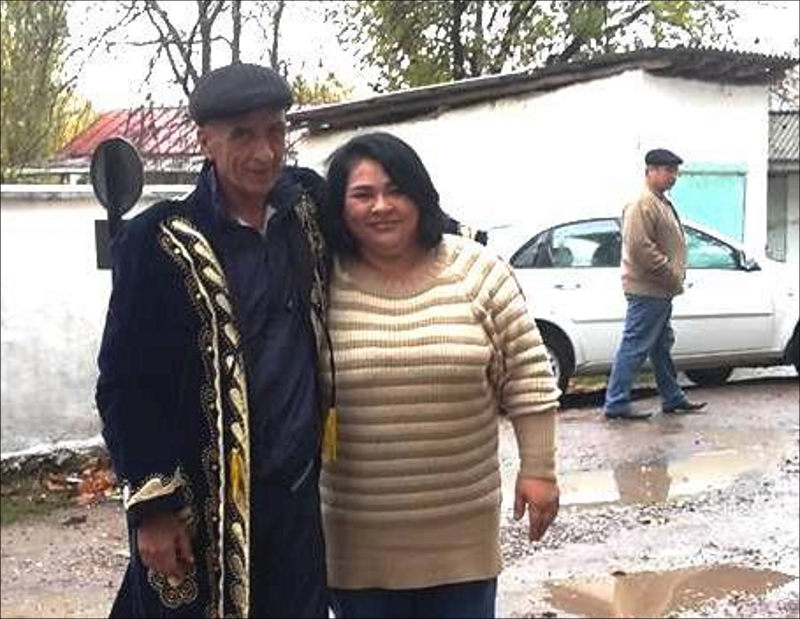 Murad Jurayev in the company of Vasilya Inoyatova

Mr Jurayev looks very aged and haggard, yet cheerful. He is shopping for winter clothes with his wife as of this writing.
As we reported yesterday, the Ezgulik human rights advocacy group's representatives, including its head Ms Inoyatova pictured above, visited Mr Jurayev, one of the most spoken of political prisoners, on November 10. He has been incarcerated for over two decades—since 18 Sep 1994.
Ezgulik circulated a statement following the meeting, urging the Uzbek authorities to release this political prisoner based on humanitarian principles.
Obviously the statement the only officially registered watchdog made could not have been the cause for the oppositional politician's release; he was to be released in December.
Perhaps the main push for his release came in backstage talks and agreements between Uzbek President Islam Karimov and US Secretary of State John Kerry, who visited Tashkent early November.
"Kerry's visit had the most direct impact on the release in question. We were expecting the release of a political prisoner ahead of or during the visit. But that did not happen and that started to worry us. It is now clear that the United States is prepared to develop cooperation with Uzbekistan only if the regime decreases violence and releases at least one or two significant persons. And Jurayev is one of those 'heavyweights' needed," says Fergana's source in Uzbekistan with intimate knowledge of the situation.
Background: Murad Jurayev was born in Mubarek of Kashkadarya Region in 1952. He was chairman of the executive committee of the Murabek city council in 1989-1992. He was a member of parliament in 1991-1992.
Mr Jurayev was accused of entering "criminal conspiracy" with Muhammad Salih, the leader of the Erk opposition party. According to the Uzbek authorities, Messrs Salih and Jurayev wanted to organise a violent seizure of power.
Fergana international information agency.