Kyrgyz education ministry wants to close a special kindergarten for special children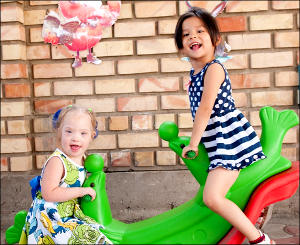 The only private kindergarten that provides an inclusive form of education in Kyrgyzstan, based in the capital Bishkek, is on the verge of being shut down. Both typical children and those with the Down syndrome attend the kindergarten. The authorities claim an unfortunate accident last month—a child broke a leg—warrants the closure. No criminal probe has been launched due to "lack of evidence." But an avalanche of inspections was launched nonetheless. Albeit only unofficially, a warning was issued, "We will revoke your license."
The Luch Dobra Public Union [The Ray of Kindness] was officially registered on 24 April 2013, at the initiative of several parents with children who have Down Syndrome. Ms Viktoriya Toktosunova, who has a-year-old unusual baby herself, is director.
The organisation initially had two goals: an information campaign to support families with children with Down Syndrome and establishing a centre for such kids. The idea to establish a kindergarten with an inclusive education system has come around some time later. The idea was proposed by Alla Hramtsova, Viktoriya's mother. I met these wonderful women to talk about what happened.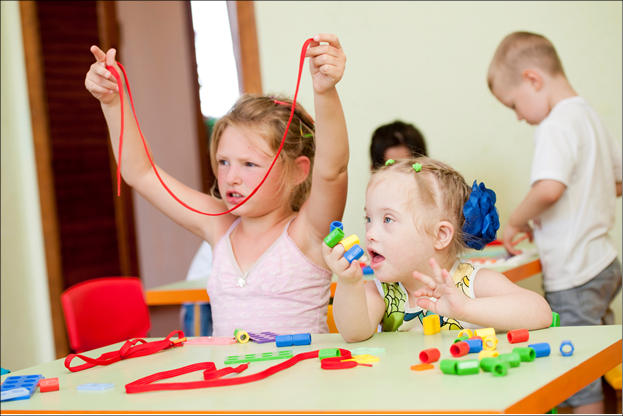 Children at the Junior Park kindergarten

The kindergarten is housed in a small two-floor building in a private neighbourhood in Bishkek. The building has a nice yard. I notice the absence of items and objects that could potentially inflict injury such as slides, swings and monkey bars. The house itself is very clean and tidy. The first floor houses rooms for games and music classes as well as a kitchen and a dining room; a bedroom, classrooms and a bathroom are on the second floor. I visited the kindergarten during a "quiet hour" and the kids are all sleeping.
Ms Hramtsova barely holds her emotions telling me about the accident. It is difficult to even imagine how a child could have fractured a hipbone after he simply "sat" on level ground…
Obviously, law-enforcement bodies got involved, but they launched no criminal investigation due to lack of evidence of a crime. But inspections were launched even though no single person from the ministry of education visited them over the course of two years of the kindergarten's existence. And then, of course, there were a number of inspections by tax authorities, fire-fighting services, and sanitary administration.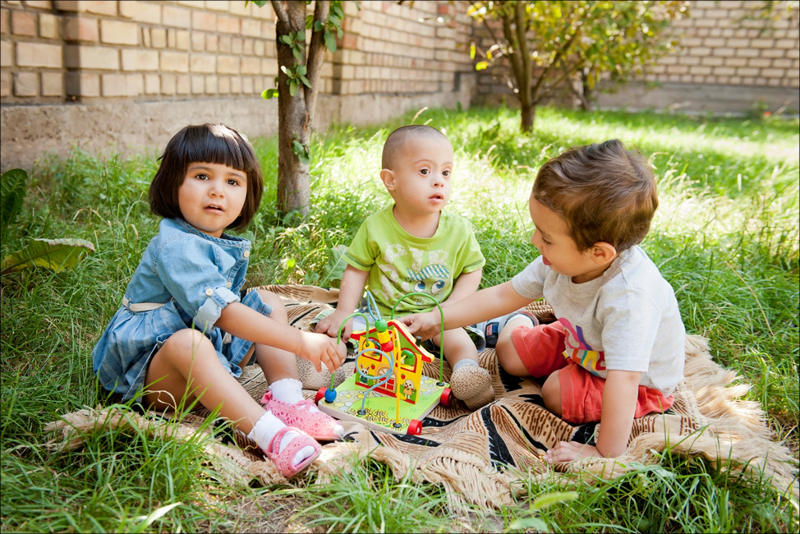 Children at the Junior Park kindergarten

Claims and pretensions they had were bizarre and strange.
"Why aren't corridors still tidied up?" "Because we are administering the morning admission of children and they do not all come at the same time." "Why aren't children given handouts and they are sitting and listening?" "Because if you give all the handouts at once, they will get distracted." "Why is the schedule written in different inks?" "Why are there steps here?"
But the most bizarre one was the following: "You have a wrong licence—how did you obtain this licence? We will revoke this one and will deal with you then."
"And they are saying this," Ms Hramtsova continues, "after I received the licence following an inspection of the house, approval of an annual plan of classes, and check of our state registration as a legal entity. They now doubt even this registration. The licence was issued to serve 60 children, while we have twice as few—30, of whom eight are special children."
So the official from the ministry of education casts doubt on the legitimacy of a document that very ministry has issued earlier. And he accused the director of that…
Director Viktoriya joins the conversation and we "go back to the roots."
"After the birth of my son, I spent almost a week in the maternity house. I did not know what the Down Syndrome was—an illness or just a condition," Viktoriya says. "I searched online for information. I received no help from the doctors. It is a horrible feeling to not know what is happening to your child and what to do in such situations or what future awaits him. All the available books were published in 1950s and 1960s, when children born with Down Syndrome were placed in psychiatric clinics because they were believed to have psychiatric disorders. Perhaps such children did develop psychological problems after being placed there."
The doctors did not how to take care of Viktoriya's son. According to herself, the doctors prescribed various medicines for her son—to cure the Down Syndrome!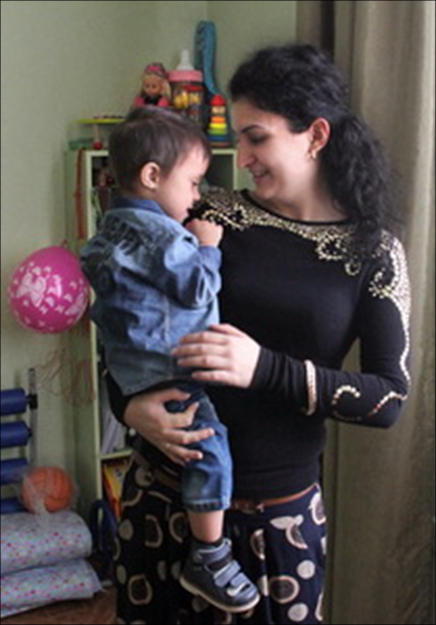 Viktoriya Toktosunova with her son Islam

"I actually did by those medicines initially. But having met other mothers and their children, I stopped administering those injections on my child. Down Syndrome is not an illness after all; we must work with such children and help them develop, and not fill them up with pills. There is no evidence these medicines help these kids develop," Viktoriya says.
Sadly, children born with the Down Syndrome in the countryside in Kyrgyzstan receive even less attention: on top of being considered limited in physical and intellectual abilities, some even think they are cursed.
The Kyrgyz authorities do not maintain a database of children born with the syndrome. According to a global statistics, the share of children with the Down Syndrome is the same in any country—1 in 700 children. That means there are 2,600 children with the syndrome in Kyrgyzstan. However, there is no such information available in Kyrgyzstan; even some medical records on such children do not indicate the syndrome. The medical records of the special children at the Junior Park kindergarten state they are "healthy" and provide no further information.
One of the positive aspects of inclusive education at this kindergarten is that children copy each other's actions and habits. It is necessary to have more typical children in such settings than special children. If special kids are isolated in their own groups, then there would be no positive effect. They would simply develop a mode communication, which only they would understand. On the other hand, immersed into an environment with typical children, special kids are encouraged to copy the formers' habits, actions and other aspects of behaviour. At the same time, such inclusive mode of education is beneficial and useful not only for special kids, but also typical ones. They become more kind, merciful and tolerant. That said, they are not to show pity—they all communicate as equals.
"We talk about the Down Syndrome with our kids so they are aware of and informed about it, so it carries no negative connotation for them," Ms Hramtsova continues. "The kids here study in appropriate age groups. In their free time they spend time together, and doing so has a positive impact in their growth."
"Special kids, of course, cannot compete with typical ones in terms of concentration and perseverance. But our observations show they are able to yield good results. Every child here is showing growth in terms of social adaption and intellectual development. They are good in drawing and music.
"On Saturdays, we host specific workshops on growth and hold consultations with the parents and their children with the Down Syndrome. It is very important to educate their parents, change their attitudes, and teach them work with us so their children are able to maintain those skills, which we teach them here," Ms Hramtsova says.
More and more families with similar issues are getting to know about the non-traditional kindergarten; even people from provinces are visiting the centre for consultation. A family from Issyk-Kul Region [in the Kyrgyz east] has recently visited the centre and, seeing the experience in Bishkek, decided to launch their own centre to help families with such kids.
The kindergarten was designated as a pre-school institution since its establishment, where typical children and those with the Down Syndrome would study together. And the parents were well aware of where they were enrolling their children.
"About 30% of parents dropped out because they could not absorb the idea of inclusive education. In some cases younger parents were not against the idea, but grandparents would object. Nonetheless, we have a group of wonderful parents. For instance, recently they jointly made a gift to one of our girls here: they bought her a prosthetic hand. You should see how happy this girl is now! The reason is that her parents were offered a prosthetic hand for a 10-year-old child… and she is actually only three years old…"
"When we launched this public union, we secured a small grant," Viktoriya continues. "We organised round-table discussions and news conferences in order to raise awareness among the public about the matter. We invited officials from the ministry of education, but nobody showed up. After one such conference, journalists 'occupied' the ministry and that led to a scandal: I received a phone call and a stern statement was made—there will never be inclusion education in our country, no money! And we are not asking for any money from the government!"
Children at the Junior Park kindergarten
Brochures and posters were printed and posted. Viktoriya remembers how their visited family medicine centres in the city and offered their "enlightenment services": "The director at one such medical centre told us, 'Yes, I do know about several children with the Down Syndrome; I used to be head physician in an orphanage and always tried to send them to a different orphanage.' And chairwoman of the medical and social commission No 2, which establish disability, including children with the Down Syndrome, was quite aggressive in her reaction: 'What do we have to do with this?! Take it to the psychiatrists!' And when I tried to explain that the Down Syndrome is not a psychiatric illness, she only said, 'I am not going to post this in this building. Our people do not want to see such children.' We wouldn't be offended or insulted if someone would say something like this out of ignorance. But she is a social worker!"
The overall ignorance is astonishing. An official from the ministry says, "Why do you have bunk beds? They are not normal, they do not control themselves, they will fall off. And why are they all together—what if one of them hits a normal one? How come you have a psychologist on staff? So you do acknowledge the problem that there is a need in a psychologist for such children's adaptation?"
According to the Kyrgyz ministry of education's website, "The inclusive form of education is a successful method of integrating children with special needs into the society." The website's News section also reads there was a meeting about the current state of affairs and perspectives in the field of inclusive education, and that is happening while this very ministry is revoking the licence of an institution that is engaged in precisely in this field.
* * *
Good news arrived when this piece was put together. At a meeting hosted by the association of private kindergartens, Ms Toktosunova was invited to participate in the aforementioned meting on the inclusive form of education. She was able to meet with the minister of education, Elvira Sariyeva, who was surprised to hear "the threat to withdraw the licence." Someone called from the ministry of education with apologies the next day.
It is not clear as to what prompted the ministry's move—a collective letter the parents wrote, or the "buzz" in Internet forums. But we are hopeful that the education ministry will cooperate with such projects, which are actually shouldering this very ministry's tasks and not expecting any assistance from the government.
Photos and video obtained from open sources and Viktoriya Toktosunova's personal archives
Aleksandra Melnikova
Fergana international information agency.