UN Human Rights Committee urges Kyrgyzstan to release Azimjan Askarov, quash guilty verdict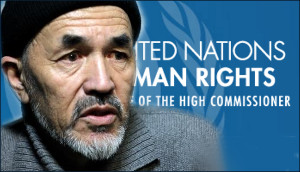 "UN experts have called on Kyrgyzstan to immediately release jailed political activist and journalist Azimjan Askarov, after finding that he had been arbitrarily detained, held in inhumane conditions, tortured and mistreated, and prevented from adequately preparing his trial defence," reads in part a press release the UN Committee for Human Rights released last week. "The UN Human Rights Committee, which considered a complaint brought by Mr Askarov against Kyrgyzstan, also called for his conviction to be quashed."
"The Committee, composed of 18 international independent human rights experts, found that, in its treatment of Mr Askarov, Kyrgyzstan had violated several articles of the International Covenant on Civil and Political Rights (ICCPR), to which it is a State party," the UN Committee's press release further reads.
* Read the Committee's decision in full on our website.
The Committee members also noted that Mr. Askarov was initially detained at the police station where the deceased officer was based and that no specific security measures were in place to safeguard him. "The findings of the medical forensic examinations conducted by independent experts are consistent with other evidence suggesting (Mr. Askarov) was subjected to acts of torture," the Committee members wrote in their findings.
The press release further reads Kyrgyzstan also failed to carry out a prompt and effective investigation into Mr. Askarov's allegations of torture, the Committee concluded. A subsequent inquiry in 2013, "while extensive, lacked the element of impartiality, as it interviewed more than 100 law enforcement officers, judges, court clerks and prosecutors but failed to interview (Mr. Askarov's) lawyers, human rights defenders who visited him in prison, and his relatives," the Committee wrote.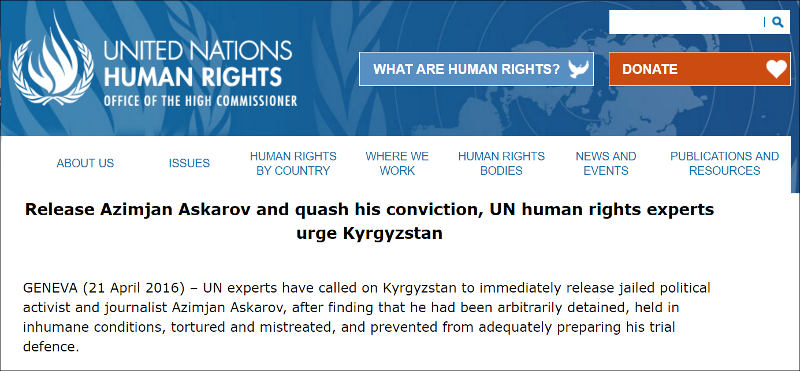 The Committee also said that the conditions in which Mr. Askarov was held were inhumane and he was unable to get proper treatment for serious medical conditions.
The Committee noted that Mr. Askarov had alleged that he and his lawyer were unable to meet in private, and information necessary for his defence was withheld. On several occasions, relatives of the deceased officer attacked his lawyer, while the police and local prosecutors failed to intervene.
This situation, according to the Committee found, created "a general sense of fear, incompatible with the proper execution of the defence lawyer's functions." There was also unrefuted evidence that his lawyer was notified too late to attend the first day of trial on 2 September 2010, when the court heard 16 prosecution witnesses. The guarantee to be able to call and question witnesses "is important for ensuring an effective defence by the accused and their counsel," members stressed.
Therefore, in accordance with the press release, Kyrgyzstan is obliged to make full reparation to Mr. Askarov, the Committee concluded, including his immediate release. If necessary a new trial should be held and conducted "subject to the principles of fair hearings, presumption of innocence and other procedural safeguards," members said.
Human rights advocates' comments
"The Askarov case is clearly very controversial in Kyrgyzstan, and seems to have become a matter of pride rather than legal principles," says Ivar Dale, Senior Adviser of the Norwegian Helsinki Committee in Geneva. "I was in Bazar-Korgon shortly after Askarov was arrested, and even then, it was clearly a very emotional matter for everyone involved. The reaction of the Kyrgyz authorities to the human rights award to Askarov from US authorities is just one recent example. I hope that this important decision from the UN Human Rights Committee will be studied closely by Kyrgyz authorities. The argument that such calls for Askarov's release are part of "American politics" cannot be raised this time. If the UN Human Rights Committee says Askarov is a victim of arbitrary detention, torture, mistreatment and has been denied legal defense, that is something that Kyrgyzstan, who is also now a member of the UN Human Rights Council, should take very seriously. The case has received a lot of attention internationally already, this means even more scrutiny of how Kyrgyzstan intends to follow up."
* * *
"This is a very important decision not only because we have been expecting it for four years; that said, it was most difficult for Azimjan Askarov, currently imprisoned, awaiting it," says Maria Chichtchenkova, a protection coordinator for Europe and Central Asia at Front Line Defenders. "And this is not only Azimjan Askarov's victory; this is an event [presumably: of utmost importance] for entire Kyrgyzstan. The UN Committee for Human Rights is comprised of authoritative international experts and suspecting they were partial or were [pursuing] some political interests would be very difficult; therefore, their opinion is to be taken as an objective one. Furthermore, it is very good that the Kyrgyz state has actively cooperated with the committee [in regards with] this complaint, thanks to which experts were able to freely hear both sides' arguments.
"Azimjan Askarov's complaint was completely satisfied in the part where [he discusses] the conditions of detention and access to fair trial. In other words, it was established that his right for defence was violated since the very moment of his detention and that he was subjected to violence on the part of police officers. This decision, which the Committee adopted regarding a case that we have been closely watching since the very beginning, confirms our own observations. I was personally present at one of the hearings in the Askarov case. What I was astonished by was that the defendants were severely beaten right before [the hearing] and practically nobody paid any attention to this [fact].
"I emphasise again: It is very important that Kyrgyzstan implements this decision now. This could become a very important step towards a greater transparency of the penitentiary system, detention system, better observance of fair trial standards, and a greater transparency of the judicial system as a whole in the country."
* * *
"It is still early to be happy [about this decision]", says Nurbek Toktakunov, a Bishkek-based human rights advocate and head of the Precedent Partners Group Association. "Because the execution of this decision is highly doubted. As you are aware, the national legislation was granted priority over international laws in Russia, and our authorities and judges think the same way [as their Russian counterparts do]. There is still a whole epopee ahead, whose end result will mostly depend on the EU's position on its grants and credits [given] to our country, in my opinion. The EU must put clear conditions before our government. Besides, failure to implement the Committee's decision regarding Askarov could become the only sufficient basis for the British authorities to not extradite Maksim Bakiyev. These two cases are [mutually] linked due to international laws, which regulate extradition matters. The prohibition to extradite individuals to a country where torture is used is an imperative norm of international law. Therefore, [Kyrgyzstan's] failure to implement the Committee's recommendations, when they [the Committee] are saying there is torture, is sufficient to not extradite. The British authorities would not bother coming up with arguments [to justify their decision not to extradite], but will simply cite this particular UN Committee decision and [Kyrgyzstan's] failure to implement it."
Fergana international information agency.