Public politics gradually emerging in Uzbekistan. What's next—freedom of speech?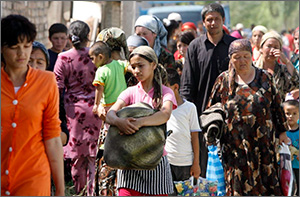 Following the death of the first president of Uzbekistan, the public learnt there are other orators and politicians in Uzbekistan alongside the late head of state. The Uzbek population, as well as the greater world, is learning day by day about new faces and names. Perhaps Uzbek citizens will start recognizing their politicians just as well as they know the names of Russian politicians. Until only a couple of months ago the word combination an Uzbek politician would invoke almost only one association—President Islam Karimov—in Uzbek citizens' minds.
For instance, Uzbek delegations would virtually never be associated with heads' and members' names, save for occasional mentions of Uzbek Foreign Minister Abdulaziz Kamilov or First Deputy Premier Rustam Azimov. But now names are finding their ways even into news headlines: "Vice PM Adham Ikramov to head Uzbekistan delegation to Osh," "Deputy Premier Ulugbek Rozulukov to participate in CIS head of governments meeting," or "Abduhakimov, WB discuss employment support programme."
I don't remember seeing such a headline while Karimov was still alive. Well, with rare exceptions for Rustam Azimov. As a rule, during Karimov's time, the mass media outlets would only be allowed to paraphrase the Uzbek leadership's position in headlines, e.g. The Roghun project findings are unacceptable. If someone can find a link to a headline that explicitly includes the name of Shavkat Mirziyoyev—yes, even the name of the premier who has been in office for 13 years—as well as a statement he has made up until September 2016, I would be very grateful.
The pre-electoral presidential campaigns are also pleasantly surprising. This time around mass media are covering the candidates' statements a lot more than during the previous operations to legitimise the "indispensable" head of state at the time. Even though the other candidates' statements are incomparable to those of Shavkat Mirziyoyev—wink, nudge—these candidates' faces will now be recognised by more citizens, which is a beneficial factor in society's development.
As of this writing, Milliy Tiklanish Party nominee is the most often mentioned among the three candidates: [Candidate] Sarvar Otamuratov: Defending national interests and values; [Candidate] Otamuratov: Many issues in implementing the Latin alphabet; or [Candidate] Otamuratov proposes banning sale of energy drinks among youth…
The Popular Democratic Party of Uzbekistan Hotamjon Ketmonov's has other priorities he is advancing: solving unemployment, healthcare in the countryside, fixing sidewalks and building bicycle lanes. Meanwhile, the Adolat Party nominee, Nariman Umarov, is in no hurry to make statements just yet. The Uzbek mass media have only mentioned his name while covering his party's session, where and when he was nominated for president. On the other hand, given that the pre-electoral campaign just launched on October 28, he still has time to surprise us.
As far as the main and realistically potential presidential candidate is concerned, his PR team deserves praises. The team is creating the image of an energetic and industrious person who wants to and knows how to solve the population's problems and bring order among officials. Maybe he is the person they are trying to convince us he is. One only wishes what he is doing now is not only to win over the electorate; one's hopes go even higher given almost nothing depends on the latter. That said, where was this leader-Mirziyoyev with his such wonderful qualities over the 13 years of his premiership?..
The Uzbek mass media are happily reporting how the acting president/Prime Minister's virtual reception office is receiving tens of thousands complaints. However, this is not a reason for joy: the top official is receiving requests to have a lift repaired, a vehicle fixed, assign public benefits, ensure the supply of electricity and gas, install a traffic light, etc.…
The majority of these problems have been around for a long time and have not been resolved over many years, including those when Mirziyoyev was the second-most-important official in Uzbekistan. Was the first-most-important person really responsible for all these tens of thousands of problems over the last two-and-half decades?
Wait a minute… No need to ask such questions! And to make sure the minds are not disturbed by such thoughts and doubts, Mirziyoyev always mentions the late president with kind words in his speeches. He promises to "firmly and strictly follow his instructions: the leader is obligated to spare no strength or energy in order to live for the interests of the country and population so they can fulfil aspirations and achieve dreams." And then suddenly he declares, "It is now time for state bodies to serve the people and not for the people to serve the state bodies," and/or "the style of work the majority of state bodies employ does not meet modern requirements."
Here is yet another admission: "The main reason causing deficiencies is directly related to the process of selecting, preparing and appointing employees. So long as there is no system of selecting and preparing cadres who are independent, responsible, industrious, masters of up-to-date management skills, patriotic and honest, there will not be any quality improvements in state governance." One more, "None of the [government] officials in charge is genuinely working on solving people's grievances and problems." By making such statements, Mirziyoyev is indirectly admitting his predecessor's failures in governing the Uzbek state and selecting officials to do so. This proves that it is necessary to change the top echelons of power on a regular basis in Uzbekistan. To be sure, the country's Constitution requires just that—read Article 90.
The future Uzbek president is giving hope to the population that life will get better. After all, openly stating there is a necessity to combat corruption and ensure supremacy of law is something everyone yearns for. However, the residents of Uzbekistan must also be granted the genuine freedom of speech. Building a strong, healthy and flourishing society is impossible without it.
Fergana international information agency.