NATO Liaison Office in Tashkent to close, but alliance to continue cooperation in region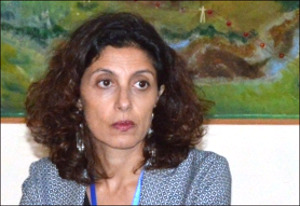 Rosaria Puglisi, NATO Liaison Officer to Central Asia, Head of Office
Fergana learnt from its own sources that the NATO liaison office to Central Asia will no longer be active starting next year. The liaison office is currently based in Tashkent, but coordinate the alliance's activities and cooperation with all the countries in the region. What has caused the decision? We contacted Rosaria Puglisi, head of the liaison office, who has kindly agreed to respond to this and other questions.
* * *
Esteemed Ms. Puglisi, is it true that the NATO liaison office in Tashkent will be closed? If not, will its activities take on other forms? What has caused this decision? Was there any pressure on the part of the authorities of Uzbekistan or were there other factors?
The NATO Liaison Office in Central Asia will indeed be closing at the end of March 2017. The decision is the result of internal budgetary considerations and bears no political character. There has been no pressure, in this direction, either by Uzbekistan or any of the other Central Asian countries the Office works with. On the contrary, we have always felt welcome in the region and have enjoyed an effective and fruitful level of cooperation. Central Asia was and remains a strategic priority for NATO. Partnership will continue and, from April on, it will be conducted directly from Brussels.
The liaison office coordinated activities not only in Uzbekistan but other countries as well; with which partner-country have you been able to establish best/worst relationships?
NATO and its 41 partners around the world have a level of cooperation that is individually defined and tailor-made to satisfy each partner's ambition and desire to engage. The same, of course, applies to relations between NATO and Uzbekistan, Kazakhstan, Kyrgyzstan, Tajikistan and Turkmenistan. Each country in the region has its own national interests, vision of the future, strategic priorities and, naturally, makes its decisions consequentially. Some countries are members of other military or security organisations. From our NATO perspective, we have always told them that membership in other organisations does not contradict engagement with NATO. For us it's not a question of either with us or against us.
On the contrary, NATO has a wide range of programs that can help countries reform and modernise their armed forces, make them more efficient and better able to defend their people and their territory. Each country is welcome to chose whatever they feel suits better their needs. For example, we have programs that can help our partners reform the military education system or fight corruption within the armed forces. The latter program, which is called Building Integrity, is a particularly relevant one in a context where a number of Central Asian Presidents have launched sweeping plans to eradicate corruption from the public administration and to optimise the use of state resources and public spending. We help train Central Asian armed forces to participate in UN peacekeeping operations; acquiring NATO standards make them better able to work with other countries' military in post-conflict theatres. We have a selection of something like 1400 training courses and seminars, ranging from operational planning, for example, to military medicine, which are open to all partner countries, including Central Asians. The level of Central Asian countries' participation in these and other activities varies and depends on each country's national interest. We respect and welcome that.
How do you evaluate the situation in Afghanistan? What is the current and future role for the post-Soviet Central Asia in establishing peace in this country?
Overall the situation in Afghanistan remains challenging as the country still faces instability and violence. However, the good news is that since 2015 the Afghan National Defence and Security forces have maintained full responsibility for security throughout the country. They defend the Afghan people with great dedication and courage; their efforts must be recognised and we have seen substantial progress on the ground.
As you know, NATO remains engaged in Afghanistan through the Resolute Support mission, a non-combat mission that is designed to provide training, advice and assistance to the Afghan security institutions, including the police. This mission will remain on the ground as long as the situation requires it. Our objective is to help the Afghan forces to further develop their capacity, train professionally and acquire the equipment their require. Together with the rest of the international community working with Afghanistan, NATO's objective is to make sure that the country will never again become a safe heaven for terrorists.
Central Asian countries have a special stake in the security situation in Afghanistan and many have repeatedly expressed their concern that instability from the country can spill-over into the region at large. While the risks of propagation at this point in time appear limited, the interest and positive engagement of Kazakhstan, Kyrgyzstan, Tajikistan, Turkmenistan and Uzbekistan must be welcome. Due to their historic connections, these countries have unique knowledge and understanding of the situation in Afghanistan. Throughout the years some of them have used their links to support economic development in Afghanistan, through, for example, energy provisions. Some are engaged today in the construction of much-needed regional infrastructure. These are all essential initiatives that contribute to social and economic growth in the country. Further engagement in terms of political negotiations is very much welcome and is essential to bring peace and stability again to the heart of Asia.
What are NATO's plans for the region in the future?
NATO remains very much engaged in Central Asia and Afghanistan. In the spirit of the Partnership for Peace Programme, it is up to each of our Central Asian partners to set the pace of our activities and cooperation. As for Afghanistan, as NATO Heads to States confirmed during the Warsaw Summit last July, Afghanistan does not stand alone. NATO remains politically, militarily and financially committed to it for the long haul.
Interviewed by Daniil Kislov
Fergana international information agency.