Turkmenistan: Repressing Gulen supporters to cajole Erdogan?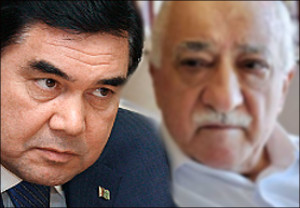 A photo collage of Turkmen President Gurbanguly Berdymuhammedow and preacher Fethullah Gulen
Repressions are underway in Turkmenistan against former teachers and graduates of Turkish education institutions. They are accused of having communications with bodies and structures of an organisation allegedly under the Turkish preacher Fethullah Gulen's influence. According to sources of Fergana, up to 90 per cent of former teachers at Turkish-Turkmen lyceums were questioned throughout the country. According to officers of state security agencies, who spoke with us on the condition of anonymity, sophisticated tortures are applied to the detainees with no warrants or reasons to do so; certain detentions and tortures resulted in the death of inmates.
"Over 40 individuals were arrested during the last two weeks alone," an officer of a state security body in Yashlyk, a town 50km east of Ashgabat, told Fergana's freelance correspondent. There is a temporary detention facility in Yashlyk where detained and arrested persons are held and questioned.
"They are kept in humiliating conditions at all times, with no clothes on. They are questioned naked as well. They are tortured, which is making even some police officers themselves feel bad. For instance, here is one of the most 'effective' methods of torturing. A rope is tied on one's genitals, while its other end is tied to a plastic bottle filled with water. The poor person is then placed on two chairs, the bottle is then raised and let go toward the floor. This is very painful," our source has said. According to him, [the police] demand the detainee names other participants of the imaginary movement.
Arrestees beaten to death, police officers fired
Many detainees suspected of connections with "gulenists" are let go after interrogations and tortures. Most of such people are those with the "right connections" among influential people and those who have actively cooperated with investigators and gave up some names. However, according to one of Fergana's interlocutors, certain instances of "enhanced and intensive" questioning resulted in fatal outcomes. In this connection, several police officers were fired from power wielding bodies.
According to another police officer, a teacher suspected of Gulenist ties died during an interrogation in early November. "He did not want to admit to anything, signed no documents. He was beaten for a very long time, even after he stopped reacting to strikes and showed no signs of life. He died on the second day of interrogations," a police officer from Akhal Region has told us.
According to our source, at least one more case of violent death took place at the Yashlyk detention facility in November. "Several police officers who participated in the tortures were fired after that. They all are [officers] of Department 6," he has said. The Fergana editorial office knows the names of two fired lieutenants, but we are not publishing their names at the insistence of our source.
As of this writing, Fergana is aware of two verified cases of detainees dying during interrogations. But a letter, authored by someone calling himself a relative of several detainees, suggests that there are tens citizens who have been missing for a long time—since they were detained and taken away. We know the names of these tens of arrestees and victims of torture. We are not disclosing them to not compromise their safety; some of them were reportedly released as of late.
Tortures to secure gas torrents
Azatlyk Radio (the Turkmen service of RFE/RL) was first to report on the arrests based on accusations ties with the preacher and leader of Turkish opposition back in October. According to this outlet, the total number of detainees could be over 150 by late November.
According to Azatlyk Radio, which cites several sources, the arrests started after the Turkmen authorities started expecting Turkish President Recep Tayyip Erdogan to visit Ashgabat in October. However, the Turkish leader has not arrived to participate in the festivities in honour of Turkmen independence due to reasons unknown.
As is known, the Erdogan government accuses the oppositionist and well-known cleric Fethullah Gulen and his Hizmet movement of financing a failed coup d'etat on July 15, 2016. Mr Gulen lives in the USA. Following the coup attempt, Ankara stepped up pressure on individuals and organisations known for links with Mr Gulen not only in Turkey, but abroad as well. In particular, the international Turkmen-Turkish university in Ashgabat, which was under Mr Gulen's movement's patronage, was closed as soon as July 2016.
According to Azatlyk Radio, the deteriorating economic situation caused by plummeting prices for energy sources has forced Turkmen authorities to desperately search for new avenues of selling the Turkmen gas, the main source of revenue of the Turkmen state budget. According to the radio, President Berdymuhammedow wants to secure Ashgabat's participation in the Turkish Stream project Moscow and Ankara are developing at this time. President Berdymuhammedow has been reportedly trying to personally meet with his Turkish counterpart to discuss this project. Arrests of so-called gulenists movement follower in Turkmenistan, a source of Azatlyk insinuates, are motivated with the Turkmen authorities desire to cajole Erdogan.
It is difficult to say whether these claims do hold water. However, yet another wave of arrests of "gulenists" in Turkmenistan in November "coincided" with the Turkish leader's visit to Uzbekistan. And the arrests over the last two weeks are again "coinciding" with the planned visit President Erdogan will pay to Kazakhstan, which was to officially take place on December 11-12, but was cancelled due to two blasts in Istanbul.
How many more lives the Turkmen secret services will destroy to please their leader remains to be seen.
Fergana international information agency.