"Gratuitous utilisation": How China is actively bringing the Tajik parts of Pamir under its influence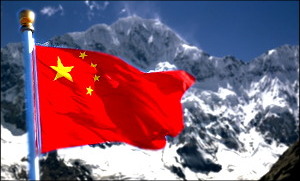 The Gorno-Badakhshan Autonomous Region (GBAO) of Tajikistan, also known as Pamir—a namesake of mountains, occupies about 40 per cent of Tajikistan's territory, i.e. about 63,700 sq. km. The region borders on Kyrgyzstan in the north, China in the east and Afghanistan in the south. The Pamir mountains are known for their wealth of natural resources, hence the interest of many countries in it with China, Tajikistan's immediate neighbour, being the first in line.
In 2006, Azim Ibrahim, the current premier and then-Chief of Geology Administration, stepped up his agency's activities in Khorog, the GBAO capital. And in April 2010, the government of Tajikistan approved of an agreement between the Geology Service of the Chinese ministry of lands and resources and the Tajik administration for geology. The agreement paved way for "joint geological prospects in border zones" that have been underway for more than six years.
"And throughout these period, the Chinese have been regularly visiting Pamir in groups of 10-12 people and spend several months each time. Usually there are three professors in these groups, who are involved in purely scientific activities—geochemical researches in these border areas. They have worked in Murgab for several years, they then have moved onto researching other areas in GBAO. We were with them in Bartang in the summer of 2016. They have very powerful equipment; their GPS links to 24 satellites. Of course, we are learning a lot from them. To research an area, they put ground and soil samples through a mesh and record the exact location with GPS. During a single season, they take between 2.5 and 5 tons of mountain samples to China to analyse, because we don't have such capacity in the country," Sangin Asmatullayev, an employee at the Geology Administration, told Fergana.
Expansion or cooperation?
The Pamir Mountains are a huge treasure chest with large deposits of silver, lead, tin and boron as well as such semiprecious and precious stones as lapis lazuli, tourmaline, amethyst and noble spinel. The constitution of Tajikistan reads that the government owns the natural resources and deposits. However, since Tajikistan's financial resources are limited and the government is unable to finance prospecting new and old mines and ores, they often invite foreign investors to work on the natural resources.
"The geologists of Soviet times worked a lot in Pamir. These lands were researched as much as doing so was possible in the Soviet times. The geology service of Tajikistan was quite strong in those times. And now we are advancing slowly, because we lack high precision equipment, human and technical resources, and we experience seasonal electricity shortages. That is why, in my opinion, cooperation with China in the field of geology is timely and necessary," Mr Asmatullayev maintains.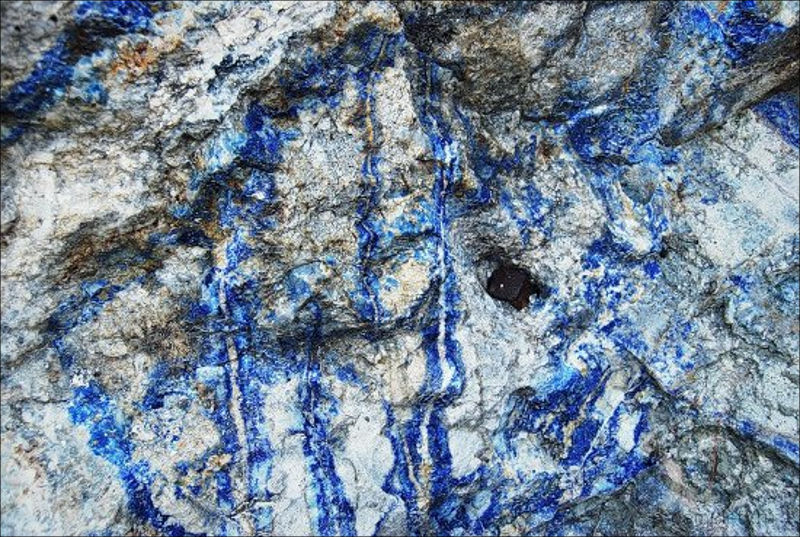 Lapis lazuli deposits in Badakhshan

There is a unique deposit of silver in eastern Pamir, Bozor Dara—the fourth largest deposit in the world with 50,000 tonnes of silver. A large deposit of alum earth was discovered in the western parts of Pamir with some 75m tonnes. Based on Soviet scientists' findings, the Chinese and Tajik researchers have jointly established 47 natural deposits and recorded such locations on maps throughout GBAO. According to Mr Asmatullayev, the geology agency of Tajikistan has an electronic database of these research findings.
"The people think, 'These Chinese came and took over everything.' [No,] they are providing an invaluable assistance. They are doing everything charge-free and paying taxes because the government issues all licenses, certificates and permits. In a single season alone, they book 20 vehicles and pay for gas and drivers. Some 40 carefully selected Tajik geologists work with them, and fulfil the core and majority of activities," Mr Asmatullayev argues.
Pragmatism with benefits
Despite such activities, not everyone in Tajikistan is sure these geological researches are carried out with no benefit for the Chinese party. Some experts even say China is planning to use Tajikistan as a raw material deposit site for its industry in the future.
"China does nothing just for the sake of doing it, charge-free, and any economic intervention [China] is motivated by pragmatic calculations. It would seem that [China] provides preferential credits with no demands attached—unlike the IMF or EBRD, which issue credits based on their conditions. However, these credits work to serve China's interests primarily, which is building infrastructure in Tajikistan that China needs for itself. This country always abides by the principle of investing in exchange for natural resources. Therefore, I think, if they are in Pamir to research our mountains, then they will soon start extracting our deposits. As far as I know, the Chinese side has already proposed issuing licences to them to develop certain deposits. Naturally, the government is not publicising this [situation]. Chinese experts are working on all deposits with minute details in Murgab at this time. Obviously, they are not doing so to hand it over to other investors. They will work on those [deposits] themselves," argues a Tajik expert on economy, who spoke with Fergana on the condition of anonymity.
The interlocutor reminds that Tajikistan and China had signed an agreement on demarcating borders and regulating territorial disputes in early 2000s. In accordance with said agreement, Tajikistan has handed over a 1,000 sq.km. piece of land in Murgab District on Pamir. The Tajik side ratified a protocol pertinent to the agreement in 2011. At the time, the foreign affairs ministry characterised the agreement as "a victory of the Tajik diplomacy," since China has been laying claim on 28,500 sq. km. of Tajik territory for over two centuries. However, many public figures in Tajikistan accused the government of violating the Constitution, whose Article 7 reads, "the territory of Tajikistan is indivisible and inviolable."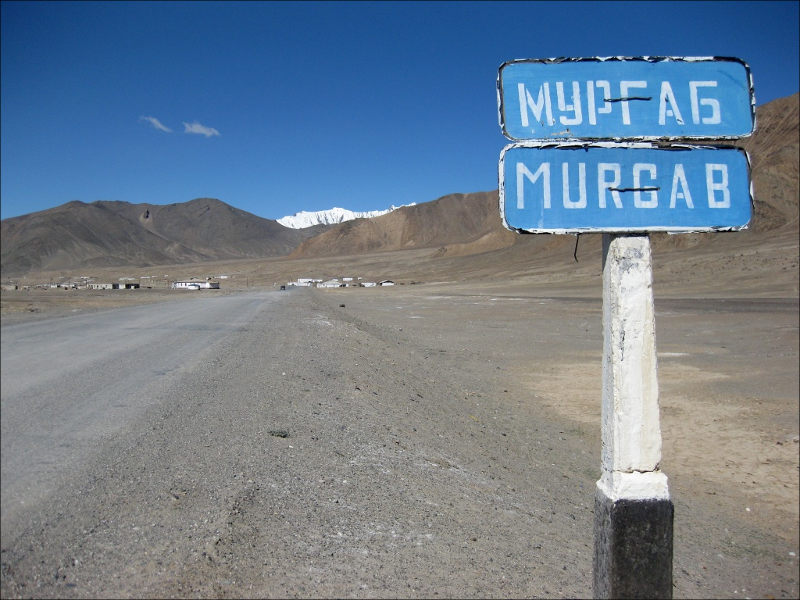 Pamir. A road to Murgab

Mastering it, but cautiously
"At this time, Bozor Dara silver deposit is the only deposit functioning in the GBAO. The Kazakhs used to have it, but they were unable to run it; the Chinese have had it for two years now. They have built what they call a workshop there, whereas to our mind that is a big factory. They are now building a third floor, works are fully underway and our local residents work there as well. They built a very nice road spanning 70 km from Bozor Dara to Alichur. Zarechnoye is another deposit in Murgab with tin ores. The Chinese worked there as well for some five years: the research phase is now complete, and extractions were to be launched; however, the Chinese have left site during the Khorog events in 2012.
"Nothing is known as to the level of transparency of the Chinese investors' activities and intentions. Nothing is known about how much they pay in taxes and what portion thereof is deposited into the GBAO budget either. At least the public knows nothing about that. What is even more important is that no-one knows what specific economic assistance the Chinese presence provides, or will do so, in Murgab and the entire region," Fergana's source has said.
China is the largest donor and investor in Tajikistan at this time. The beneficial Chinese credits are used to build roads, thermal heating stations, power lines, factories, plants and workshops for processing agriculture products. Thanks to the investments, new employment opportunities are arising (portions of which are filled by Chinese citizens) and the overall economy is growing. Clearly the construction of infrastructure and industrial objects is beneficial in the long run. But would not these investments and activities eventually lead to turning Pamir into a raw material province of China? Would that not then lead to turning Pamir from a treasure chest into a trash bin of slacks and garbage tailings?
Andrey Zakhvatov, a Russian expert on Central Asian countries, believes that the main interest the Chinese companies are pursuing in the Tajik Pamir is not noble metals and precious stones, but rare metals and rare earth elements.
"Specifically: beryllium, rubidium, caesium, lithium, titanium, vanadium, tantalum, gallium, indium, actinium, radium, francium and a number of other [metals]. Judging by the Chinese activities based on observations of their extraction work in Asia and Africa, their ultimate goal is the ownership of the major portion of global deposits and reserves of these elements to be able to dictate the global market prices for household, computer and space technology, as well as modern weaponry, in the nearest future," the Russian expert maintains.
Fergana international information agency.