Uzbek, Chinese archaeologists jointly excavate ancient capital of Fergana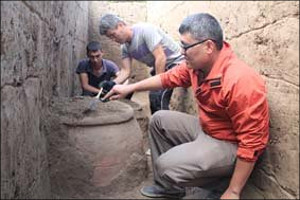 "Chinese and Uzbek archaeologists rewrite the history of an ancient city." China's Xinhua news agency carried a report under this title on January 11, 2017, which cites a forum on archaeology of the Academy of Public Sciences of China. According to the report, a group of archaeologists from China and Uzbekistan has made a significant discovery while excavating the ruins of the ancient town of Mingtepa (which the report erroneously calls Minggepa) in the southeast of the Fergana Valley. The news was instantaneously reposted by almost every single website in Uzbekistan.
"The archaeologists from the two countries have excavated the ruins of a mysterious town five times, beginning in 2012 thanks to which the area [of excavations] was expanded from 500m by 800m up to 2100m by 1300m. The excavation findings testify that Mingtepa was not just a temporary garrison fortress of nomads over 2000 years ago, but it was full-fledged city-castle. Moreover, it was the largest one in the Fergana Valley," the news agency writes. "The ruins of workshops, parts of the western gates of the inner city and a cemetery near the eastern wall of the outer city were discovered during excavations."
But in reality, the settlement of Mingtepa, or Thousand Hills, has not been really "mysterious" for a very long time, as the Chinese publication wants to present it to be. Soviet and Russian archaeologists have long been associating it with the ruins of the city of Ershi, the capital of the ancient state of Davan that existed in the Fergana Valley since the 3rd century A.D.
Ershi was the capital of Davan in the 2nd century A.D. The implemented archeological researches have identified that Mingtepa was a group of 64 hills, of which 50 remain, and the ancient settlement had well reinforced internal and external fortresses. The internal fortress sat on over 40ha of land, while the external one occupied 160ha. Items found in the lower parts of the fortress are dated 3rd to 5th centuries A.D.
The archaeologists were able to identify parts of the city streets: a stone-paved sidewalk; handicraftsmen's stores that also include a storage facility for keeping ready goods in large clay jars; ruins of houses dated 1st to 4th centuries C.E.; ceramics and pottery products of various shapes and sizes; and bones.
Several years ago, the government of Uzbekistan decided to classify this particular archaeological site as an ancient site and include it into the touristic route on the Great Silk Road; significant funds were provided from the state budget for these purposes. These funds will be used to turn Mingtepa into a museum-city in open air.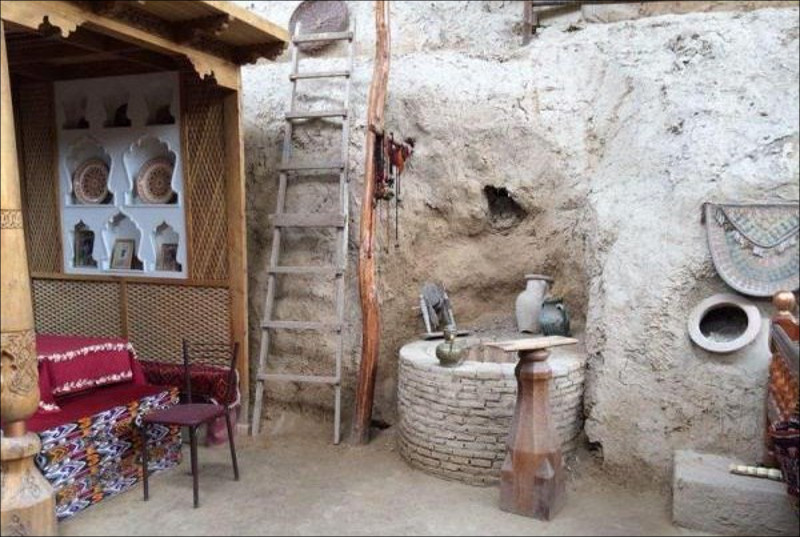 An exhibit at Mingtepa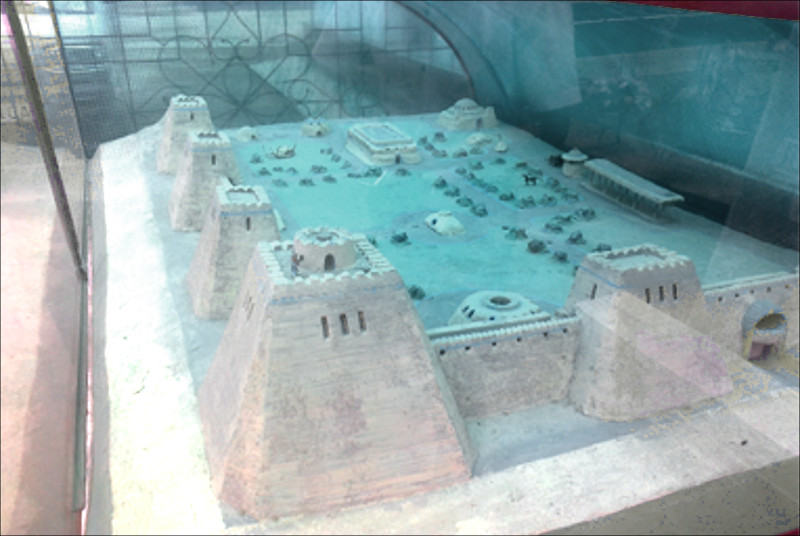 A model of parts of Ershi at the Mingtepa museum

Fergana interviewed Tigran Mkrtychev, deputy director of the State Orient Museum of Russia, to comment on the Uzbek-Chinese archaeological expeditions' findings.
* * *
How long have the Chinese archaeologists been working in Uzbekistan?
"The Chinese scientists have been actively paying attention to Central Asia archaeology during the last decade. And after a big symposium in Sian—an ancient central settlement where the Great Silk Route takes start actually—Chinese and Uzbek archaeologists have established relations. And the Chinese have chosen Fergana not for nothing as an object of research. Because it is believed since long times that this particular region was the origin place of 'celestial' horses which were the best in the Chinese infantry over many centuries. I think there is nothing mysterious in that Mingtepa settlement. This is a post-antique and early-middle-age site.
"It seems to me that this is a quite promising cooperation. But it seems to me that there is a geopolitical part to this, which is linked to the desire of the Chinese to appear on the Central Asia scene again, including the archaeological field."
The Chinese media are writing Mingtepa was not just a temporary outpost 2000 years ago, but a full-fledged city in a castle. How precise can one be in establishing an ancient city's age? How correct is this statement about a castle city given the archaeological background in the Fergana Valley?
"I do not know specific information about this particular site. Representatives of the North-western University of Sian and representatives of the Institute of Archaeology are working on behalf of the Chinese and Uzbek sides, respectively. But the very definition of a 'castle city' warrants very many doubts because these are completely different definitions. A 'city' has a definition, which is different from the definition of a 'castle.' "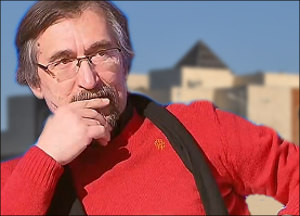 Tigran Mkrtychev
What is that difference? And were there cities and castles there at that time?
"Cities, of course, did exist at the time, since the urban culture in Fergana has always been present; it had both handicrafts and commerce. So, a city is an institution, a construction that contains several characteristics, including a city structure and handicrafts. In other words, there are certain characteristics that are to be applied when we are talking about 'a city.' Where the concept of 'a castle' is completely different; it implies the necessity to defend and protect a certain territory; it is a fortified structure that is used to protect a certain locale. Cities used to have citadels, i.e. fortresses used to defend that very city. But a city and a castle are completely different things."
You mentioned geopolitics. What relation does archaeology have to geopolitics?
"Archaeology has always did and does have a direct relation to geopolitics. If we look into history and those declarations that are being uttered by the leaderships of both Central Asian states and Chinese officials—although the Chinese are talking about this less and in a more veiled fashion—they always talk about antiquity, autochthonous and original sources, i.e. notions that are to be confirmed by archaeology. Therefore, archaeology and geopolitics are always closely interlinked. The correct use of archaeological materials affords very significant opportunities for confirming the antiquity of links and historical territories on the one hand, and allows for resolving a whole host of issues projected onto modernity on the other.
[Passage omitted: Russian archaeologists do limited work in Uzbekistan]
Could Russian archaeologists join the Chinese and Uzbek colleagues in Fergana?
"We could. I personally know people working in Fergana. And we, obviously, are interested in cooperation with both Chinese and Uzbek archaeologists. There is nothing impossible in this field."
Thank you for your time.
Fergana international information agency.