Kyrgyz court leaves life imprisonment verdict in Askarov case in force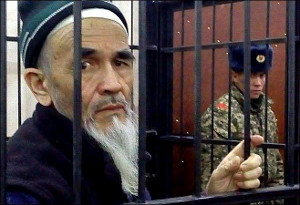 Early on January 24, a verdict was issued in the case of Azimjan Askarov, an ethnic Uzbek, journalist and human rights advocate, who was arrested during the bloody events in Southern Kyrgyzstan in June 2010. Mr Askarov was accused of organising mass disorders and killing of a police officer. Appellate courts of all levels in Kyrgyzstan upheld the verdict to life-long imprisonment and property confiscation. Four years later, the UN Committee for Human Rights Committee investigated into Mr Askarov's case and adopted a decision that Mr Askarov was arrested illegally and must therefore be freed. In July 2016, the Supreme Court of Kyrgyzstan, instead of implementing the UN Committee's recommendations, has directed lower courts to retry the case.
That retrial finally concluded today. Mr Askarov is found guilty of almost all charges he was incriminated with over six years ago. The verdict to imprison him for live is left in force. The defendant has the right to appeal the ruling at the Supreme Court of Kyrgyzstan.
This is the setting in the courtroom where Mr Askarov was left behind bars.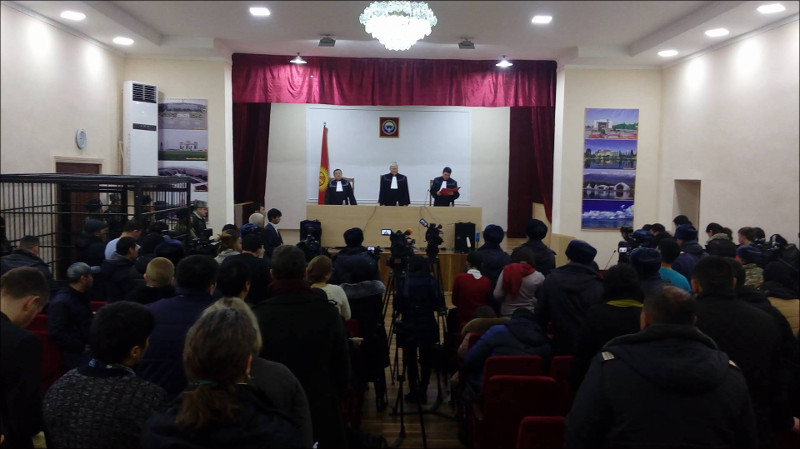 The final hearing was held in the building of the department of protection and convoy of the State Penalty Enforcement Service (SPES). The presiding judge read the verdict over more than two hours in the Kyrgyz language with no translation provided. Over 100 individuals gathered in the room composed mainly of representatives of NGOs, embassies and foreign missions as well as journalists who have been closely following the case from the very beginning.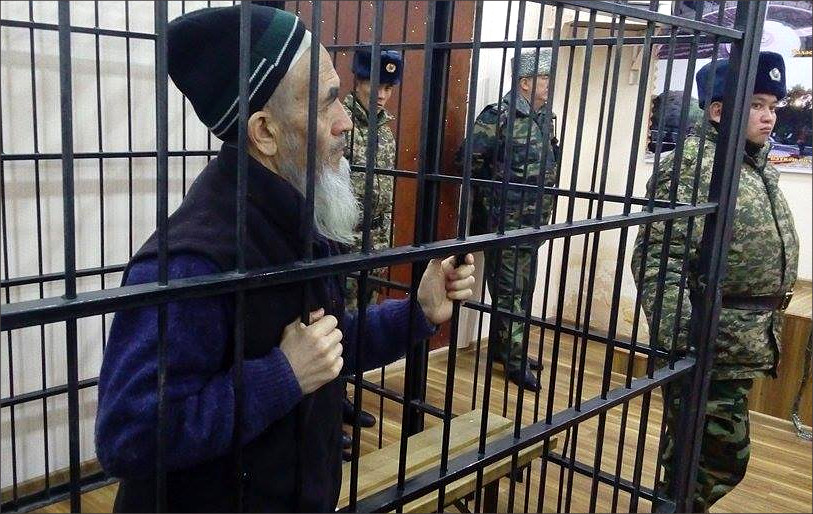 Azimjan Askarov listening to the verdict on January 24, 2017. All photos by Fergana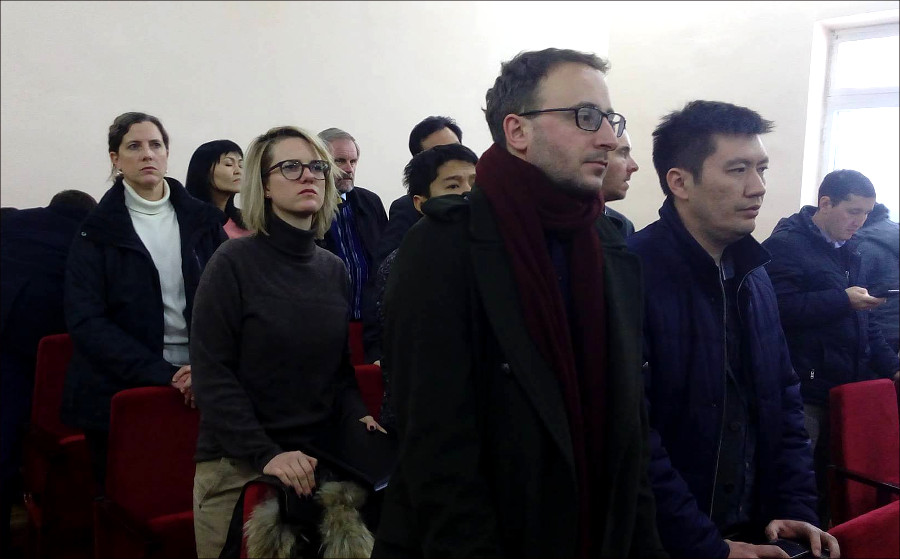 The judge read the verdict in a very low voice, as if ashamed of voicing what was written. One could hear rare requests from the hall to raise his voice. Many became tired of standing while listening to the verdict and whispered in complaint that sitting was not allowed. An army of journalists present at the hearing tried getting closer to the case the old and feeble man was placed in.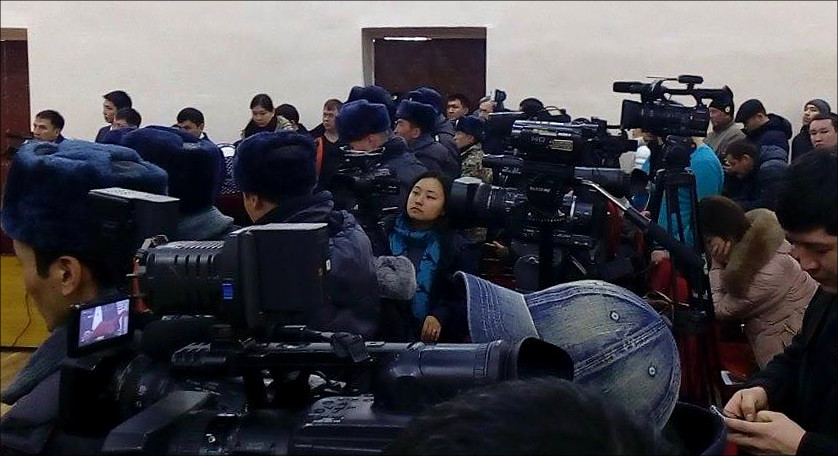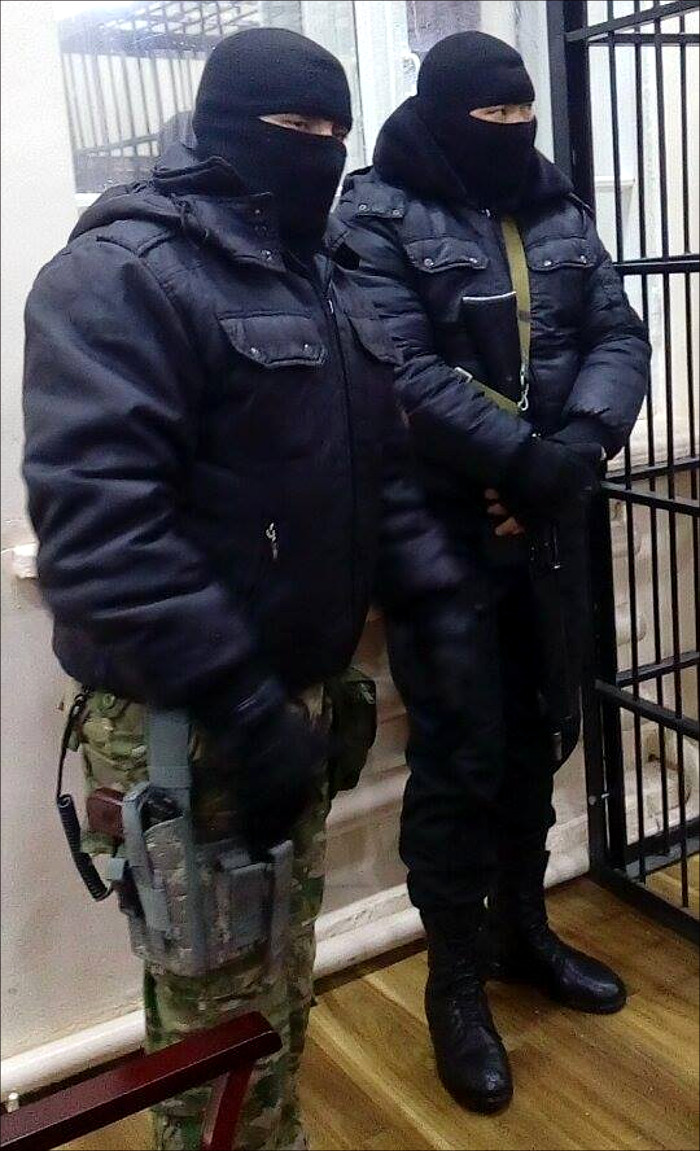 Over the last six years, Mr Askarov has been repeatedly making statements about the violations of procedural norms at his detention and during arrest, beatings by his cellmates and policemen. Howsoever, none of the initial or appellate courts took his testimonies and rights advocates' statements into consideration.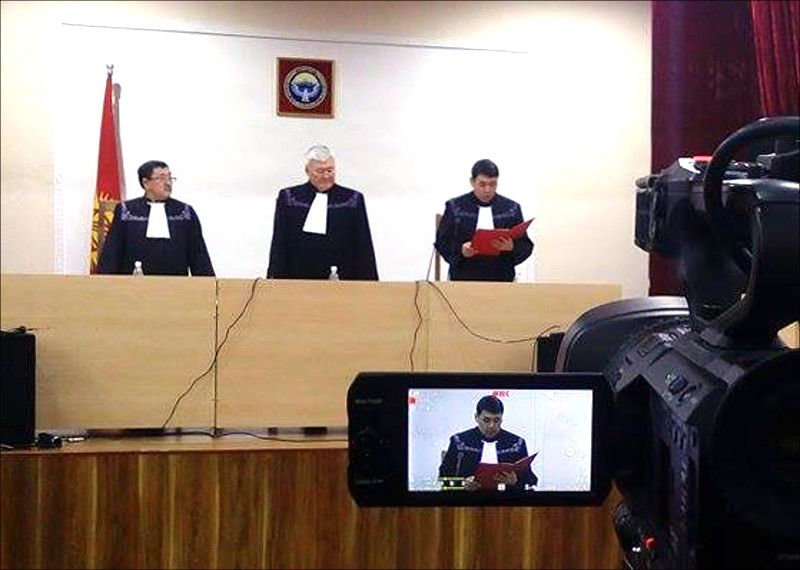 One of the judges reading from the verdict text: "Reports by the defendant and his defence about tortures were not confirmed…"

Mr Askarov was the head of Vozdukh [Air], a human rights organisation, and cooperated with Fergana over many years.
"He used to send us information about arbitrariness on the part of police toward detainees. His activities in the field of human rights were not secret or behind the curtains, but they were brave, open and public. He deemed it his duty to report all facts of violence against people and violations of laws to the greater public, and that is why he actively cooperated with mass media outlets. Based on information he provided, we issued a number of materials on injustices [committed by law-enforcement and government officials], which caused sharp ire of the authorities. To my personal mind, the verdict in Askarov's case—which is based on testimonies of primarily police officers, his ideological and factual enemies who used to be forced into defence position because of his reports on their crimes over many years—does not reflect justice at all. This is revenge against him on the part of authorities at all levels," Fergana Chief Editor Daniil Kislov says. "I personally know Azimjon-aka although I met him personally only once after he was convicted and imprisoned. We talked many times over the phone with him. I called him when he was still in Bazar-Korgon a day before his detention and subsequent arrest. I remember Azimjan-aka telling me, 'I will be arrested tomorrow because I was recording videos of people who came here to burn down and loot our village… I am certain that there are very serious and unmitigated problems of interethnic relations in today's Kyrgyzstan.' Mr Askarov is a representative of an ethnic minority group. That, unfortunately, had either direct or indirect impact on the judicial verdict issued in his case."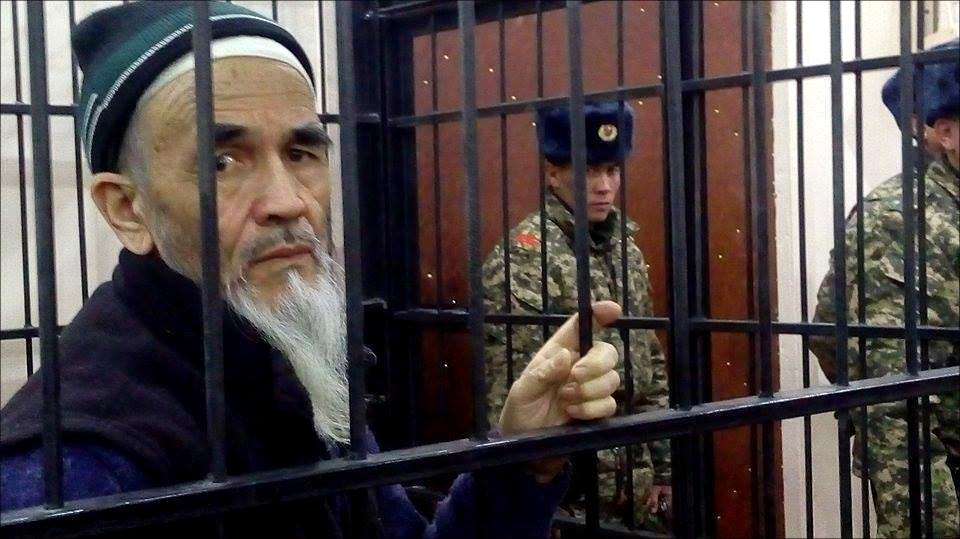 (The above text is by Fergana with contributions by Ulugbek Babakulov)
"Masquerade and show," not fair trial
Dinara Oshurakhunova, the chairwoman of the Committee for Civil Control and human rights advocate, says it is high time to publicly declare the "Askarov list" similar to the "Magnitsky list" the US adopted after a Russian lawyer was arrested and died from tortures in jail.
"The list must include the names of certain politicians, very many prosecutors, police officers and other employees of law-enforcement bodies who tortured him, and judges who adopted [conviction] verdicts. I am certain that the international community will arrive at serious conclusions, observing how inhumane the Kyrgyz judicial system is. There are political machinations behind this court's decision in the case. I am surprised with delaying the verdict announcement by two whole weeks. Why, was there coordination's going back and forth with those in 'top'? That is most likely so."
Sardar Bagishbekov, the chairman of the Coalition Agaist Torture, was hopeful that the judges would pay attention at least to those irrefutable facts and evidences provided by the defence team and were ignored during the preceding hearings at lower courts and the Supreme Court.
"I am talking about the facts of torturing Askarov, his illegal detention. I am also talking about the eyewitnesses the prosecutors invited constantly mixed their own testimonies up: they said they saw him on the crime scene, they [allegedly] heard him say certain phrases, but they were unable to repeat them later. And the prosecutor continuously led them back to their previous testimonies, back to those false accusations and testimonies they provided earlier. The verdict the court adopte is not a legal decision; it is purely a political one. The judges did not adopt this verdict independently. All this was just a show, which was financed using the taxpayers' money, to only show once again that our country is unprepared to implement the standards of human rights and doesn't care about the UN Committees."
Mariya Shishenkova, the protection coordinator for Europe and Central Asia at Front Line Defenders: "It is absolutely clear that the [re]trial was a masquerade. It was a well-directed masquerade about how a court trial could be held without violence and seemingly fair environment. It was impossible to hear what he heard [during this retrial] and still leave this outrageous verdict in force. The judges ignored testimonies on tortures for the hundredth time. In reality, this is a death verdict for Askarov."
Valerian Vakhitov, one of the lawyers in Mr Askarov's defence team, believes the court provided no legal assessment of the illegal detention of the defendant.
"But all of us present at the court heard that Askarov was detained on June 15 and that it is unknown where he was held at between June 15 and June 16. The UN Committee says his was detained illegally. The Committee further states that he was tortured. The Committee believes he was denied a meeting with lawyers. We will definitely appeal today's ruling in the Supreme Court of Kyrtgyzstan."
Tolekan Ismailova, Vice President of the International Federation of Human Rights in Central Asia and Eastern Europe and the head of the Bir Duyno Kyrgyzstan human rights organisation, says, "All this is very said. After two revolutions we still have an authoritarian rulers who own the judges who, in turn, discriminate against ethnicity. It was clear [presumably: from statements made during the retrial] from the very beginning, 'Thousands of Uzbeks were there…' They are citizens of Kyrgyzstan! The interim government and Kadyrjan Batyrov did their political deeds, and human rights advocate Askarov is held accountable for all those crimes, do you understand that? Eyewitnesses testified here that they were all tortured as you heard. Some had their finger broken and maimed! Ms Muminova [who was subsequently imprisoned to 20 years] was threatened with imprisonment of her 21-year-old son if she did not testify against Askarov. And all those victims who are now imprisoned are victims of torture. We will hold consultations, of course, and will apply every mechanism for human rights defence to ensure Askarov's freedom. He will definitely be free! He must be!"
Geneva-based human rights advocate Ivar Dale: "The decision of the court, unfortunately, was not unexpected, but that doesn't make it any less disappointing. If anything, this second trial has made it even more clear how many irregularities there are in this case, and that the basis for Askarov to remain in prison is simply not present. I believe the court has felt pressured from two sides - on the one hand, there may be a wish from the side of the government to show strength in the face of criticism from the UN Human Rights Committee. On the other hand, it's no secret that an acquittal would be highly unpopular with certain segments of the population in Kyrgyzstan. However, a real show of strength for any independent court is to judge a case based on its facts, even if the outcome is unpopular with the public or the government. It's highly unfortunate that Kyrgyzstan didn't pass the test this time around. However, ignoring the facts of a case doesn't mean that the matter is closed on the international level. It will be a recurring topic for Kyrgyzstan's representatives to international bodies, and they will certainly find the decision difficult to defend in a rational manner."
Fergana international information agency.