WWII heroes: Tajikistan hindered by 'Immortal Regiment' - Dushanbe residents speak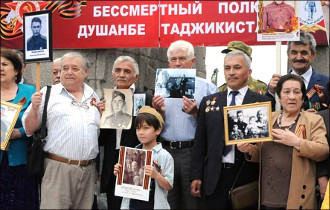 The 'Immortal Regiment' action, which relatives and descendants of those killed at the fronts of the Great Patriotic War had been planning to organise and hold on 9 May 2017 in Tajikistan, was prohibited. One of the official reasons is that 'according to Islamic traditions, it is inadmissible to go out into the streets and avenues with portraits of the deceased.' The other is a tense situation and clashes in neighbouring Afghanistan. Fergana correspondent spoke with Dushanbe residents, who call these arguments absurd and far-fetched accusing the authorities of double standards and hypocrisy. In fact, the government is simply afraid of any manifestations of civil activity, they believe.
'Religious laws should not become the basis for decision-making at the state level,' Zarafshon Kobulova wonders. 'Portraits of the dead cannot be shown in Islam; it's a sin, and portraits of prominent figures of our country, which are no longer alive, hang around the republic. Then we need to remove them, and remove the monuments too, since we live according to Islamic laws. Strange double standards.'
Safar Aidarov, a civilian activist: 'Our government is afraid of any display of civil activity. It is civil society that organised "Immortal Regiment" action. The authorities have created their own plan of events and sure that people should live according to its plan.'
'Such prohibitions cause pain', says Sabina Islamova, the granddaughter of a veteran of the war. 'We choose power that does not live according to the laws. We are not even able to protect the memory of our ancestors and our own initiatives... It hurts to the depth of our soul.'
Abdullo Sharipov, an employee of the news agency: 'I'm surprised that our government began to defend Islamic criteria. This is again an attempt to incite hatred towards Islam. Since when has our government started to act according to Islam?'
'Interestingly it turns out: shaving off beards forcibly, prohibiting wearing hijabs on the streets, in state institutions, and universities, raising food prices during Ramadan, destroying mosques and setting believers under surveillance - Islamic values not contradicted. But holding an action to honour those killed in the Great Patriotic War - contradicts Islam. Obscure logic.'
Vali Sanoyev, a university student: 'From the very beginning "Immortal Regiment" has been supported by hundreds of thousands of Muslims from different regions of Russia. In our country, if they do not find justification for their inventions, they resort to Islam denigrating it.'
'Fighting in the border areas of Afghanistan used as an excuse for our authorities to deny holding the "Immortal Regiment" action', citizen Olim Shambiev thinks. 'The war in Afghanistan has been going on since 1979. Is our country scared of the Taliban? Then let's not spend other holidays too as it is a martial law in Afghanistan... But the Taliban had had the power and had never intruded our territorial integrity.'
Rosa Zikriyaeva, retiree: 'Why do members of Parliament keep silent? This is the most important question for me. They must express the will of the people. Do they feel sorry for the people? After all, this holiday is our connection with those generations that lived at the time and protected us.'
Currently, 447 World War II veterans live in Tajikistan, the 'Khovar' national news agency reports. Each of them was allocated with 3,000 Tajik somoni ($353) as a gift for the Victory Day celebrated on 9 May.
2,776 WWII veterans live in Kazakhstan, 594 veterans in Kyrgyzstan, where they receive a monthly lifelong allowance from the President of Kyrgyzstan in the amount of 10,000 Kyrgyz soms ($148). In Uzbekistan, there are 1,615 WWII veterans at present.
As for Turkmenistan, it is not possible to find an openly available data on the number of WWII veterans living there today. It is only known that each of them will receive 200 Turkmen manats ($57 according to the official exchange rate or $28 according to the 'black market' rate) as a one-time reward.