Russia, Central Asia, migrants. Where and how extremism threatens?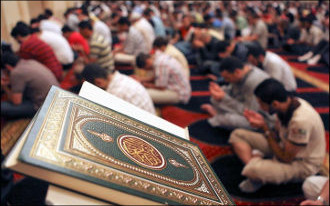 The recent terror act in the St. Petersburg metro on 3 April, in the organisation of which Russian special services suspect people from Central Asia, exacerbated issues related to migration processes from the countries of this region to Russia. Last week in Moscow, the Sakharov Center jointly with the Yegor Gaidar Foundation organised a discussion during which experts discussed whether there is any ground to say that it is among the migrants that recruitment of terrorists takes place, and if so, what causes migrants to join the ranks of radical Islamists, what role is played by large-scale corruption, typical of most Central Asian countries, and whether it is possible to oppose it.
* * *
A journalist and expert on Central Asia Arkady Dubnov moderated this event, who noted that 'after the terrorist attack on 3 April the Russian special services started to show off their work very quickly accusing migrants from Central Asia of what happened and using fake evidence among other things, which undermined the credibility of the actions of the law enforcement authorities.'
'On the other hand, they created an increase in the level of migrant-phobia, partly justified, partly scandalous and provoked by fears, which were intensified by actions and statements not only by representatives of law enforcement agencies, but also by some politicians,' Mr Dubnov said.
About trends in migration
A head of the Centre for Migration Studies Dmitry Poletayev spoke about the trends in the migration sphere. According to him, the number of migrants from Central Asia has increased in Russia for the last 5-7 years, and today they make up almost half of all foreign migrants in Russia. Another trend is that migration is increasingly becoming 'rural,' and it is associated with an increased risk of conflict situations.
'Less educated migrants are going to Russia now. If the migration of the 1990s was urban, now it is mostly rural. That is, in addition to conflicts on the ethnic grounds, now there are possible clashes in the "city-village" aspect,' explained Mr Poletayev.
The expert noted that there is a feminisation of migration from the Central Asian region, but in each country it goes its own way. According to data for 2015, women make up 40 percent of migrants from Kyrgyzstan and only 16 percent from Tajikistan. According to Mr Poletayev, 'if we link the issue of migration to security,' then it is important to smooth out the cultural and mental differences between the indigenous population and visitors.
'There is no finance for adaptation programmes for migrants in Russia. In Soviet times, they shot films, propagandised literature. Unfortunately, in modern Russia adaptation programmes have not been launched; now there are only elements of such programmes remaining. The first is free education for migrant children in schools. Resistance to this leads to negative consequences. Those who arrive with children are determined to settle down, and if their children are not educated, society will receive a layer of poorly educated people who will work in the shadow economy. Including, if we are talking about extremism, these uneducated and poorly adapted people are a risk group for recruitment.'
'Unfortunately, the work that is conducted with migrant children in Russian schools is not funded. Teachers are demotivated to do this job, the level of their bonuses depends on the overall performance in the classrooms, which is affected by the presence of migrant children in the classroom. The second element of adaptation programmes is free delivery of birth and medical care in emergency cases. Access to these services is not always smooth, but formally migrants are entitled to them,' Mr Poletayev continued.
'Muslims have always been in Russia. However, mass media prefer to operate with photos of filled mosques during Muslim holidays and show how many migrants have arrived. But archival photos of 1958, for example, show that even then the situation around the central mosque was the same: many worshippers not having enough space inside.'
'Now, there is not enough mosques, as many migrants from Central Asia came to the country. And they go to pray to the flats to some preachers. And since migration is more rural and uneducated - this is a fertile environment for recruitment. All this shows how dangerous it can be if migration is not dealt with,' Mr Poletayev said.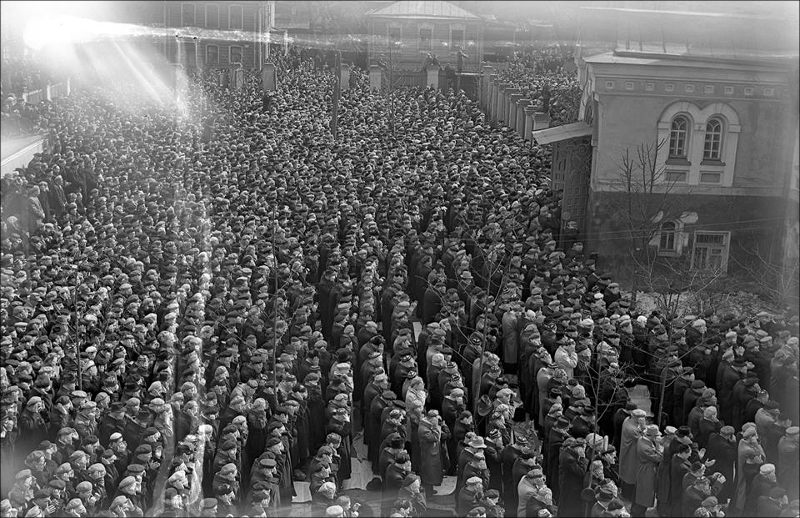 Uraza-bairam, Moscow Cathedral Mosque, 1958. State Archive of Film and Photo Documents. Photo courtesy of Dmitry Oparin

He also noted the special position of the Kyrgyz on the Russian labour market: they do not need to obtain patents (permits to perform job in Russia), they know Russian better, which makes them more likely than other migrants to take on more prestigious jobs:
'In 2016, we compared the situation of citizens of Kyrgyzstan and Tajikistan in the labour market: 75 percent of the Kyrgyz answered that they work in organisations and firms, 70 percent said they have a contract with the employer. But only 42 percent answered that they receive an official salary on a bank card or on a payroll, i.e, 30 percent of Kyrgyz migrants think they have a contract, but they do not. The situation of Kyrgyz migrants in the labour market is worse than that of Russians, but better than other migrants.'
'Moreover, more than 300,000 Kyrgyz migrants were granted Russian citizenship under the simplified system ('one of the leaders of the Kyrgyz community Abdygany Shakirov spoke about 570 thousand Kyrgyz who Have received Russian citizenship,' as stated in the previous article. Note by Fergana). But it does not mean that they know the Russian language or the culture of the country better. In this regard, adaptation programmes should not only cover migrants, but also this category of citizens with Russian passports. All citizens of Central Asia wish to acquire a Russian passport, because migration has become their lifestyle. However, migrants are paid little attention. They are already part of our society and part of our labour market, but with the risks that Russians do not have,' Dmitry Poletayev insisted.
Where the legs of extremism grow
Arkady Dubnov raised the issue that the prevalence of forceful methods of combating extremism, coupled with corruption of state bodies, gives the opposite effect:
'Why do I link it with the threat of terrorist activity? The excessive pressure of the security forces in Central Asia makes youth cruel. I will demonstrate this by the story of Director of the Kyrgyz 'Religion, Law and Politics' analytical centre Kadyr Malikov at a recent conference in Berlin on the recruitment of citizens into terrorist structures (where also representatives of law enforcement agencies of the countries of the region were present). According to him, those Kyrgyz citizens who were going to fight in Syria and who were detained prior to departure, were charged with propaganda, dissemination of banned literature and given long terms.'
'As a result, they were not yet ready extremists, but they got to the prison, where they receive 'Islamic education' becoming adherents of the Salafi direction. There, recruiting processes are led by prison "leaders" with lifelong terms that feel themselves masters of the situation - they have cell phones and communication with the outside world. All this [telephones, communications] takes place because of corruption. While the authorities declare the fight against corruption, in reality they carry out what they should fight against. And the law enforcement agencies abusing their authority, relying on the more they arrest people, the more their actions will be appreciated,' Mr Dubnov noted.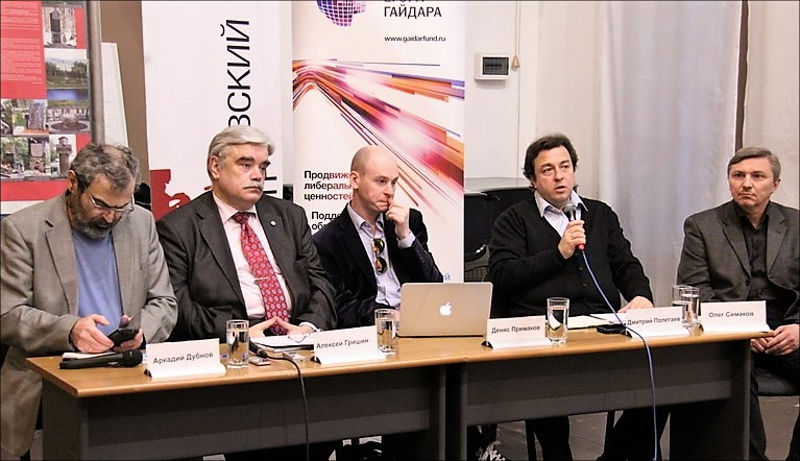 Participants of the discussion at the Sakharov Centre. From left to right: Arkady Dubnov, Alexei Grishin, Denis Primakov, Dmitry Poletayev, Oleg Simakov

President of the 'Religion and Society' Information and Analytical Centre Aleksei Grishin told about where the process of recruiting citizens takes place, and how true are the statements that the migration streams carry a terrorist threat to Russia:
'Recently, the propaganda line that migration flows are dangerous for Russia has increased, and that migrants are already members of extremist organisations and start activities immediately after arriving in Russia. It is because some people need to cover their blunders and failures and blame the most defenceless. And it seems logical that migrants are a threat, and society does not resist it. However, our findings show that from the point of view of the risks of extremism, migration flows from the countries of Central Asia are much safer than those that go in the opposite direction. The main recruiting work with migrants is conducted on the territory of Russia - they do not come to us, but we are infected with this virus.'
Mr Grishin said, 'this did not happen immediately. In the early 2000s, the countries of the region adopted strict legislation on religion. At first, it was done by Uzbekistan and Turkmenistan, then Tajikistan. In this regard, Kyrgyzstan has the least stringent legislation. In Uzbekistan, only belonging to an extremist organisation (a person has not done anything yet, and, for example, an IDU [Islamic Movement of Uzbekistan] party ticket has been found) would lead to imprisonment from 15 to 20 years. Conditions of detention in prisons in Central Asia are such that the average life expectancy there is 10-12 years, i.e, people practically jailed to life.'
Mr Grishin continued, 'then the extremists realised that it is dangerous to work in Central Asia, and they massively left to Russia through the late 1990s and at the beginning of the 2000s. After 70 years of atheism in the USSR, we were left with no well-trained imams, but here came people who were well-educated from the point of view of Islam and some extremist-minded Muftis took them and arranged them in mosques. They acquired official status, and then began to form muftiats. Today, the religious department of the Asian part of Russia consists of more than 70 percent of imams and muftis from Central Asia.'
'Released from Central Asia, these people acquired an official status here and offered our officials a system of adaptation for newly arrived migrants. And newly arrived migrants with the official approval are transferred to the adaptation to extremists, who were kicked out of their countries 10 years ago. And then we say that migrants bring us an extremist ideology,' Mr Grishin said.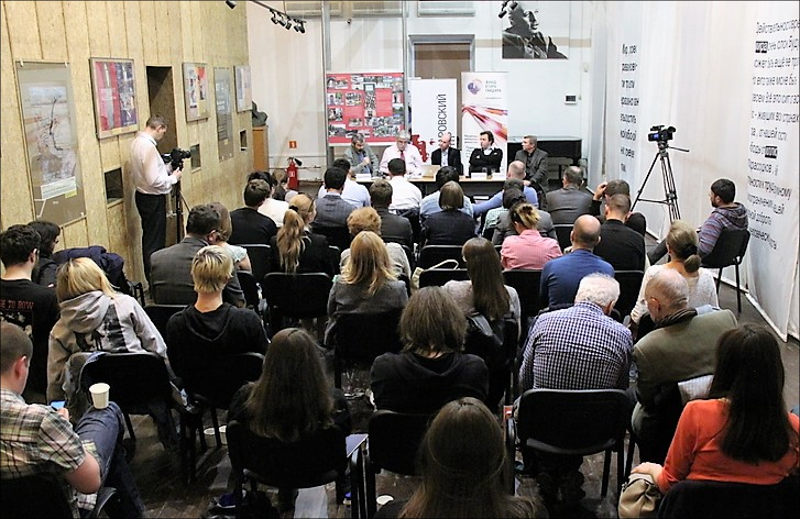 Discussion at the Sakharov Center

How does the recruitment process of migrants
According to Aleksey Grishin, 'newly arrived migrants deliberately create "situations" under which some certain Muslim brotherhood helps them out.'
'That's what happens in 90 percent of the cases: we interviewed migrants, and 9 out of 10 said that they had such situations. For example, when a fake policeman appears and checks the documents, then comes the "negotiator" who resolves the situation and says: "we are Muslims and stand by each other through thick and thin." Another thesis confirming this version is that if a person lives in his country like everyone else, then in Russia he lives like a slave who is constantly put in uncomfortable situations, then saved and says: you owe us. This is the first step of drawing a migrant into an extremist organisation. And then we blame the migrants who came here "clean," and eventually became radicals. Now the special services of the Central Asian countries are claiming to us,' the expert explained.
Recruiting work, according to Aleksei Grishin, is divided into three parts: tip-off; transfer to a 'motivator' and 'creating an uncomfortable situation;' meeting with the person who makes the recruiting offer. Usually the 'motivator' puts a question before a subject: what is more important for you - love of the motherland or faith. If a person says that faith is a priority, they work with this person. Then the migrant is transferred to the person who makes the recruitment offer.
Director of the Information and Analytical Centre 'Religion and Society' Oleg Simakov told about the work with migrants in Uzbekistan, where he lived for a long time:
'In Uzbekistan, it is believed that radicalism in the religious sphere is tantamount to opposition activities. Therefore, the National Security Service (SNB), the police - are those structures that strictly control religious activities within the country. The mahalla (community) committees also have the function of combating religious extremism. In addition, there are youth and women's organisations that interact with SNB and the Ministry of Internal Affairs (oversees police); they are looking for people who are radical.'
'They also work with migrants, assisting the law enforcement agencies in identifying persons among those arriving from abroad, who are prone to religious influence. The migration flows arriving in Uzbekistan are very tightly controlled. According to SNB, active recruitment is being conducted in the Moscow Cathedral Mosque. Therefore, an Uzbek migrant visiting a mosque in Moscow can be sure that all his steps will be known at home, because there will always be people who will tell the enforcers about him. A lot of work is done with the population - these are preventive conversations and meetings of the residents of the mahalla,' Mr Simakov described.
'In Kyrgyzstan, the situation is different. There is a more liberal legislation, and more opportunities for the formation of a radical environment. For example, in all countries of Central Asia and Russia there are lists of prohibited extremist organisations. One of them is "Tablighi Jamaat." Practice shows that exactly those who are carried away by its ideas, migrate to more radical organisations. This is, as it were, the "waiting room" of terrorist organisations. And it is banned everywhere except Kyrgyzstan, where this network is distributed throughout the country, and the local muftiat not only does not fight it, but also considers its preachers almost ideals of Muslims, because they are fighting with vices (smoking, drinking alcohol).'
'In order to somehow change the appearance of these people who wear Pakistani clothes, they are ordered to adhere to the Kyrgyz traditions and not stand out. The only thing they are blamed for is that they need to become more national. In addition, preachers are trained under the muftiat who are engaged in the Islamic call. Come, finish the courses, get a certificate and preach as much as you want,' Mr Simakov said.
'And then he comes to the Council of Muftis of Russia, shows the diploma of the Kyrgyz muftiate. We have signed an agreement with Kyrgyzstan on a preferential working regime, so a person begins preaching without even having processed any documents. Kyrgyzstan was informed about this problem, but there is no reaction,' Alexei Grishin added.
'Yes, this issue has been raised more than once,' Mr Simakov confirmed, 'but it is a fact there is no direct evidence that these people committed terrorist acts or other unlawful actions. Therefore, this organisation remains legal. In addition, the south of Kyrgyzstan is subject to the influence of the Salafis. If in Tajikistan 'Salafia' is also a banned extremist organisation, then in Kyrgyzstan there are Arab charitable organisations and funds that participate in the construction of social facilities, so the attitude towards the Arab East that invest money in the country is more favourable than in others republics of the region.
Report by Ekaterina Ivashchenko
Fergana News Agency