Education in Uzbek language has no prospects in Kyrgyzstan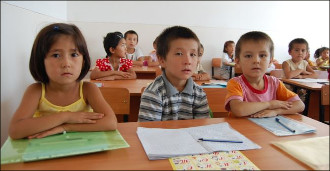 The second largest ethnic group in Kyrgyzstan is Uzbek: according to statistical data of 2015, there are about 900 thousand people, which is almost 15% of the total number of residents. At the same time, there is no opportunity for Uzbek youth to get a high-quality secondary education and even less a higher education.
In Kyrgyzstan, there are 91 schools with Uzbek language of instruction, and about 30 thousand pupils graduate them annually. For comparison: according to data at the beginning of 2016, the number of ethnic Kyrgyz in Uzbekistan is more than 420,000 people or 1.4 percent of the country's population. According to the media, there are 64 schools with Kyrgyz language of instruction and 27 Kyrgyz-Uzbek (both languages of instruction) schools in Uzbekistan; about 14 thousand children study there. The supply of educational literature is 93.2 percent: there is a special editorial staff at the "Uzbekiston" publishing house preparing textbooks for schools with the Kyrgyz language of instruction.
Basic (6-10 years old) and secondary general education (11-18 years old) in Kyrgyzstan can be instructed in several languages: Kyrgyz, Russian, Uzbek (schools are located mainly in the southern regions) and Tajik. School graduates sit the nationwide exam (ORT) resulting into a certain score, according to which they can enter higher education. ORT system was introduced in 2002 and includes several sections: mathematics, analogies and additions, reading and understanding, practical grammar of the native language. According to the Ministry of Education of Kyrgyzstan, the results of the nationwide exam are mandatory for admission for higher education since 2011.
Until 2013, national testing had been conducted in three languages - Kyrgyz, Russian, and Uzbek. After the abolishment of ORT in Uzbek, graduates of Uzbek schools can choose to be tested in Kyrgyz or Russian.
Kyrgyzstan and Uzbekistan are like two ships
During the Soviet era, teaching staff for Uzbek schools in Kyrgyzstan was trained by Uzbekistan universities. Young Andijan or Tashkent Pedagogical Institutes graduates were sent to educational institutions in the southern regions of Kyrgyzstan, in predominantly ethnic Uzbek communities. In turn, graduates of Uzbek schools of Kyrgyzstan went to Uzbekistan for higher education.
With the disintegration of the USSR, the paths of two neighbouring states - Kyrgyzstan and Uzbekistan - parted like ships at sea. Kyrgyzstan remained faithful to the Cyrillic alphabet, and Uzbekistan switched to the Latin alphabet.
Uzbek textbooks in Cyrillic were no longer in need and sent to Kyrgyzstan. At some point it filled the shortage of textbooks and helped to hold up the schools instructing in Uzbek language in Kyrgyzstan. But these textbooks have dilapidated for almost three decades, and there is simply nowhere to take new ones.
However, the current graduates of Uzbek schools are not able to enter Uzbekistan's universities, only because they are not trained to read and write using Latin letters.
Lost generation
One of the Uzbek community leaders of Kyrgyzstan Bahtiyar Fattahov believes that the abolition of testing in the Uzbek language reduces the chances of Uzbek youth to receive higher education.
'This initiative of the Ministry of Education is a direct violation of human rights,' Mr Fattahov considers.
What other teachers instructing in Uzbek think? The Fergana correspondent met with a dozen teachers and directors of Uzbek schools. Almost all of them believe that Uzbek-language education in Kyrgyzstan has no prospects. As the headmaster of the Russian-Uzbek school in Jalal-Abad oblast agreeing to talk anonymously said lessons in Uzbek classes are only lectures now.
'The teacher reads the lesson, and the pupils write for him,' the headmaster explains, 'there have been no textbooks and manuals in Uzbek for a long time. Teachers take the necessary lesson from the textbooks in Russian or Kyrgyz, translate it into Uzbek and then read it. I and many of my colleagues graduated Andijan Pedagogical Institute. And there are no new teachers now.'
'What quality of education do you think pupils of Uzbek schools receive?'
'Now the quality of education is very low. If you rank the schools, Russian will be the first . Teaching there is a well-trodden system, there are still teachers who came during the Soviet era. They pull the main subjects. And, of course, there is a lot of teaching material in Russian. In second place is education in Kyrgyz language, and this is due to the mass character of the Kyrgyz schools, but there are few specialists. Young people do not want to teach in school because of a low prestige and a small salary. Well, the most substandard education is in the Uzbek schools. The reason is clear - the absence of Uzbek-language teachers and teaching materials.'
'Did cancellation of ORT in Uzbek also cause a decline in the quality of education?
'Of course. I will say more: the very introduction of ORT, in my opinion, is a mistake. This testing downgraded the value of final exams at school and a school certificate to nothing. Previously, as it was: schoolchildren had been intensively preparing for the final exams to gain positive grades in the school certificate, and then passed the admission exams for the university. It does not matter how you pass the school or university exams, the main thing is to get high scores on the nationwide testing.'
'How many graduates of Uzbek classes of your school did pass ORT last year?'
'Not very much, about 15 students out of 60 graduates of two classes. Someone wanted to take the testing in Russian, someone - in Kyrgyz. After sitting ORT, I asked them how they passed the tests and whether they were satisfied with the results. Almost everyone answered that they did not understand the questions and put the answers randomly, just to mark something. The problem is that the graduates of Uzbek schools do not fully speak Russian or Kyrgyz. Now tens of thousands of pupils of Uzbek schools are a really lost generation, which has no prospects in terms of education and career.'
'What do you think should be done to improve the situation?'
'When in 2013 the ORT in Uzbek was abolished, it was necessary to stop admission to Uzbek classes. They would give the chance those already attending Uzbek schools to graduate, and it was not worth taking first-years in. Education in Uzbek is not relevant. In the new academic year, our school will have nine first year classes, eight of them with Russian language of instruction, and only one class - about 25 pupils - with Uzbek.'
'The second option: to make the school education in Uzbek incomplete, and in two last year classes to teach in Kyrgyz or Russian. This will allow pupils to sufficiently master the language for the subsequent successful delivery of ORT.'
'Uzbeks themselves do not need Uzbek language'
Some supporters of testing in Uzbek recall, that until recently two universities instructed in Uzbek in Kyrgyzstan - the Kyrgyz-Uzbek University (KUU) and the People's Friendship University (better known as "Batyrov's" university of the disgraced Kyrgyz oligarch of Uzbek origin Kadyrzhan Batyrov). However, teaching there was practically conducted in Russian. Utkir Jabbarov, a graduate of "Batyrov's" University told Fergana about this.
'Many graduates of Uzbek schools entered these universities by inertia, only because of the name,' the human rights activist said,' the same Kyrgyz-Uzbek University was named only because it had the faculty of Uzbek language and literature. Its "Uzbekness" was manifested in nothing else. By the way, this university is now called the Osh State Social University. Maybe it's for the best. And university I graduated had no faculties in Uzbek language at all, all subjects were taught in Russian.'
'You graduated from the Uzbek school, and what about your children?'
'They study in Russian. I will explain why: teaching in Uzbek is not only unpromising, but also of very low quality. The school where I studied had very old Uzbek teachers who had come from Soviet times. They can be replaced with no one, so they are held. What can they teach the current children? I know a lot of parents from villages who are taking children to the city every day to study at Russian schools. Even judging myself I can say that I got most of my knowledge having learned Russian at university.'
'Some activists consider the abolition of ORT in Uzbek as a violation of human rights. Do you support this point of view?'
'I also considered it a violation at one time. My colleagues and I even addressed the Uzbek population of our region to support ORT. It was in 2013. You know, if in Osh about a hundred parents stated that they want their children to be tested in their native Uzbek language, then in Jalal-Abad nobody spoke at all. Everyone was silent. It turns out that the Uzbeks themselves do not need it…'
'The head of the "Spravedlivost" ("Justice") human rights organisation Valentina Gritsenko agrees with the opinion that, given the current state of things, education has no prospects in the Uzbek language.'
'If people are oriented to life in this country, they should understand that higher education can be obtained in Kyrgyz or Russian languages, and it is necessary to instruct in them as well,' Ms Gritsenko believes, 'primary education should be left in the native language, and then to prepare the children for instruction in Kyrgyz and Russian, so that later they will not stand on the sidelines in life. But it is necessary to conduct a relevant explanatory work among people. It is not possible to forcibly transfer instruction into Kyrgyz or Russian languages so as not to cause a wave of protest.'
What to do?
Article 6 of the Kyrgyz law 'On Education' says that 'the state creates the conditions to teach every citizen the state (Kyrgyz), official (Russian), and one international language, starting from the pre-school education to basic general education. Training can also be conducted in any other language, subject to appropriate conditions.'
Under the same law, general secondary education (16-18 years-old) is generally available, but not compulsory. These last years at school prepare graduates to enter university. As reality shows, no conditions are created to obtain high-quality school education, not to mention the possibility of obtaining a higher education for students of Uzbek schools in Kyrgyzstan.
So, is education in Uzbek in Kyrgyzstan necessary or not? This question must be transferred from the political to the practical field and to correlate with reality. The authorities must answer if they want to see ethnic Uzbeks of Kyrgyzstan participating in the social life of the country and what measures they can offer so that Uzbek youth will receive a quality education.
Ulugbek Babakulov