Elena Serebryanik–Bell: «I found My Tashkent Sun in the state of New Mexico»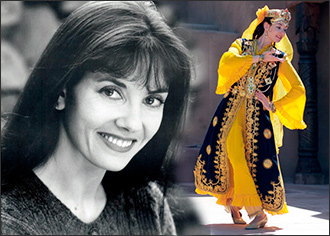 What do Russian theater, Uzbek poetry, public diplomacy and the U.S. State Department have in common? Please, meet the native of Tashkent, Ms. Elena Serebryanik-Bell, actress, choreographer, and interpreter - in the broadest sense of the word, since Elena, among other things, is perhaps the main practitioner of Uzbek dance and even more broadly, Uzbek culture, in the United States.
"From WHERE?"
When I first came to the U.S. my foreign accent was immediately detectable, and I quickly got tired of answering the same old questions:
- What is your accent?
- Russian.
- Are you Russian?
- Yes, I am. (Listing all the components of my ethnic cocktail would take too long. It's pointless, to Americans all Russian speakers are "Russians")
- What part of Russia did you come from?
- I'm not from Russia, I'm from Uzbekistan.
- From Pakistan?
- No, Uz-be-ki-stan.
- Where's that?
- It is north of Afghanistan.
- And who lives there?
- Uzbeks and many more.
- Why do you speak Russian, not Uzbek? ...
Over the years, as my accent faded, these questions were asked after the first, fifth, tenth, twenty-fifth sentence. They came less and less frequently. The name of my country is better recognized now.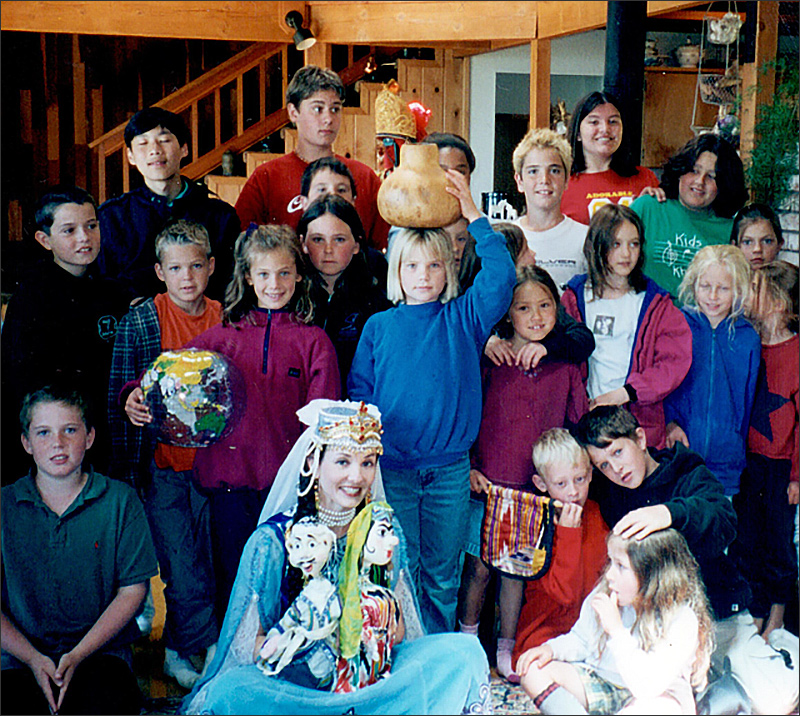 Summer Camp in California, 1999. Photo from personal archive

THE FIRST LOVE
When I as still a second–year student at the Tashkent Theater Art Institute (now the Uzbekistan State Institute of Arts and Culture), I first started to work professionally at the theater "Ilkhom". I remember how surprised I was when a man approached me in the hallway of the institute and asked if I could come to the Ilkhom in the evening to meet with the artistic director about a role in a new play "Judas Iscariot"... The man's name was Volodya Salikhov – the director of that show. WHAT an invitation! WHAT a theater! I was nervous for the rest of the day and well into the evening; I was nervous on my way from the metro station Pakhtakor to the doors of the theater, and on the way down the stairs, all the way to the artistic director's office. Mark Yakovlevich Weil greeted me warmly in a very cozy atmosphere. We talked informally and he invited me to watch the rehearsal. Alas, the audience never saw the show in which I was invited to take part, Volodya Salikhov tragically died soon after we met.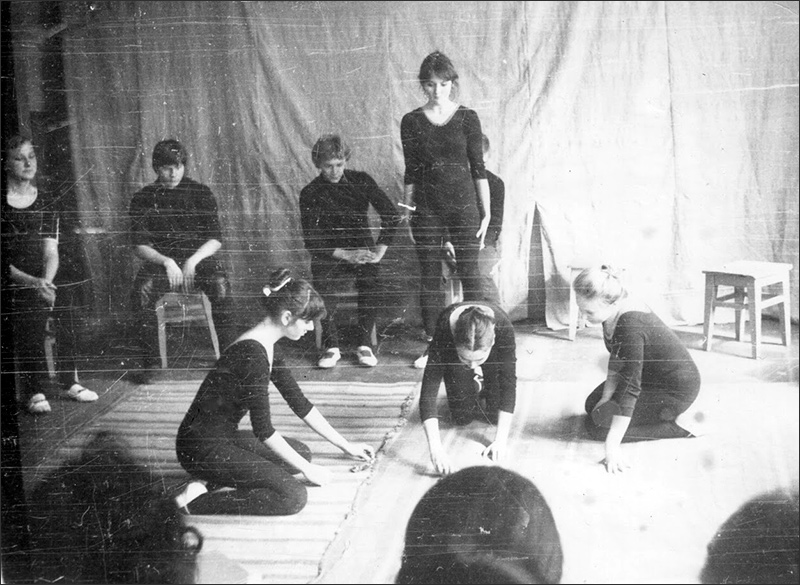 Acting class Etudes. Tashkent Theater Arts Institute, Elena Serebryanik-Bell sits on the floor on the left. Photo from personal archive

But I did join two other shows. Every time going to the rehearsal or to perform, I felt like I was going on a date. What an amazing creature that theater was; with its particular essence, distinct spirit, an unmistakable "Ilkhom Theater" smell in the dim long basement corridor with its autographed walls. Our institute, of course, had its own training theater. But a "pretend theater" is one thing, and a "real theater" is an absolutely different matter. Ilkhom was a real theater, with real directors, real shows for real audiences… and real pay, too! A whole six rubles per show (I think the Russian ruble at that time was officially worth approximately $1.30)
I continued to freelance for Ilkhom until I left the country, simultaneously working in other venues. I do not know if you remember, but at the very end of the 1980s a new phenomenon came about. It was called "self-sustaining theaters", (such theaters were not funded by the government). In Tashkent several such theaters of small and medium size suddenly popped up. The Serpentine Theater was one of them and started to work there right after graduation. Later, a fellow actor recommended that I audition for the State Academic Russian Drama Theater. I did. I was hired and worked there until I left for the U.S.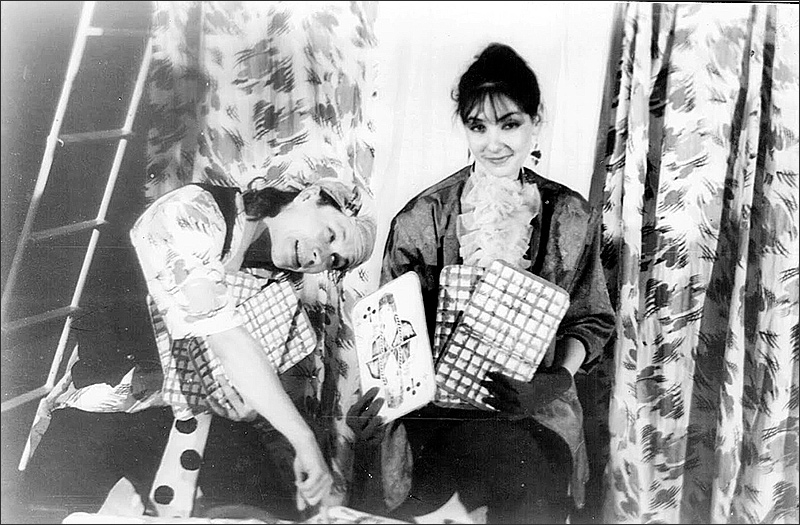 The Serpentine Theater. "The Cat's House." Left - actor Sergei Kuznetsov. Photo from personal archive

My last Ilkhom experience was a role in a play based on Alexei Tolstoy's novella "The Vampire", directed by my classmate and colleague Vlad Grakovsky. The show premiered in 1993, unfortunately, without me. I left before it opened. Vlad later moved to Germany, where today he has his own theater in Stuttgart – "Theater Atelier".
DANCE, UZBEK LANGUAGE...
My teachers at the Tashkent school #178 with special emphasis on the English Language (most of our schools did not have names, just numbers) believed that I should go into Russian philology or foreign languages. Nobody expected me to go into theater, probably because during my school years, I did not openly demonstrate any interest in acting. I studied dance and music instead. Forced to learn piano, I certainly developed many useful skills. However, I also grew a strong repulsion for playing this instrument, and after quitting my studies, I did not touch a piano for thirty years. (Just recently I started to make attempts to resuscitate my musicianship skills, but so far without much success). I did not like playing music. I preferred listening to it. And I liked dancing to it even more. I have loved to dance since childhood and took lessons at various venues. One of them was a small basement dance studio on Gagarin Street. There our teacher, Aliya Shaikhilislamova, Tashkent Opera and Ballet Theater's principal ballet dancer, and sometimes her husband, Rafik Sultanov, the head of the children's folk dance ensemble "Bulbulcha", taught us the basics of classical ballet and traditional folk dance.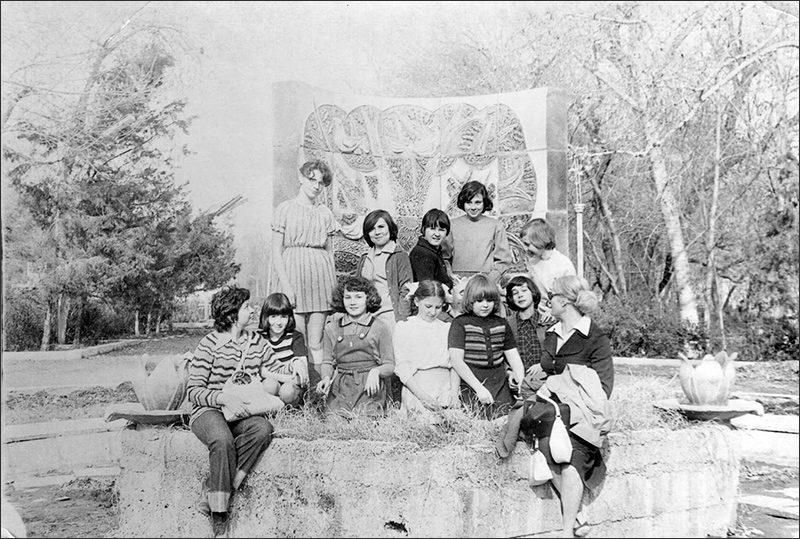 With classmates, mother (Larisa Polevaya), and the English language teacher (Maria Shaykhova), at the "Pioneer" park. Photo from personal archive

This was my first exposure to the incredible richness of Uzbek dance. The dance vernacular fascinated me and came to me relatively easily. At that time the Uzbek dance took precedence for me over the Uzbek language, which was part of our school curriculum. Later, after moving to the U.S., I regretted again and again that I did not take advantage of the opportunity to learn Uzbek. Who would have thought that the language that surrounded me in my childhood would become something that I could use later in my American life.
THE THEATER IS IN THE GENES
My mother, Larisa Polevaya, graduated with a degree in Theater and Film Directing from the Tashkent State Theater and Art Institute, (now Uzbekistan State Institute of Arts and Culture). My Father – Alexander Serebryanik, is a pianist and a conductor, a graduate of the Tashkent State Conservatory, who studied under Mukhtar Ashrafi.
Backstage is deeply embedded in my childhood memories. Vadim Grigoryev, the artistic director of the Tashkent Theater for Young Audiences, where I spent a lot of time as a kid, invariably greeted me with his loud bass: "Whaaaat is youuur naaame, dear girl?" I was terrified. I panicked every time I bumped into the actors in their bright, exaggerated theatrical makeup. And yet, I was mesmerized. I remember being with my mother in the audience for "Cinderella" when the Prince approached me to let me try on the glass slipper. The actor was a friend of the family, whom I recognized at once, but his bright makeup petrified me. The memory of that mixture of fear and delight stayed with me for the rest of my life.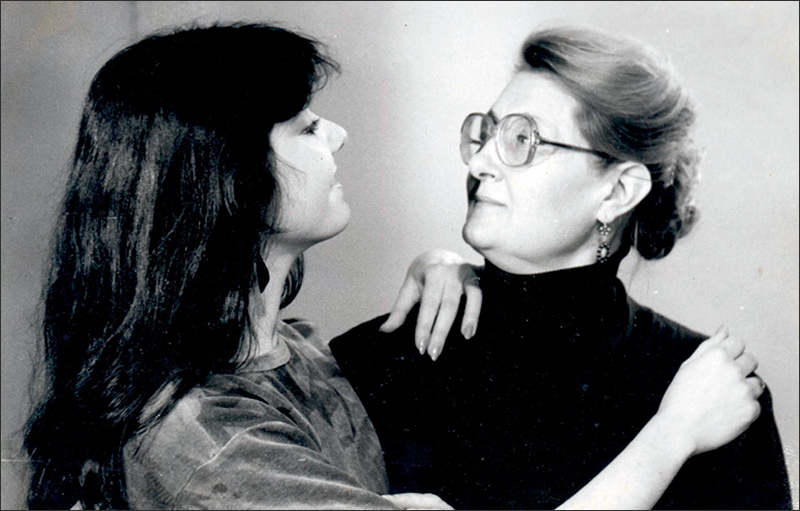 With mom, 1989. Photo from personal archive

My parents spent three years in Yakutsk. My father was the conductor of the Yakutsk State Musical Theater and my mother was the director of the Russian Drama Theater. Meanwhile, I stayed with my grandmother in Tashkent. Someday I'll write about our life on Gordeev Street, how my cousin Sergei and I dreamed about joining Yuri Senkevich, the famous TV host, on his journeys. At that time, for the majority of Soviet people, the fascinating travelling adventures, featured in the program "TV–Travellers' Club", were the only possibility to see the world.
Every summer my parents returned to Tashkent to pick me up and go to the Black Sea, to the resort called "The Actor", where many of the theater, film, and TV professionals spent their vacations. Right before I started school, my parents finally returned to Tashkent. My mom was a stay-at-home mom for a while. Later, when she decided that it was time to go back to work, she joined "Uzbekfilm" studio as an animation director. Upon my dad's return to Tashkent, he was invited to become the chief conductor at the newly opened State Musical Comedy Theater (Tashkent Operetta Theater). That's when I first discovered the orchestra pit. Oh, what a magical place! The sounds that the pit produced were incredible. It was not the harmoniously playing orchestra that fascinated me, but the tuning... the cacophony of sounds was mind–boggling. At the same time, if one listened carefully to this incredible acoustic mess, one could recognize individual pieces, passages, and phrases. I realized that I had found my most favorite sound – the sound of a tuning orchestra pit!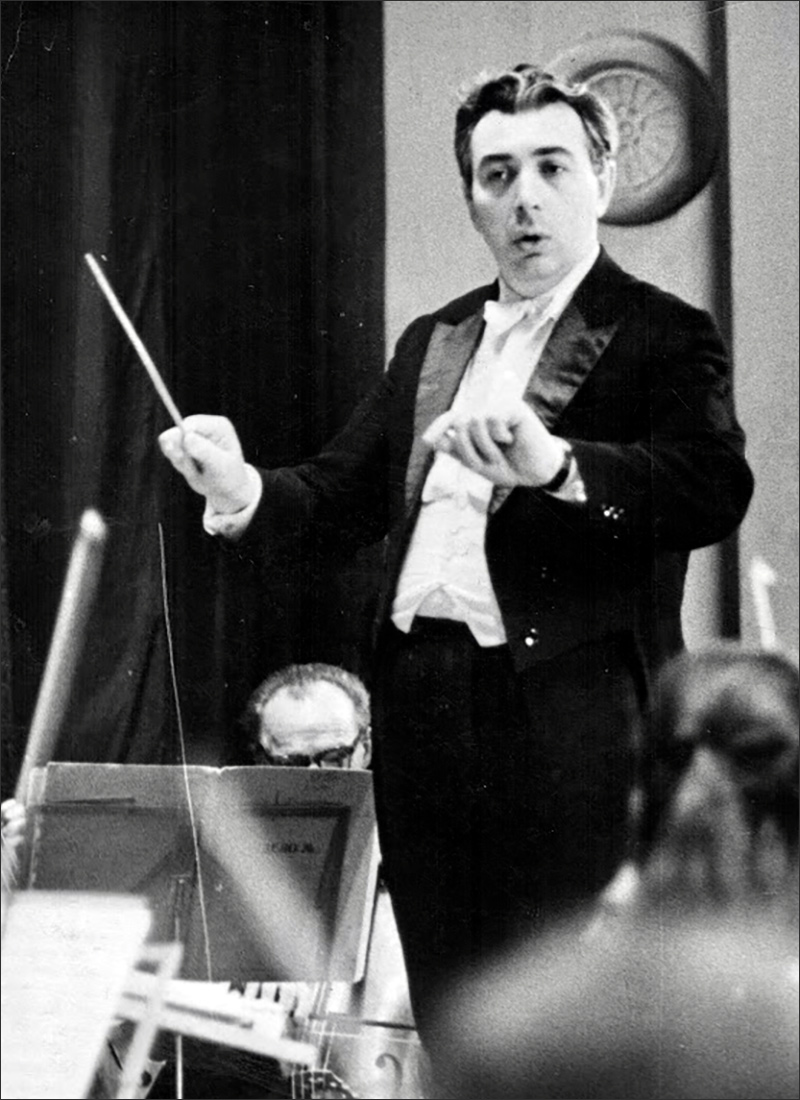 Father on the podium. Photo from personal archive

THE REAL LAST NAME
My father was born in Odessa. He was evacuated to Tashkent in 1941. At the last moment my grandfather, David Serebryanik, literally shoved my dad, my grandma, and her aunt into a train that was going to Tashkent. They left Odessa with one suitcase. My grandfather followed them a few weeks later. Tashkent opened up to all those newly arriving evacuees. The city housed them, warmed them up and fed them, employed some, and started to teach the others. Among many things, those, who came to Tashkent during this time acquired a very special Central Asian way of living. My dad always talks fondly about his Tashkent childhood, adolescence, and the entire Tashkent period of his life. It was a very full life, packed with interesting people and events that influenced him and left lifelong impressions. What is even more important – Tashkent life was filled with warmth.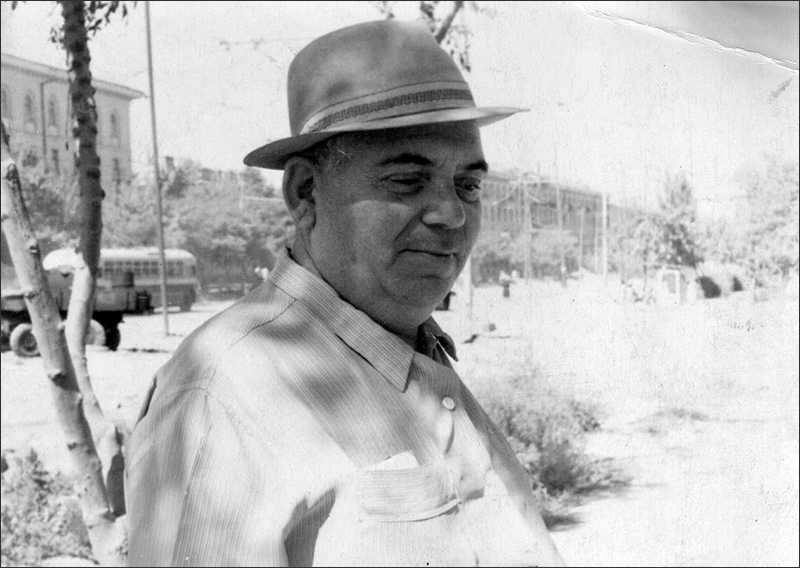 Grandfather David somewhere in Tashkent. Photo from personal archive

Mom's ancestors came to Central Asia at different times. My mother's mother was born in Aktyubinsk. Her parents moved from Orenburg to Kazakhstan seeking new professional opportunities before the revolution of 1917. In the 1930s after graduating from a technical college in Kiev, my mom's father, Mark Polevoy, was offered a job in Aktyubinsk. During the Tashkent years of his career, grandfather Mark, a civil engineer by education, worked at the Ministry of Construction Industry of Uzbekistan. He was responsible for the construction of large industrial facilities. His last project was the building of the Almalyk Chemicals Production Plant (now Ammofos–Maxam Enterprise).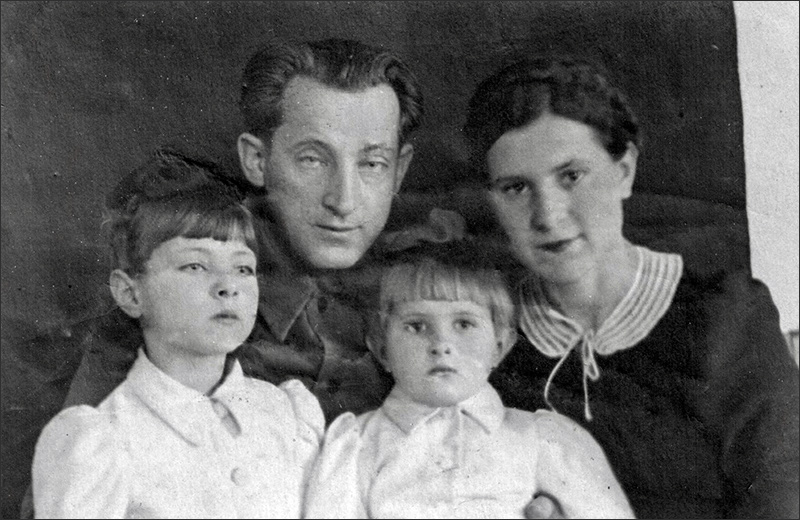 The Polevoy family: grandfather, grandmother, mother (right) with her elder sister. Photo from personal archive

Since 2004, my mother has lived with me. At first we lived in California, but now we reside in Oregon. My dad now lives in Speyer, Germany, a small charming town that survived World War II with its architectural integrity. In Tashkent I was known by my maiden name, my dad's name – Serebryanik. However, recently our family discovered that our real name is Trier. "Serebryanik" is the surname that my great-grandfather purchased, literally, under some unclear circumstances. This name – Trier, may point to our family roots originating from the German city of Trier. Interestingly, it is located very close to my dad's current place of residency. You know, I think our lives consist of partial circles everyone of which, from time to time, comes to completion. I see my dad's move to Germany as the closing of such a circle.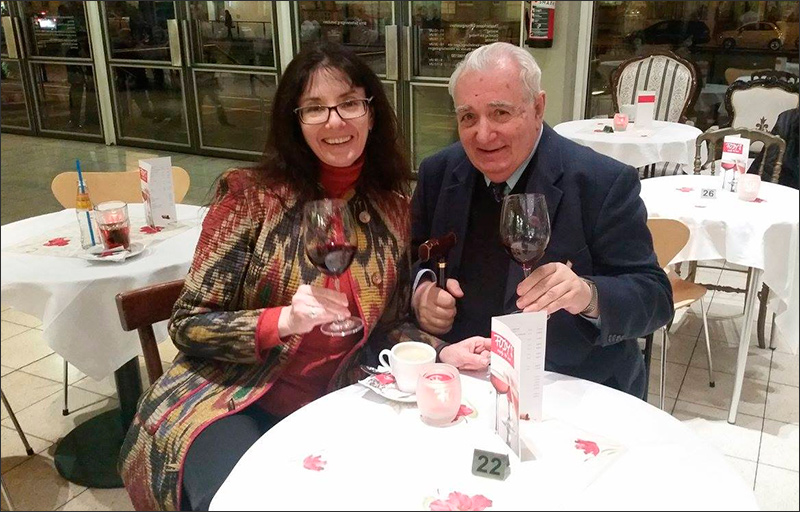 Elena and her father, Germany. Photo from personal archive

My father is a master–storyteller. In his collection there are stories about Mukhtar Ashrafi, Tamara-Khanum, Slonim family, and Alexander Ginzburg, as well as the accounts of the life of the Hamza DramaTheater, the Operetta Theater, and the Navoi Opera and Ballet Theater, where he conducted operas (and less frequently ballets) up until his departure to Germany. I hope one day to create a compilation of his stories, anecdotes, and epigrams.
A TURNING POINT
I came to the U.S. in March of 1993. Like many at that time, I'd never been abroad. I was immediately swept up by a powerful wave of new impressions, sensations, and observations. To this day, I continue to learn and discover new things in this new life and this learning process continues to captivate me.
The year 1993 was the year of the greatest adventure of my life. I had to quickly learn a lot of things at once. I ended up in the town of Arcata, located in the very northern of coastal California. It is a university town with a population of 16K. I quickly realized that in the U.S. the key to success is studying and work. I used any and every opportunity that came my way to learn, to study, and to try new things. Why? Because… it was possible.
I took ballet lessons again and looked for acting opportunities. There were very few of them in that area and, alas, the majority of them were not professional. I acted in a couple of shows in the local community theater and realized that it was not for me. I also played small supporting roles in a couple movies. I decided to go back to school and in 1996 I received my Masters Degree in Theater Arts from Humboldt State University, where I studied the history of American theater.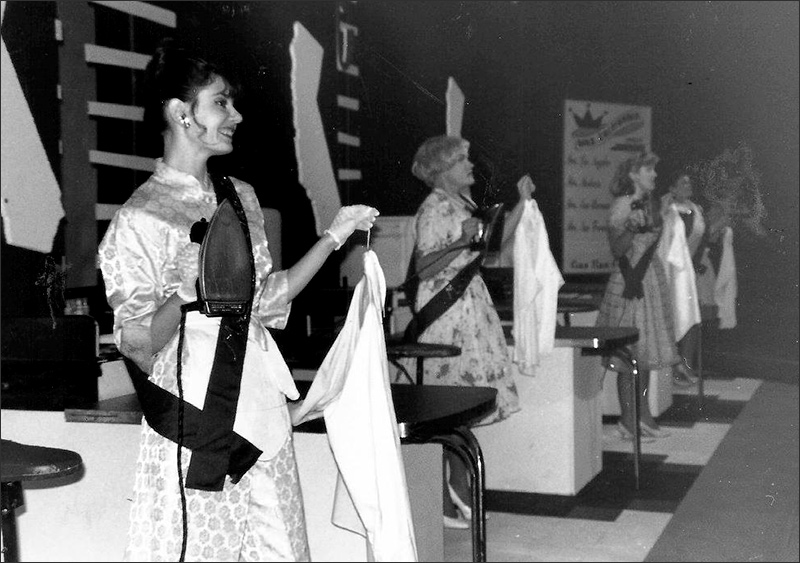 The show "Mrs. California", 1994. Photo from personal archive

There was more and more demand for my Russian and English language skills. I taught Russian at the university. At that time, there was increasing interest for the Russian language in the U.S. I also began to work as an interpreter/translator, mainly for Internews. The headquarters of this well known NGO, to my greatest surprise, was located in tiny Arcata.
I decided to make interpreting my profession, which meant returning back to school, yet again. The most well-known and, at that time the only U.S. school that prepared (and continues to prepare) all kinds of specialists in translation and interpretation, was the Monterey Institute of International Studies (MIIS) (now Middlebury Institute of International Studies at Monterey). I received my MA in 1998.
The profession of an interpreter allows one to work as a freelancer, which means living where it is convenient, and working either from home (translating) or travelling to the places where they need your interpreting services. I have been working as a freelancer for almost twenty years. Among my clients are private individuals, non-profit organizations, and government agencies. Sometimes I work in court, interpreting during a trial. Sometimes, I work backstage at the Kennedy Center for the Performing Arts, helping ballet dancers or administrators of the touring troupe of Mariinsky Theater. Sometimes I am invited to a university, where the experts discuss the fate of seals or polar bears.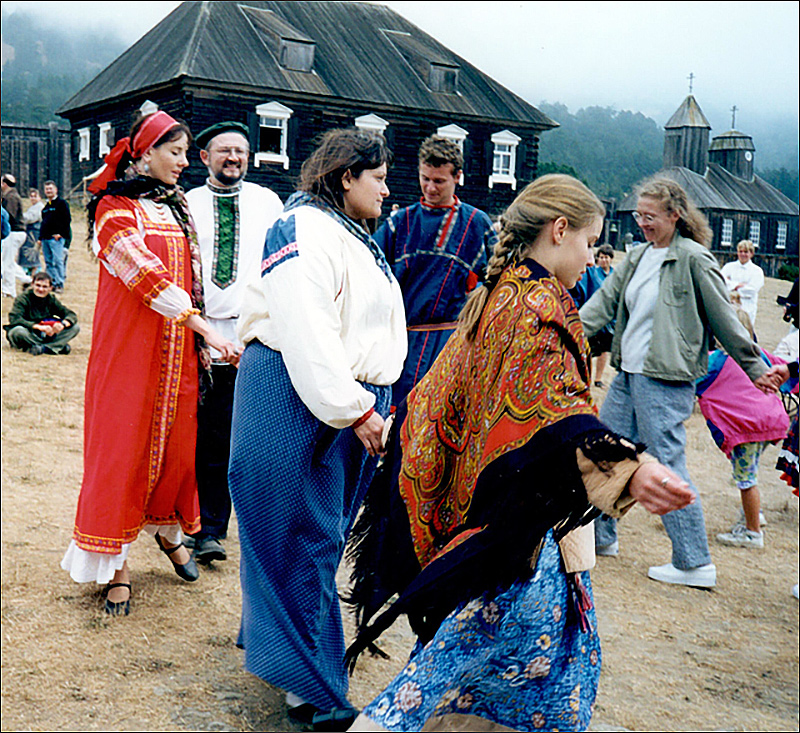 Russian Festival. Fort Ross, California. Photo from personal archive

The profession of an interpreter is, in many respects, similar to that of an actor. Each new project is like a new role. All theatrical skills come in handy: voice; acting; ability to "gauge" the audience; stamina to deliver four shows a day – just like during our New Years holiday season. There is one major difference – no luxury of a rehearsal. One could prepare on her own, as much as possible, but then must come "on stage" and "perform on the spot" whatever material they hand out to you.
AMERICA FROM THE INSIDE
Right after graduating from the MIIS, I took an interpreting test offered by the Office of Language Services of the U.S. Department of State. Since then, I have been working with that office as a contract interpreter. From time to time, I escort delegations, who come to the United States from the former Soviet republics. Those delegations, just like the guests from all the countries with whom the U.S. has diplomatic relations, come as participants of the professional cultural and educational exchanges.
The topics are very diverse: architectural heritage preservation; multidrug resistant tuberculosis prevention; performing arts management (that's when I finally learned how American theaters work); solid waste utilization; interfaith dialogue; Arctic economic development; political cartooning; combating drug addiction; interactive museum management...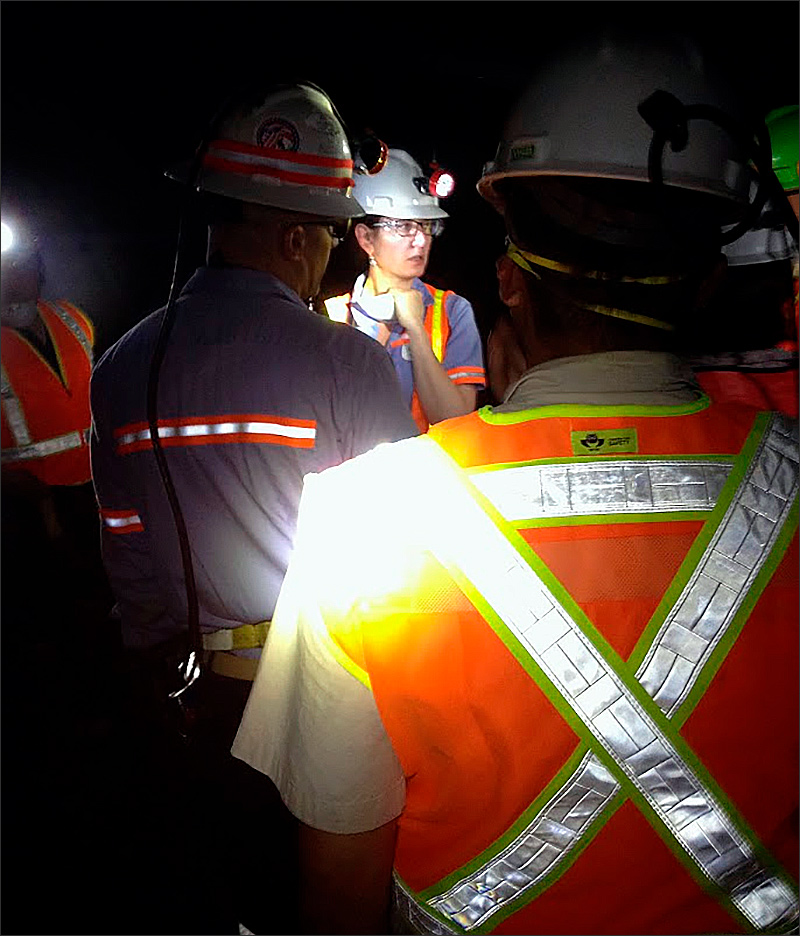 In a coalmine. Photo from personal archive

My job has taken me many places. I've been in forty-three U.S. states, down into the mines, and up in to the wind turbines. I have visited high security prisons, looked at the treasures in the Metropolitan Museum of Art storage, learned the secrets of acoustics in the womb of the Metropolitan Opera, gone on ride-alongs with the police, interpreted for the guests of C-SPAN and CNN studios. And, of course, all those governmental offices, departments, committees, and councils that live in my memory as some sort of an infinite string.
Thanks to my profession, I have had an opportunity to see a huge cross section of a very diverse America. One day we are discussing the historic manuscripts at Urbana-Champaign, Illinois, and a month later – heap leaching in Reno, Nevada. A subsequent trip may offer the chance to take part in the ceremonial bitter root dig, practiced by the Salish (a group of Northwest Native Americans) and then switch to studying an electronic harp, created at MIT. I learned about Portland as one of the leaders in clean technology, and on my next visit discovered how a new generation of journalists are trained there. Traveling to New Orleans with musicians, everything was about jazz, yet the next time when I came with historians and architects, I was amazed how clever and efficiently the old New Orleans cemeteries were designed.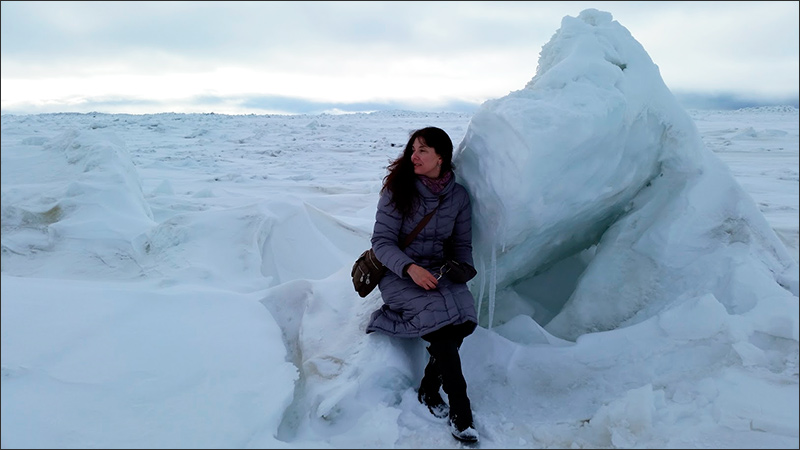 Frozen waves of the Arctic Ocean. Photo from personal archive

... My first interpreting assignment in a prison, where I saw a man on a death row, which left a lifelong impression. For many years he has been waiting for the end to come.
... I felt eerie interpreting for the forensic experts during an autopsy...
... I was amazed when I found out that one of the Americans, who hosted foreign visitors for dinner, brought home a container of firewood from Kazakhstan. He had lived in Almaty for several years and fell so deeply in love with everything Kazakh, including shish kebab, cooked over saksaul, that he brought with him back to America not only dombra and kobyz, traditional robes and felt hats, but also a container of saksaul logs!
... I was surprised to discover that Michelle Obama is even taller and more stately in real life than on the TV screen, and Bob Mankoff, former cartoon editor for The New Yorker magazine, is no less witty a storyteller than a cartoonist. It was all but impossible to interpret him and not to laugh.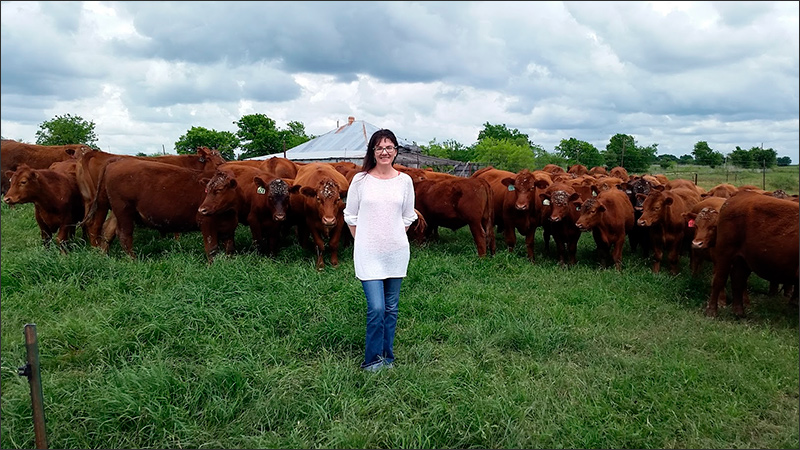 Studying agriculture. Photo from personal archive

... You see, here is another interesting thing: when I first visited New York I discovered that I had been living in New York for the whole first half of my life, in our little "New York City", which was called Tashkent. Later, in the U.S., I understood why that wide diversity of people (of which New York represents the best), but felt so natural to me. I realized that it was because I grew up in a similar cultural "salad". Back in Tashkent, of course, I had never thought about it. I just did not know that it could be any other way. Much later I realized that such a "salad" does not necessarily exist everywhere. I just was just lucky. I was lucky to be born and grow up in such a unique city during a unique time.
"BACK TO THE UZBEKISTAN"
I also work with delegations from Uzbekistan. Usually we use Russian language. More than once I regretted that I do not know Uzbek well enough to make it my working language. My attempts to learn it here in America have failed. Alas! It is best to learn a language when you are naturally immersed in it and use it all the time. Otherwise, all you gain over a course of studies fades away very quickly.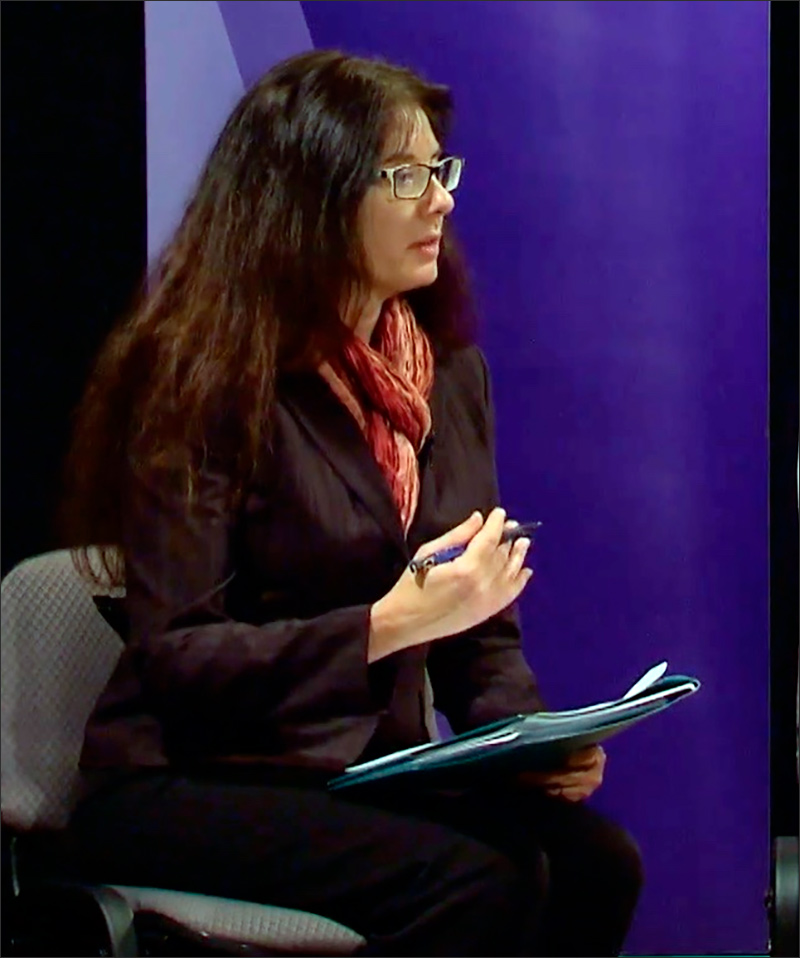 At the University of Washington. Photo from personal archive

The Uzbek language would have been useful for my cultural presentations, both, for preparing the material and for presenting it. For example, reciting poetry in Uzbek, is always received well by the audiences. It is possible, of course, to simply memorize a text. But memorizing is poor substitution for language fluency.
No Uzbek language, but yes – Uzbek dance.
It all started in Monterey, in 1996. As I was studying at MIIS, I also worked part time at the Center for Nuclear Nonproliferation Studies. Strolling down the Center's corridors, I often contemplated life: "Three years ago I walked along the theater corridors and now I'm walking here. How did that happen?"
One day, these "corridor reflections" of mine were interrupted by a tall graceful Colombian, the wife of one of my colleagues. As I passed by, she stopped me with a question: "It looks like you dance?" - "Yes, I do." - "What kind of dance do you do?" - "Oh, many different kinds. At my previous university I took two semesters of modern dance. I also studied ballet. My husband and I do ballroom, swing, lindy-hop, contra dance, folk... " - "Where are you from?" She had detected my accent.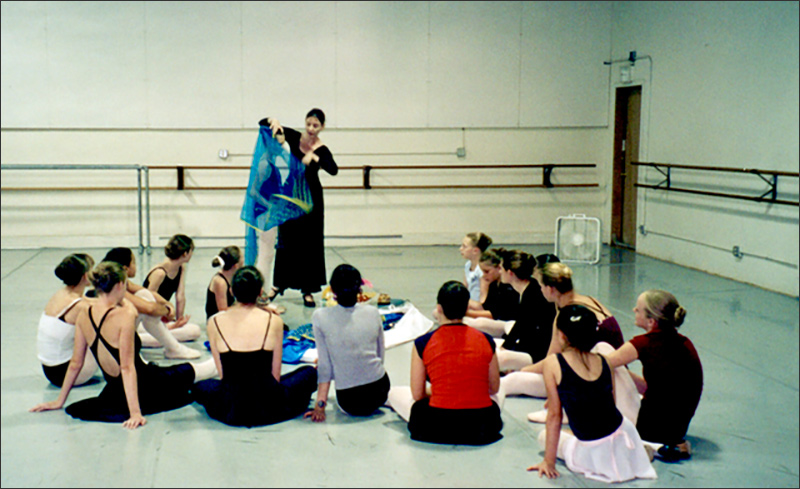 Master class. New World Ballet studio. California. Photo from personal archive

To my answer "from Uzbekistan" she did not react with the usual "from WHERE??" but instead was very excited: "Oh, Uzbekistan! You guys have amazingly beautiful dances there!" Now it was my turn to get excited. Never before, during my three years in the U.S., had I heard a comment like this. The conversation continued and very quickly I learned that she was also involved in folk dancing. Moreover, she was organizing a festival, which was to take place a week later. And she said, "Could you, please, come and perform a couple Uzbek dances at our festival?!" I replied, "Of course", without any hesitation, "Absolutely not!"
She was surprised and I had to explain that Uzbek dances are too complicated to perform on the spot without preparation. I had not been practicing these dances for years. Besides, I did not have any costumes, so I couldn't possibly go on stage. She was disappointed, but understood my point. We agreed that we would come back to this after my visit to Tashkent in the Summer of 1997.
When I went to Tashkent that summer, I found my old dance teacher, and we rehearsed for 4-5 hours every day in the Youth Center (former House of Pioneers) at the Chilanzar–2. We worked for almost three months. I bought several stage costumes and jewelry. Olga Sharipovna (as we children called her at the studio) gave her stage braids to me (the extensions that the dancers braid into the real hair to make them longer). I lovingly keep her braids and carefully use them on stage.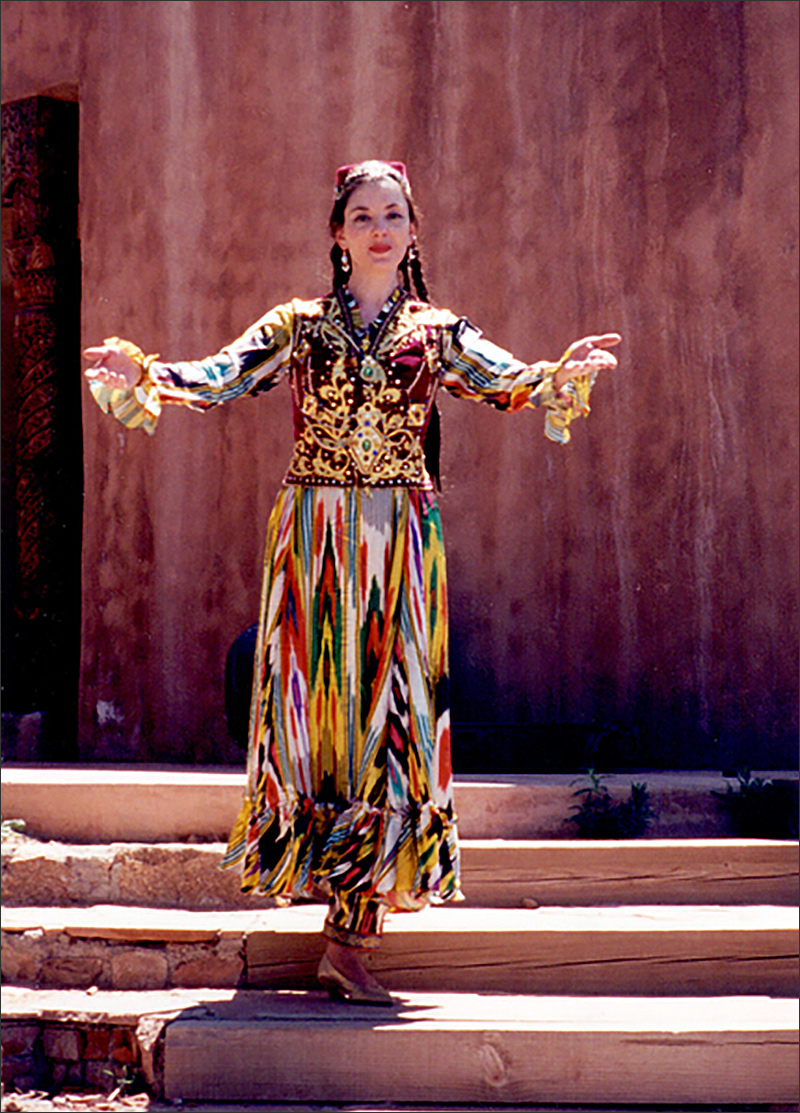 Santa Fe, New Mexico. Photo by Marat Baltabayev

After returning back from Tashkent, I started to participate in various events. At first, these were small local festivals. Then the number and the scale of the concerts grew. I was very proud to be selected as a soloist for the San Francisco Ethnic Dance Festival. I also was very happy to join a couple American dance companies as their guest soloist traveling with them on tours to Italy and China.
I continued to visit Tashkent to work with my dance teacher, and was lucky enough to interact with my mother's old friend, Lyubov Aleksandrovna Avdeeva, a famous choreologist and historian of Uzbek dance. Almost all of the books she wrote are in my home library. I turned to them every time I prepare for my performances. My first stage costumes laid the foundation for a larger collection. Now I have not only stage dresses, but also real traditional garments and textiles, hats, household items, shoes, puppets, and other artifacts. I use them during the lectures and demonstrations that I offer to schoolchildren, college and university students, library patrons, and museums visitors.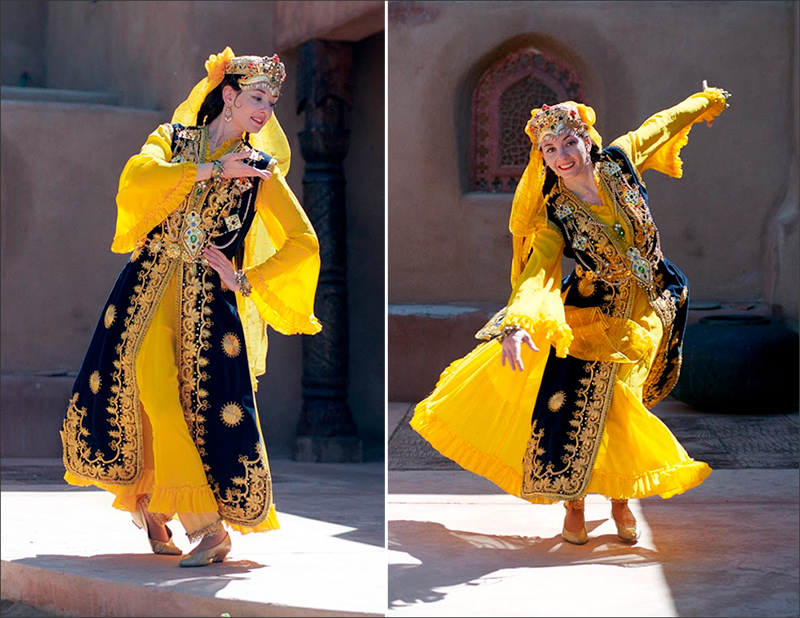 Photo by Marat Baltabayev

My presentations also started by accident. I volunteered to give my first talk in my oldest son Aleks' elementary classroom. The goal was to introduce his classmates and teacher to a country called Uz-bek-i-stan and to explain how Sasha's family is connected to this land. Serendipitously, the presentation was a great success. I was asked to speak again, this time for the entire school, and then for another school, then another ... Next I was invited to a neighboring small town, later to San Francisco, to San Diego… The content of my presentations varied depending on the venue and the audience. I mixed stories with dances, talked about household items, and told short fables about Hoja Nasreddin, using puppets.
LITTLE WONDER CHEST
Once upon a time... our local art museum came up with the idea to organize an evening of Central Asian Culture. I decided that it would be wonderful to add poems to my dance program. At home, in my library, I have miniature volumes of the "Selected Lyric Poetry of the Orient" series, published by the Academy of Sciences of the Uzbek SSR. I have Uzbek / Tajik texts as well as the skillful Russian translations. I started to work with the texts and brought on board my good American friend Sally Lee Stewart. She had written poetry, but never tried herself in poetic translation.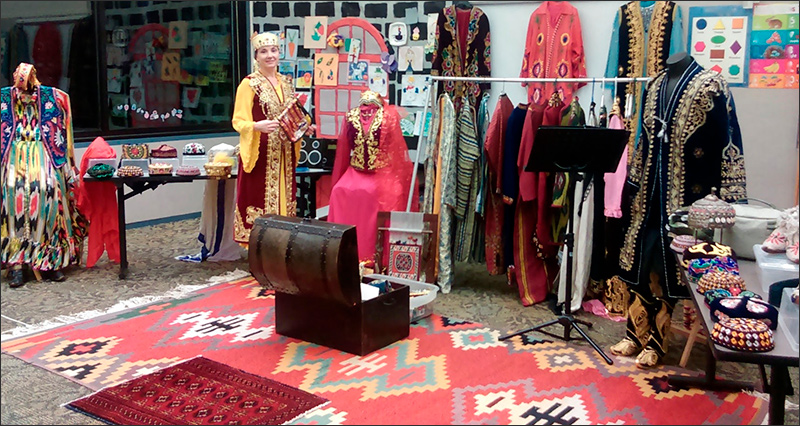 Presentation in the library. Photo from personal archive

I also contacted two Bukhara State University graduates, linguists Maksuda Yuksel and Nigora Bozorova – Tajik and Uzbek native speakers. Together we worked on literal translation of the original texts into English, and Sally produced the final poetic version. I chose poems by Dilshod, Anbar Atyn, Zebunniso and Nadira, as their lyricism intertwined remarkably well with the various regional dances that were in my repertoire. In this poetic-choreographic suite I performed ten dances, and Sally recited ghazals and rubai in English. (Some of our translations were later published.) Our duet's format was perfectly suited for chamber stages of museums, libraries, bookstores, universities, and colleges. I tried to design this performance in the traditional genre of "hona bazm uyin" ("room entertainment") in order to stay true to the traditional style of poetry recitation and dance performances, which could be compared to an intimate conversation. Our show lacked live music, we used recordings. (The majority of musicians, who could play Central Asian music, live on the East Coast). Just recently I finally was able to find a musician in Portland, so we could try to do something together.
Today my format is more of a lecture-demonstration. My collection allows me to show and talk about many elements of Central Asian life. One by one I pull "mysterious" things out of my "wonder" chest, and talk to my audience about these objects. We discuss when and how they were made, what materials and techniques were used, what purposes these objects and tools serve. We talk about the decorative patterns that adorn the artifacts and what tell us. The content of my lecture depends on the audience: how familiar the people are with the region, how willing they are to get up and learn a few dance moves. It is something in between a show and a lecture. I don't use slides, only live objects and live communication. It is especially interesting to observe how teenagers, who these days are typically "glued" to their phones, disconnect from the devices for a while and concentrate on solving practical riddles, deciphering geometric and floral patterns, and learning how to loudly snap their fingers, while keeping the palms of their hands pressed together.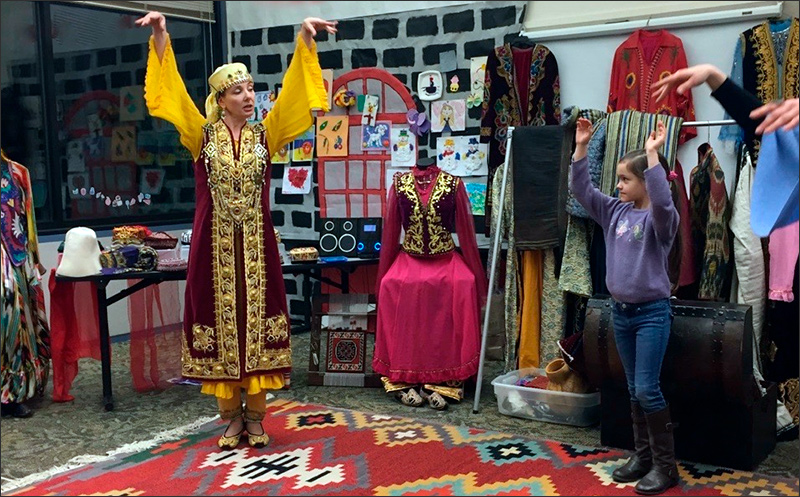 Presentation in the library. Photo from personal archive

People happily join a conversation, a game, a dance. Among the particularly memorable audience reactions, two became my favorites. The first one came after one of my very first school presentations. The mother of my son's classmate stopped me to tell how her first-grade daughter now walks around their house repeating "I LOOOVE saying Uuuuzzzzbekistaaaan ..." That was during the time when I was often asked again and again "from WHERE??". I hope that girl has already, or someday soon, finds her way to Tashkent, Samarkand or Bukhara.
The second experience happened just recently. After the presentation, a woman approached me and asked: "Would you consider going to Armenia, bringing back a collection, and making a similar presentation? I am envious that Uzbeks have a person in America who talks about their culture with such love, and we, Armenians, don't." I suggested that she herself should create presentations about her native Armenia. But for her the value was precisely in the fact that a person, who is not a "native by blood", presents the country and the culture. A person who is more of a "cousin" than a "sister", so to speak.
Today, I am preparing my next set of presentations for the Portland library and another lecture-demonstration for schools, including the school where my youngest son, Andrei, is currently a student.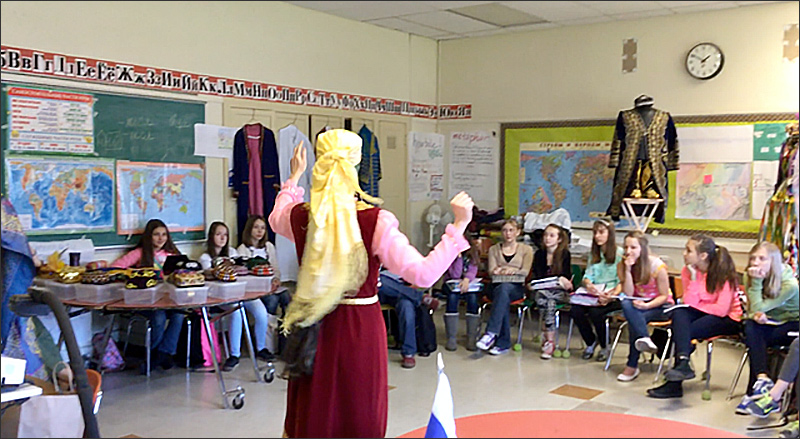 Presentation at school. Photo from personal archive

Throughout my American life, my husband Robert has supported me in all my endeavors, ideas, projects, studies, and jobs, no matter how crazy they seem. I have just started to formulate my next idea, and he is already thinking over what steps need to be taken to implement it. ... A couple of years ago I felt that I needed to take my next step forward (to the side? upwards? further along one of life's partial circles?) … to go back to school. I was accepted to the doctoral program of the University of Washington, at the Jackson School of International Studies.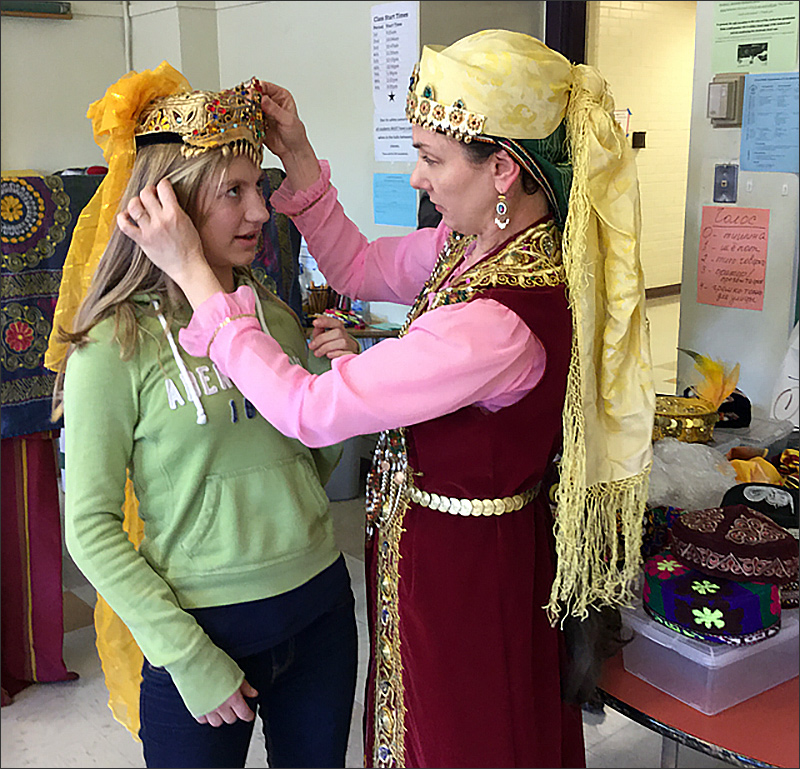 Presentation at school. Photo from personal archive

I have not yet defined my dissertation topic, but I know it will focus on public diplomacy. Perhaps, I will be able to integrate the theme of theater arts as an instrument of diplomacy into my work. I do not know yet. So far this new journey brought me to learning Inuktitut, the native tongue of Canadian Inuit. It came as a surprise to me that this agglutinative language of the Eskaleut family shares its deep origin with the languages of the Turkic family. Unexpectedly my Uzbek speaking skills came in handy, particularly when it comes to pronouncing glottal "q" and "g".
TASHKENT...
... in all our conversations, whether it is with mom or with my dad, no matter what the topic, Tashkent pops up. We either refer to the acquaintances, or discuss fruits and vegetables, or simply talk about the weather. I am chronically missing the Tashkent sun.
For a long time I lived in the very northern part of coastal California. Now I live in Portland. I also live in Seattle part of the time. But the sun similar to my "Tashkent Sun" I found in the state of New Mexico. The landscape is very similar, the climate is too ... And yet... not quite the same.
I miss the dried melon. Periodically a colleague of mine brings me some dried melon from Moscow (!) As to my "Tashkent sun" ... it's a problem, which cannot be so easily solved.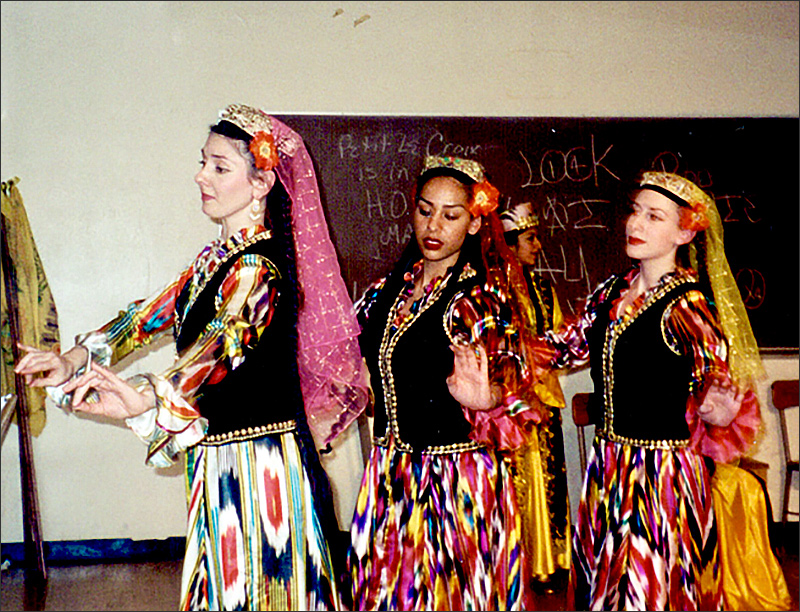 Choreographing a piece for the Ballet Afsaneh dancers. Photo from personal archive

What else am I missing? I miss familiar sounds, smells, colors, and light, which filled my childhood: the gurgling coo sounds of Tashkent doves; the smell of my grandmother's yard in the evening, after the heat fell and we generously watered the orchard. It was so good to sit outside late into the night drinking tea or eating watermelon. In the morning a greenish light broke through the lush canopy of the raised grapevines. I was able to admire that morning glow through the bedroom window of our Gordeev Street house for the most part of the year. Another, completely different shade of the sunlight was breaking through the tree crowns on my way to the institute – walking up Gordeev Street, crossing two Sapiornaya Streets, moving along the Rustaveli Prospect, and up, passing Pedagogicheskaya street, turning, right before the School of Choreography, to the Rosa Luxemburg Street (am I confusing the street names?), and all the way up to the back gate of my Theater Arts Institute.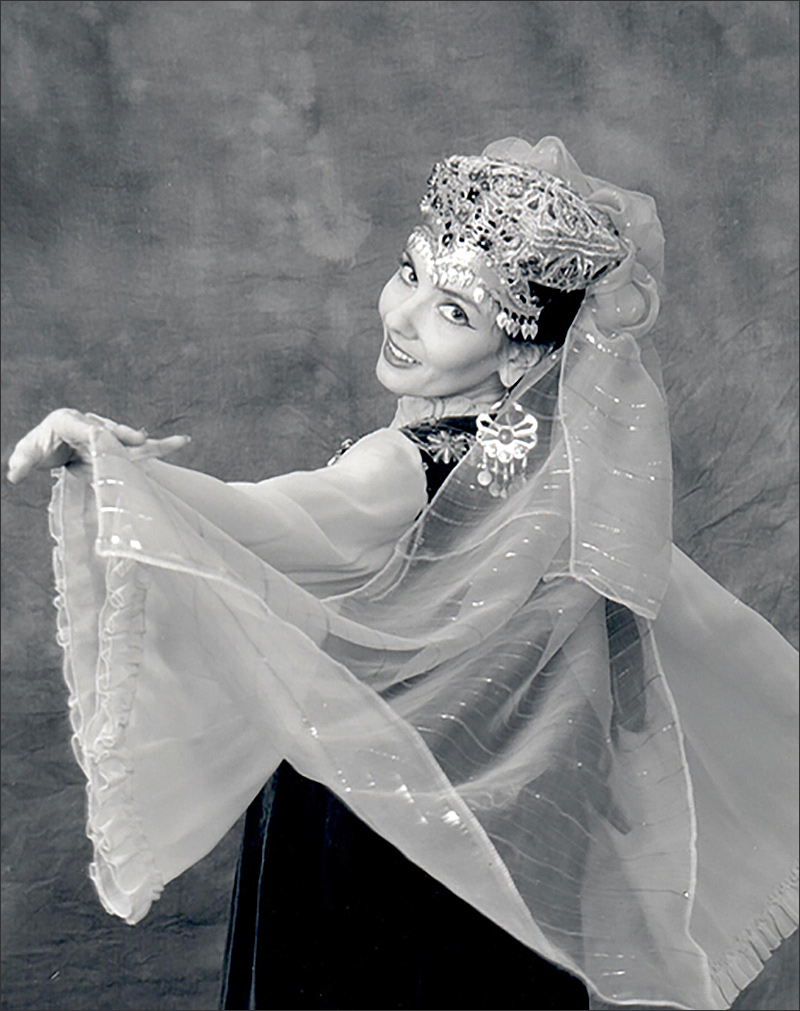 Elena Serebryanik-Bell. Photo from personal archive

I also miss the Uzbek and the Korean cuisine ... I remember during my first year in the U.S., someone recommended a Korean restaurant to me. I rushed there in happy anticipation and... did not recognize a single dish, neither by name, nor by taste. I could not believe that a Korean restaurant did not have "Korean carrot" or cold soup "Kuksi" on the menu. Alas! In a long back-and-forth I failed to explain to the waiters what I wanted from them. Only a few years later did I realized that there is no such thing as "Korean carrots" in the traditional Korean cuisine. This was an invention of the Central Asian Koreans who, in their new place of residence, incorporated unusual ingredients atypical for their traditional menu. I also discovered that "Kuksi" does exist, but that name stands for some other dish. The similarity between this kuksi and the Tashkent version I knew is about the same as that of "Moscow, Idaho" and "Moscow, Russia".
... I used to bug our local butcher "I am cooking shish kebab, I need some mutton fat!" "What do you mean there is no such thing?!" "Show me the carcass, there should be a 'kurdyuk'... well…a kind of fatty pillow on the bottom." He brought out the carcass: "Here's the mutton. Here is its bottom. Here is its tail. See? – There is NO 'fatty pillow'!" The next day I brought him a photo of a Central Asian, fatty–tailed sheep with a large padding on the rear. The butcher called everyone, who was around, to take a look at my amazing sheep.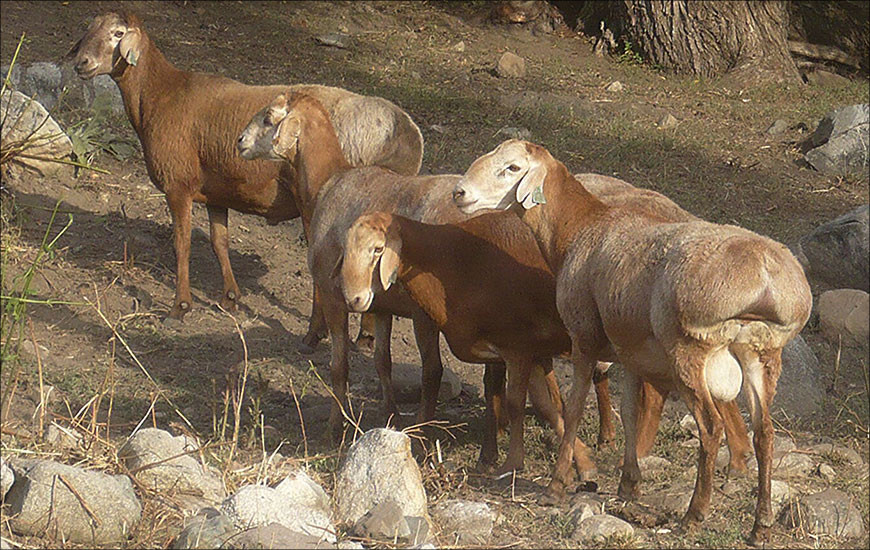 Text preparation and editing by Sanjar Yanyshev