Uzbek actress Nargis Abdullaeva recalls her journey to Moscow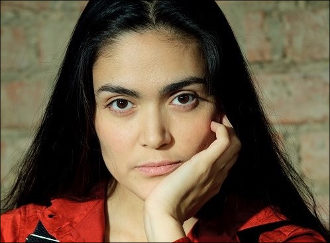 It is difficult to catch up with Nargis Abdullaeva—she has a lot of work and trips to make around the country.
Abdullaeva is a theatre and film actress, an acting teacher and director living in Russia. A few years ago she was the leading actress at the famous Tashkent theatre "Ilkhom."
As a girl, Abdullaeva was forced to radically change her life and come to Moscow, where she faced all sorts of problems faced by migrants, but she achieved her goal and returned to the acting profession. How did all of this happen to her? Read the next report published under a joint project of Fergana News and Deutsche Welle entitled, "Migrant in Russia. Habitat." The report is dedicated to immigrants from Central Asia, who live and work in Russia.
Ups and Downs
Abdullaeva was born in 1981 in the Uzbek city of Bekabad. Her mother is a doctor, her father is a musician. She is the fourth child in her family. After graduation from the 9th grade at secondary school, she simultaneously entered a music school and an evening school, where she studied for another three years. Following that, she left for Tashkent and entered the studio of the Ilkhom Theatre.
"I worked on several jobs to survive—washing windows, washing clothes, washing the floors and working as an usher in our theatre from time to time. But even during the first year of study; it was in 2000, I acted in "White-White Black Stork" on the stage. Before this, I participated in "Christmas Meetings." There I had two roles—that of a grasshopper and a black snowflake, who was born in a chemical factory," Abdullaeva recalls with a smile.
The career of the actress went uphill after that; she became famous and was invited to appear in Russian films. And then everything collapsed: the artistic director of the Ilkhom theatre, Mark Vail, was murdered; her mother fell ill and needed a change in climate. As a result, Abdullaeva's sister and her mother returned to their historic homeland – Crimea. In 2012, Abdullaeva joined them.
"There was no cultural atmosphere in Crimea to which I was accustomed. The deaf art director at the Russian Academic Theatre received and listened to me and asked why I, such a successful actress in Uzbekistan, had come to Crimea. I answered that it was because of a family reason. He advised me to apply to the Crimean-Tatar theatre, but they did not take me there because of a lack of knowledge of the language. I went to the Ukrainian theatre, where a refusal awaited me again. In 2013, I left for Moscow," Abdullaeva said.
To be non-Slavic and not Russian
The young actress had always liked Moscow, but nobody expected her here. Like thousands of her compatriots, Abdullaeva was ready to do any job. And as for cinema, as people in the industry told her then, the maximum that she could be offered in Moscow was the role of a terrorist.
"In Moscow, I started an unsweetened life. I could not always live with friends, I had to look for work. The difficulty was that I wanted to work in my profession, but the search for work and casting took a long time. And participation in the casting did not guarantee that I will be chosen for a role. Also, it was necessary to come to the auditions with a partner, and for this I needed an actor familiar to me with spare time. My non-Slavic appearance prevented me from being admitted in theatres," says Abdullaeva.
She also worked as a call-centre operator for a cosmetic company. She became a master of active sales in two months and claimed to be the manager of the group, but the employer preferred a Russian girl to her.
"Back in 2011, when I came to shoot one film, I was stuck in Moscow for a while and sat without work. On social networks, I wrote messages asking for help from producers, directors, and employees of the Moscow theatres," recalls Abdullaeva. "One person—a famous director and artist—agreed to help me and invited me to a photo shoot without any hint of intimacy. He prepared the photos for me, helped with the money, called the agents and told them about me. I was invited to appear in the "Salam, Moscow!"series directed by Pavel Bardin."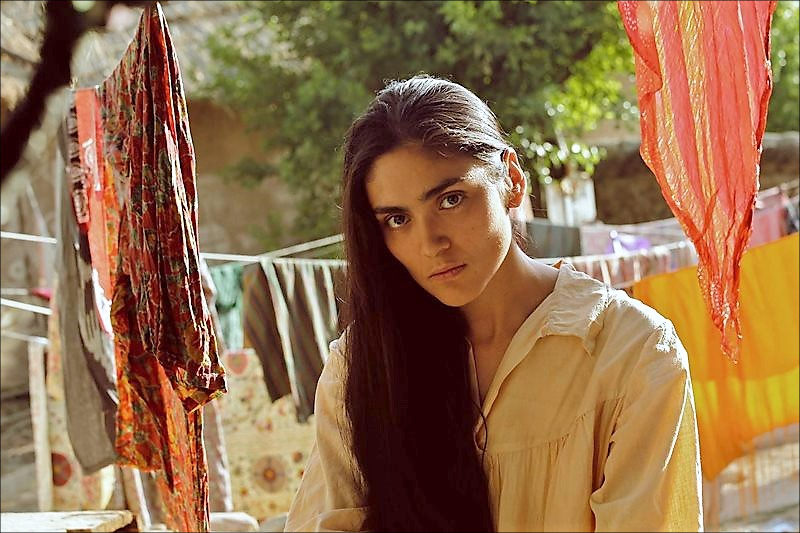 Nargis Abdullaeva in the feature film "Ivan the Son of Amir" (Russia)

"When I arrived in Moscow in 2013, Pavel called me, said that he remembers me as a good actress, and offered help. He also helped to get a patent [pay taxes - note by Fergana News] and led me to the FMS [former Federal Migration Service - note by Fergana News] to register. It was winter. We stood in two lines, and I saw how our brothers are exposed to humiliation, who stand at the threshold of this institution starting from five in the morning. Unable to withstand such an attitude towards people, I approached the FMS officer and asked for the telephone of the management. He gave it to me. I called and asked when they would stop torturing people and give orders for their subordinates to do their job. We were politely invited to the office in exactly 10 minutes."
Not all jobs are fine
After the cosmetic company, Abdullaeva went to work as a waitress. "It was terrible. I had to overcome barriers - both physical and moral."
"It's one thing to wash the floors in the out-of-the-way place, where no one knows you, and the other is to work as a waitress in Moscow, where you want to 'light up your face.' I did not work long there, and once in the middle of the day I just left having seized the shirt, apron, and tip."
Later, Abdullaeva tried to work as an administrator in a small hotel - she lasted for two months. At a beauty salon, she was framed by her partner, and was fired after being accused of theft, which she did not commit. But she learnt that justice triumphed, and that the woman, who framed her, was also fired. Abdullaeva spent another month and a half as a cashier in a store, until she came across an ad that a yoga club needed a coach for acting and a presenter. The salary was 150,000 roubles per month.
"In the end, it turned out to be a night club providing sexual services. A 'Madam' led me to the 'study'—a room with a huge bed. I did not run away, but I was scared. I, had of course, heard stories about sexual slavery, but I controlled myself and began to question the details of the work. She told me that during the night I could get 10,000 to 20,000 roubles in cash, but I will have to work naked, and I will need to brace myself, because everyone around will also be naked. People will come, they need to hold contests with them and play, so that they get acquainted with the girls and order them. And if I'm wheedling customers for alcohol, then I will receive up to 50,000 roubles per night. I asked if I would have to provide intimate services, I was told that it depends on me—whether I can resist the client. After that, we said goodbye," says Abdullaeva.
The joy of returning to the profession
In 2014, Abdullaeva was invited to audition at Teatr.doc, where she told the director Mikhail Ugarov the incredible story of her life. In response, Ugarov called her crazy and said he did not know what to do with it.
"But another director, Anastasia Patlay, told him that I had been a prima [leading actress - note by Fergana News] at Ilkhom, the best student of Mark Vail, and that I could give much to the theatre. So I got a part in the "Outside the Theatre" project, in which actors, who had left their profession told stories of their life. It is such a therapeutic witness theatre. At first, I did not want to participate in it, because it was necessary to tell very personal stories and relive all the disasters that had happened in my life. But I agreed, because I'm an actress, and I have to go to the playground. I would die if I did not come out on stage in any capacity," explains Abdullaeva.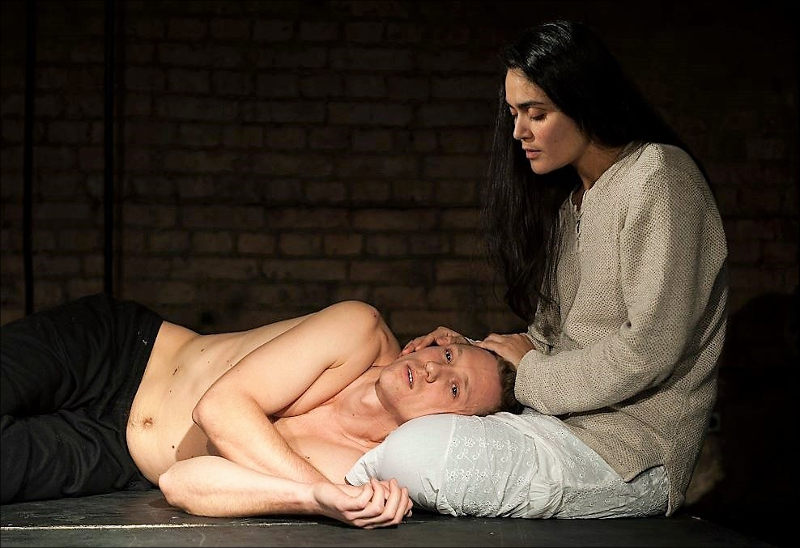 Nargis in the Teatr.doc play

She later auditioned at the Moscow Puppet Theatre, where she earned a major role in the "Africa" project. Abdullaeva was invited for other performances. One agent noticed her signed a contract with her. Now Abdullaeva acts in films by invitation.
"In 2016, I began to work as an assistant teacher on a volunteer basis, in the integrated theatre studio Circle II. Its artists are people with learning and physical difficulties," says the actress.
"I was a volunteer for six months, and then I was offered the position of a teacher. I was afraid and did not agree at once, this is another responsibility. Then I was offered to stage a performance as a director, and on May 11 of this year, we put up "Sufi motifs," based on the stories of my protégé, and I was inspired by the literature of Eastern Sufi writers."
Abdullaeva now has a lot of work, and she often travels around Russia. Recently, she was invited to stage a performance with the artists of the Tuva Philharmonic. While she connects her life with Russia, she does not exclude that the profession can beckon her to other countries: "You know, I do not feel that I am a migrant. Moscow is absolutely my city. It's huge, with thousands of possibilities. And I have many plans and ideas, gradually I will realise them. I will not sound [them] ahead of time; I am a person of action."
Interviewed by Ekaterina Ivashenko