Radio Ozodlik: Islamic Movement of Uzbekistan leader Tahir Yuldashev killed all over again?
Radio Ozodlik (RL Uzbek Service) reported a call from Pakistan this Monday, September 28. The caller identified himself as Tahir Yuldashev's follower and bodyguard and said that the Islamic Movement of Uzbekistan leader had been wounded in early September and died the following day.
The "bodyguard" refused to identify himself. He even asked not to broadcast his voice on the air claiming that he feared for his life.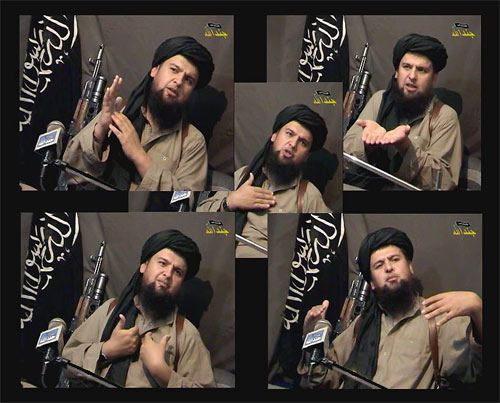 Photo: Islamic Movement of Uzbekistan leader Tahir Yuldashev in front of TV cameras. 2006

Neither Islamabad nor Kabul or command of the US-led counter-terrorism coalition in Afghanistan confirmed Yuldashev's death. No information is available on where the terrorist ringleader who used to give Central Asian leaders nightmares and who closely cooperated with Taliban and Al-Qaeda died.
The death of Yuldashev or Yuldash was already reported on countless occasions but he himself refuted all these reports on tape or film usually released before the Moslem holidays of Ramazan-haiit and Kurban-haiit. The recent Moslem celebration, however, took place without Yuldashev's traditional address to the faithful.
Caller to Radio Ozodlik said as well that some other field commanders had been killed with Yuldashev. The man added that Islamic Movement of Uzbekistan was trying to keep its leader's death under the lid. In any even, an ethnic Tatar by name of Abdurakhman, 40, was already promoted to fill the vacancy.