Kazakhstan-USA: Judge lauds James Giffen as "a patriot"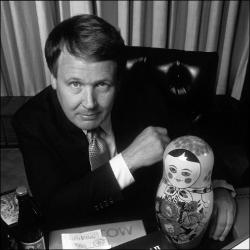 James Giffen at the beginning of judicial process. Photo © Foreign Policy
On November 19, 2010 US Federal Court ended the so-called "Giffen case". 10-year old case of New York banker and lawyer James Giffen, accused of funneling multimillion bribes to Kazakh officials, resulted in very soft verdict,
BBC said
.
The case was filed in 2000 while in 2003 he was arrested and accused of bribing top officials of the Republic of Kazakhstan – President Nursultan Nazarbayev, former Prime-Minister Akezhan Kazhageldin and Nurlan Balgimbayev. The lobbyist of American companies could be sentenced to 20 years of jail and payment of multimillion fee.
As a result, the judge said the Mr. Giffen will have to pay mandatory fee of $25 for judicial expenses while his corporation will pay the penalty of $32 000.
According the experts, such soft decision of the court is motivated by the documents, provided by Mr. Giffen, where he indicated that he operated in Kazakhstan under the assignment from CIA and US Department of State, Kommersant reported.
During verdict announcement judge William Pauley informed that he studied the secret documents on Giffen's case and named the business as "real patriot". According to the judge, after the collapse of Soviet Union James Giffen set friendly relations with Nursultan Nazarbayev and performed the role "of important information source for American government". "He acted as a conduit for communications on issues vital to America's national interest in the region", the judge underlined.
Judge Pauley noted that during the trial period Giffen's business lost at least $40 million and he spent big funds for defense. "This is already serious punishment", the judge concluded.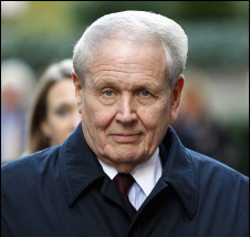 By the end of the trial Mr. Giffen looked much older. Photo © Reuters
According to
Kommersant
US observers were shocked by such outcome. In the interview to Voice of America Michael Perlis, which was involved in the development of law on foreign corruption, said the verdict was "the failure of federal public prosecutors". In the opinion of Mark Shulman, head of Pace university law school in New York, the pullback of US attorneys from initial charges may be reasoned by recent negotiations between USA and Kazakhstan. After few months of consultations Kazakh government agreed to open few air-corridors for American troops in Afghanistan. "Sometimes US national interest may be more important than the arguments of public prosecution office", Mark Shulman told
Kommersant
.