Turkmenistan: President Gurbanguly Berdymukhammedov is awarded the status of Arkadag – protector
The President of Turkmenistan Gurbanguly Berdymukhammedov is now named as Arkadag – protector, the range of the nation, said Azattyk (Kazakh service of RFE/RL).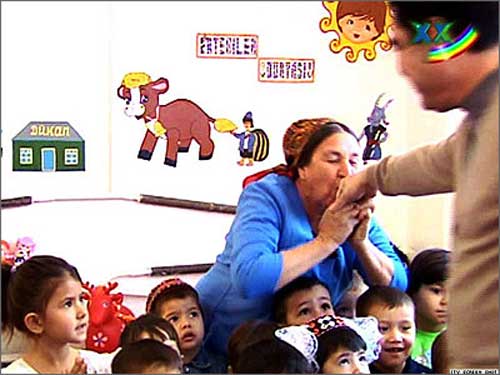 The screenshot from telecast

"Arkadag" title was awarded to Berdymukhammedov on October 26, 2010 during the military parade at Kopetdag stadium, celebrating 19 anniversary of Turkmen independence. This word is used only to describe second president of the republic while his predecessor Saparmurat Niyazov was named Turkmenbashi (the father of all Turkmen).
According to one of the bloggers, during the parade "marching by Gurbanguly Berdymukhammedov, big group of Turkmen military stopped and turned to him: they all selflessly kneeled before him. Perhaps, this should have symbolized the nation, going down on knees before the Protector (Arkadag). It has to be mentioned that servile horsemen brought Akhal-Teke jumper to the Patron and several times tried to make the animal go down on knees. Perhaps, the horse was not told who it was seeing".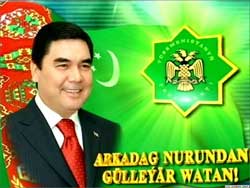 The propaganda of personality cult of Turkmen President Gurbanguly Berdymukhammedov on Turkmen television. June 29, 2010. Photo by Azattyk
On the other hand, pro-governmental Turkmekspo website says that "stopping by the central tribune, the jumper gracefully goes down on knees before the national leader". 600 girls in sports outwear, forming ARKADAG symbol, sang "Thank you dear Patron!" The singer Begmyrat Annamyradov (singing "Glory of Patron") became the winner of "The start of 2010" national music contest.
In its turn, Khronika Turkmenistana pays attention to public kissing of Berdymukhammedov's hand during his trip to Maryi province. Turkmen television showed the old governess of kindergarten kissing president's hand that felt quite comfortable (at least on the screen).
Mr. Berdymukhammedov accepted this as something normal, said Turkmen opposition website, because recently he was also kissing the hand of former President Niyazov.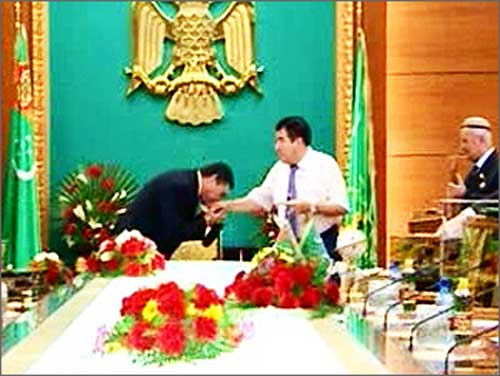 The screenshot from telecast

Fergana International News Agency