Uzbekistan: No Stalin in a private home
In the Tashkent province, the local authorities have instructed to demount the very last monument to Stalin known to exist in Uzbekistan in a private house of Lazokat Normirzaeva, who lives in a piedmont village of Sailyk.
She came to own the monument to the USSR's historical leader after the end of the Stalin's "cult of personality" put by Nikita Khrushev and mass demolition of the Stalin's monuments all over the country. Relatives helped her to bring the discarded bust of the generalissimus and have it installed in her garden where it has remained for 50 years as a local attraction.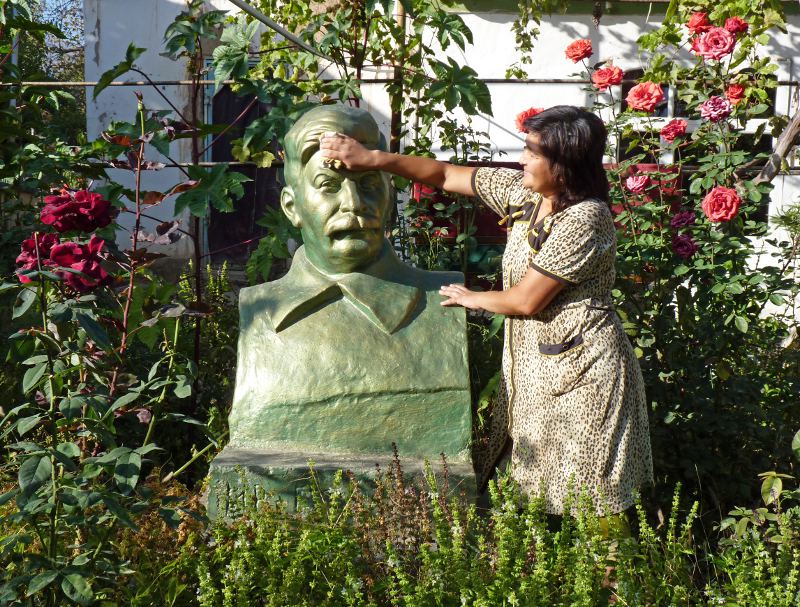 It's been found recently that following publication of an article on the three chiefs, entitled "Lenin in a private home, Stalin in the garden and Karim all over the place" in October last year, the owner of the bust was visited by the local authorities who took away the monument claiming "she can't keep this sculpture at home".
The same happened to a collection of monuments kept by another villager in Sailyk, who had gathered sculptures of the Soviet leaders from former resorts and children camps since Soviet times.
Pease note that while at the official level in Uzbekistan the Soviet times are labeled as "colonialism", there has been no condemnation of the communism as an idea, or the former soviet leaders as personalities, since the very top rulers in Uzbekistan, including, first and foremost, the president Islam Karimov, used to be the communist party officials in the past. Thus, the treatment of the former soviet leaders' monuments can be rather accounted for by his jealousy: no matter what the official propaganda might claim the state of Uzbekistan had been truly created by Lenin and Stalin rather than the former secretary of the Kashkadarya provincial committee of the Communist party.
Just few pictures and this video left after demolition of the monument: