Uzbekistan: political prisoner Mukhammed Bekjanov is on trial again after 12 years in jail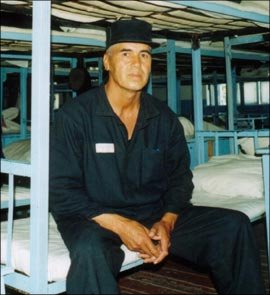 Mukhammed Bekjanov
Mukhammed Bekjanov is a political prisoner who has served over 12 years in prison. In December 2011, just two months before the end of his term, he was falsely charged with violation of article 221 of the
Uzbekistan
's Criminal Code "Disobedience to the prison authorities". Prosecution has proposed to prolong the imprisonment for another 4 years and 8 months. According to Nadezhda Ataeva, head of the Association for human rights in the Central Asia based in France, the final decision of the court has not been made yet.
Mukhammed Bekjanov, a citizen of Uzbekistan, born in 1954, formerly an editor-in-chief of "Erk" newspaper, founded by an opposition political party under the same name.
In 1999, Mukhammed Bekjanov, was sentenced to 15 years in jail for "Encroachment against the president of Uzbekistan" (Article 158 of the Uzbekistan's Criminal Code), "Encroachment against the constitutional order of Uzbekistan" (Article 159), "Organization of forbidden public association or religious organizations (Article 216), "Illegal entry into Uzbekistan or illegally crossing the border of Uzbekistan" (Article 223), "Fabrication of documents, stamps, blanks" (Article 228), and "Organization of criminal group" (Article 242), etc.. In 2003, his term was reduced by 3 years and 8 months as a result of an amnesty applied.
During the latest trial, held within a jail in the town of Khasan of the Kashka-Darya province of Uzbekistan on the 18th of January, 2012, three of his cell mates gave testimonies as prosecution witnesses. They spoke without looking in the defendant's eyes. This gives rise to reasons to believe all of them have been made to testify against their will.
Back in 1999, during the investigation and trial, Mukhammed Bekjanov suffered from tortures. His leg was broken and he still walks with a limp. During his third year in prison he contracted TB in prison.
Mukhammed Bekjanov is a brother to Muhammad Salih , the leader of the "Erk" political party, who was sentenced to 15 years in prison in absentia. Two other brothers of Muhammad Salih, Rashid Bekjanov and Kamil Bekjanov, were also arrested in 1999. Kamil Bekjanov was released from prison in 2003, after serving 4 years and following an amnesty. His brother Rashid Bekjanov was released in March 2011.
The Association for human rights in the Central Asia urges the UN High Commissioner for human rights, governments of democratic states and international human rights defenders to watch the case of Mukhammed Bekjanov closely and put a pressure upon the government of Uzbekistan towards his release.
Fergana International Information Agency