Uzbekistan: Mother of a refugee arrested in US blames his former colleague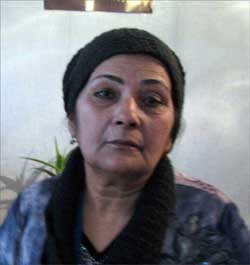 Robiya Muhtorova
62-year old Robiya Muhtorova , mother of a former human rights defender Jamshid Muhtorov, blames the former chairman of the Jizak regional human right center Abay Baibulatov, who allegedly takes revenge on her son.
She has told the Human right alliance of Uzbekistan that A.Baibulatov is an informer working for the Uzbekistan's security services who is trying to take revenge on Jamshid Muhtorov just because the latter was elected the chairman of the regional human right center and replaced him. It was because of this vengeance that Jamshid Muhtorov had to leave Uzbekistan and seek asylum abroad.
As one recalls, Jamshid Muhtorov, 35-year old refugee from Uzbekistan was arrested in the O'Hare airport of Chicago on the 21 of January, 2012, on charges of terrorism, particularly, providing financial support to a foreign terrorist organization.
Robiya Muhtorova explains that Uzbekistan's security service has found an information that Jamshid made a money transaction, supposed to be a wedding gift to one of his friends. However, "Jamshid is not in a position to give out money: first of all, he does not have any extra cash after a recent nose surgery, and second of all, he has two little kids and his wife with pregnant with another".
Elena Urlaeva, the director of Human right alliance, got in touch with the US embassy in Uzbekistan and scheduled an appointment for Robiya. According to the alliance activists, on the 9th of February, at around 16.00, Robiya Muhtorova was supposed to make some shopping. When she was called on the phone some unidentified man answered that she was busy at the moment but from then on her telephone was disconnected. Members of the alliance believe that Robiya was also arrested by the national security officers trying to intercept information that she was going to communicate to the US embassy. They call upon the international human right defenders urging to defend Jamshid Muhtorov and help to find his mother Robiya.
Later Fergana knew that Robiya Muhtorova was arrested by the National security officers and taken to the Tashkent city prosecutor's office immediately after her meeting with Elena Urlaeva, the Alliance director. For several hours she was interrogated by prosecution officers, named Donier Muhamajonov, Vahob and Olim. They took away her cell phone and treated her rudely: grabbed her by her hands, pushed and cursed her, trying hard to find out the purpose of her coming to Tashkent and seeing that "crazy Urlaeva".
At around 19.00 she was convoyed to the Jizak regional police department whereupon the interrogation continued until half past midnight. Then only they let her go but she was ordered to refrain from coming to Tashkent again.
The Alliance reiterates its appeal to the international human right defenders urging to protect Robiya and Jamshid Muhtorov, who is kept in custody in the United States on charges of supporting a foreign terrorist organization. The alliance's members believe in his innocence along with his mother.
Fergana International information Agency