Natalia Antelava, well-known journalist, has been deported from Uzbekistan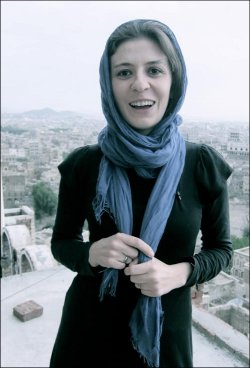 Natalia Antelava
On the 1 of March, the
Uzbekistan
's authorities have without assigning any official reason deported journalist Natalia Antelava who was on a personal visit in Tashkent. Five years earlier, the same had already happened with another renowned journalist Igor Rotar, who was deported from Uzbekistan in August 2005, in absence of any official comments.
Natalia explained to Fergana that she had long planned her visit to Tashkent, having nothing to deal with her professional activities of a journalist at BBC: "I have recently been working in India and decided to spend some time with my friends in Tashkent while on holiday in the Central Asia". As she arrived in Tashkent from Almaty on the 29 of February, at the passport control in airport, "suddenly, the border-guard's eyes grew round and he told me my passport was blocked. With no explanation, though politely, they carried my passport away", she continued. Some time later an official came down to ask about purposes of her visit and whether she had visited Uzbekistan before. Refusing to answer, Natalia Antelava preferred instead to get in touch with a consular officer at the embassy of her native country Georgia in Uzbekistan , who arrived soon to the airport.
"I did not have a chance to talk with anyone from the border-control or the national security services. The bottom line they denied me entry without assigning any reason. Some airport officials gave me a hint that reasons were many and that I should know myself. Then they made me pay $200 for a business class ticket to Almaty and so I left for Almaty at around 7 Am next day after spending the night in the transit area".
Immediately prior to departure from Tashkent the journalist was issued a "Denial of entry" statement, reading as follows: "The holder hereof has been denied entry into Republic of Uzbekistan because the he/she has been banned from entering the Republic of Uzbekistan", undersigned by lieutenant Khudainazarov and the carrier's representative.
The journalist believes the ban has been stipulated exclusively by her work: "It's not a secret that my reports contain criticism of the Karimov's regime. I emphasize the environment of fear and suppression across the country. Yet however, I have never broken any law in Uzbekistan", she says.
Previously, Natalia Antelava visited Uzbekistan in 2008, preparing a report on radio about the "Ilhom theater" and the murder of its director Mark Weil.