Jamshid Mukhtarov undertakes a hunger strike in U.S. prison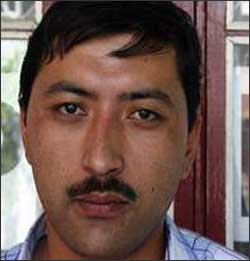 Jamshid Mukhtarov
Jamshid Mukhtarov, a refugee from
Uzbekistan
, arrested by FBI on the 21st of January, 2012, at the airport of Chicago, has started a hunger strike while in jail in the United States, says
Yangifikr.com
.
As one recalls, the FBI alleged he was planning to fight for the Islamic Jihad Union. The FBI said Mukhtarov communicated with a terror organization by email using code words, including "wedding", which allegedly stands for an "act of terrorism". In April, Mukhtarov emailed the contact that his associate had sent money for a "wedding gift" and expressed willingness to help with the wedding. In a May email, Mukhtarov said he planned to travel to Istanbul and would bring a "wedding gift". In a July phone call, he told a young daughter he would never see her again, but "if she was a good Muslim girl", he would see her in heaven. Finally, he was arrested by FBI charges of providing and attempting to provide material support to a designated foreign terrorist organization.
Jamshid Mukhtarov has told Yangifikr.com about treatment in jail. He says he does not get to read any books or newspapers like other inmates. During his first month in jail he had only bread and milk to eat since other food might contain pork forbidden for Muslims. Only after numerous protests filed by his defense attorneys, he is getting some pork-free food.
Mukharov believes that investigation is very biased: "FBI provides the court with only negative information and comments of people that I do not know. If there's any positive information or comments about myself, the FBI keep such information away from the court". No matter how hard he tries to convince the FBI that he is not a terrorist, they "seem to stick with the initial charges and have no intentions to change their opinion. Looks like all Muslims are now perceived as terrorists or bad guys, even in America", he complains.
He also says that he was not allowed any visits until May 8. Instead of a half an hour visit in person that he expected, he was only allowed to see his wife and children on a computer screen. "As if we talked on Skype. Then suddenly it was interrupted some 17 minutes after beginning and I was taken back into my cell", he says. That was one of the reasons why he decided to undertake a hunger strike, by sending relevant notices to the Human Rights Watch and the Amnesty International.
Fergana International Information Agency