Kyrgyzstan: Minister for social development arrested on bribery charges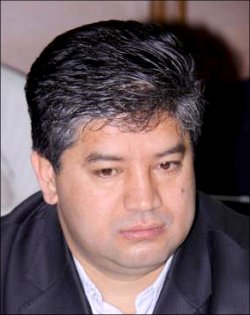 Ravshan Sabirov
Kyrgyz
minister for social development Ravshan Sabirov has on the 5th of June been arrested and placed in the pre-trial detention facility at the State national security committee upon charges of bribery, says the security committee's press service.
Based on the findings of the Anti-corruption agency, the office of the Prosecutor-General already instituted criminal proceedings against the high official under the article 313 of the Criminal Code (Bribe-taking).
Prior to the minister's arrest and detention, the anti-corruption agency caught the minister's assistant Tohir Mirzametov while accepting a bribe of $10.000. The latter was accused of demanding a bribe of $20.000 in exchange for giving an accreditation to an international adoption service agency, says 24.kg, a local online news agency.
The minister's assistant Mirzametov claims he was twice instructed by his principal to collect the money from a representative of the adoption agency and bring it to the minister Sabirov: $5.000 on June 30, and another $10.000 on the 4th of July. Security officers already carried out searches of the office and house of minister Sabirov, who was then delivered to the detention facility. Within 48 hours he is going to appear before the court of law that will decide on his further detention. Ultimately, the high official may facing a 10 to 15 years long term in prison if he is found guilty, says the minister of justice Almambet Shykmamatov.
Fergana International Information Agency