Uzbekistan: jailed writer Mamadali Makhmudov receives serious head injury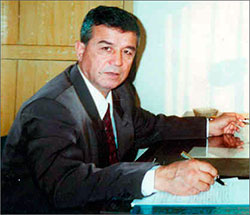 Mamadali Makhmudov
Uzbek writer and former chairman of the Culture Foundation of
Uzbekistan
Mamadali Makhmudov, who has been in jail since 1999, has received a serious head injury, French based Association for Human Rights in Central Asia (
Association Droit de l'Homme en Asie Centrale
) reports.
Mr Makhmudov's daughter told the Association that on 26 October 2012, the writer was taken to hospital in colony 64/18, where he was given several stitches on the back of his head. His daughter saw him on 14 November, when a security guard stood in his room, in front of whom the writer did not discuss his injury, instead only complaining about his general weakness and high blood pressure. "I saw that my father is undernourished, he could barely talk and move," his daughter said.
Association for Human Rights in Central Asia calls on the UN High Commissioner for Human Rights, UN Special Rapporteur on torture, the International Committee of the Red Cross, the PEN club and other international organisations to take note of Mamadali Makhmudov's fate. He should be given unobstructed access to a lawyer and representatives of the International Committee of the Red Cross.
Mamadali Makhmudov (nom de plume Evril Turon) was born in 1940. He is the former chairman of the Culture Foundation of Uzbekistan, leader of the Turkestan movement, which existed from 1989 to 1993 and was created on the initiative of a group of Uzbek intelligentsia. The writer was arrested on 26 February 1999 having been accused under articles 25-159, part 4 (challenging the constitutional order), 216 (organising prohibited public associations and religious organisations) and article 242 part 1 (organising criminal association". On 18 August 1999 the writer was sentenced to fourteen years in prison by the Tashkent district court. Mr Makhmudov is serving his sentence in a high security penal colony in Chirchik, Tashkent district.
After that, Mr Makhmudov became a laureate of the Hellman-Hammett prize, given to writers who are victims of persecution for political motives, and the Cholpan prize, founded in the memory of Stalin's purge victims, which he received for his novel "The Immortal cliffs", published in France in 2008.
Mr Makhmudov was first called before the law in 1994, when the Uzbek security authorities planted weapons at his home, aiming to accuse him of being part of a terrorist organisation. This accusation did not have any credibility in society, and the writer was freed. The second time, Mr Makhmudov was accused of embezzlement and sentenced to four years imprisonment. Thanks to an active international campaign to support him and due to the lack of the components of crime, he was pardoned and released – until his next arrest.
Mr Makhmudov is due to be released in February 2014. However, according to him, there are signs of new evidence being prepared against him, for violating article 221 of the Legal Code (disobedience to legal orders of the penitentiary administrators), which is punishable by five years in prison. The Association notes that this article has been used more often than previously, in particular in relation to political prisoners. Former Uzbekistan MP Murat Djurayev, former publisher of Erk party's newspaper Muhammad Bekjan and human rights activist Isroil Holdarov are all in a similar situation: their prison terms were ending in 2012, but they were placed in solitary confinement, and then sentenced for breaking article 221.
Mamadi Makhmudov has three children and several grandchildren. His family is under constant surveillance by Uzbekistan's security agencies. His son Bobur was arrested in Tashkent after the Andijan events of May 2005, but he was released due to the lack of evidence of his participation in these events. Mr Makhmudov's sons cannot find jobs due to their father's imprisonment.
Currently, 72 year old Mamadali Makhmudov needs urgent medical help. He is suffering from tuberculosis.
Fergana international information agency. Translated by Sophia Matveeva