Uzbekistan: Gulnara Karimova, daughter of Uzbek president, sings about wanting to be her father's "son"?
On 22 December in Tashkent an awards ceremony for M&TVA, the VII annual Uzbekistan national award for music, TV and video art. The prize is given "with the aim of propagandising the best examples of performance art, encouraging representatives of national culture and art, and, most importantly, to stimulating their artistic growth," said the event's press releases.
The honourable jury consisted of Uzbekistan's version of "Alla Pugachova" Yulduz Usmanova, famous theatre director Nabi Abdurahmanov, Elena Petrusevich editor of radio station Echo Dolini, famous TV presenter Shahnoz Ganiev, director and TV presenter Sabina Sagadeeva and others.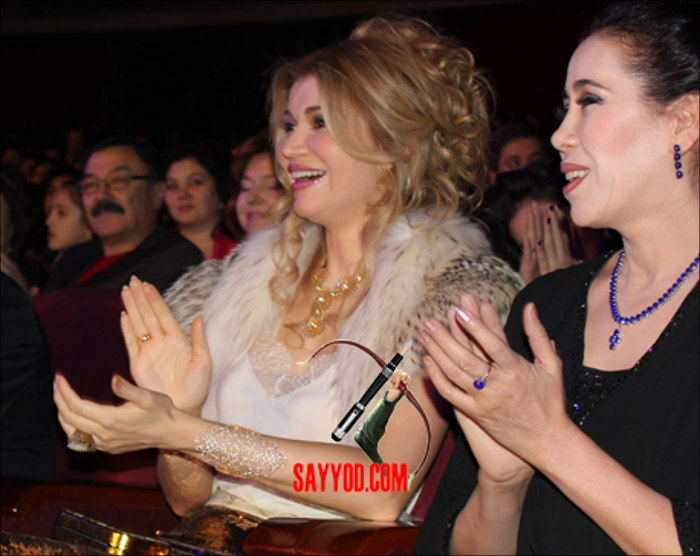 Gulnara Karimova and singer Munozhat Yulchieva. In the background – famous Uzbek actor Rustam Sagdullaev
In fact, the name of one of the winners was known in advance. The prize for the Best Music Video of the Year nomination was meant to be awarded to Round Run by singer Googoosha (you can only listed to the song here, the actual music video was recently removed from YouTube for some reason). But to everybody's surprise, Googoosha, the name with which Gulnara, the daughter of the Uzbek president disguises herself, removed her candidacy in favour of a music video of the up and coming director Nozim Zhumayev.
There was yet another surprising occurrence at the awards ceremony. Gulnara Karimova suddenly appeared on stage. She sang a song in Uzbek, which had the words "Yana bir bor sochim maida uring otam…/Istasangiz men ugilni urnin bosai…" This is translated as "Daddy, plait my little plaits once again. If you want, I will take the place of your son."
It is known that the daughter of the Uzbek president Islam Karimov has no sons, but only two daughters - Gulnara and Lola. It is the oldest daughter of the head of the republic who is seen as one of the possible heirs for the president's post. Actually, most recently she has been more occupied with art, rather than politics, filming music videos, and planning to film a movie with famous French actor Gerard Depardieu.
"The song was performed in the national style, which is very surprising for Gulnara, because the majority of her compositions are in English and in a European manner," said one of the ceremony guests to Fergana. "This is why the song sounded almost like a message to the people. Gulnara almost sang: I can become your future president."
The famous Uzbek national singer Munozhat Yulchieva was also surprised when Gulnara sang this song. Admittedly, "everyone has the right to sing songs to their father," she told the Uzbek service of the BBC.
Fergana international information agency. Translated by Sophia Matveeva