CSTO to establish air forces, to hold military exercises in 2013
The Collective Security Treaty Organization (CSTO) is planning to establish collective airborne forces and to hold several military exercises in 2013. According to the information department of the Kyrgyz defense ministry, participants of a mobile session unit under the CSTO permanent council visited the military unit No. 73809 Koy-Tash on 16 Apr. 2013. They have examined the equipment and personnel at the battalion, which is part of the Collective Rapid Reaction Forces (CRRF) of the CSTO.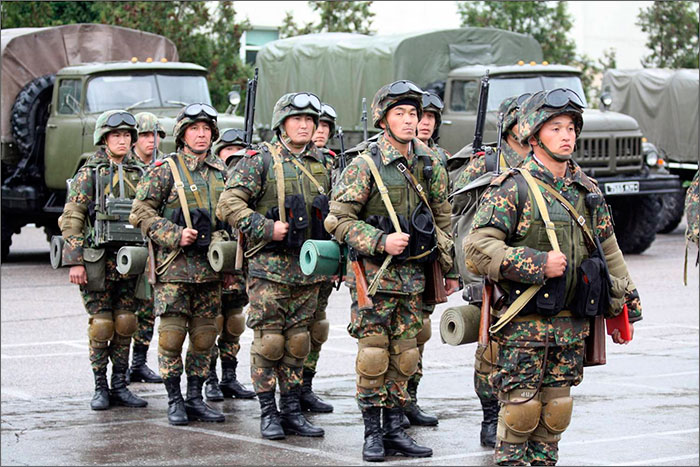 Kyrgyz servicemen. Photo by T. Toktaliyev

During the visit to Kyrgyzstan, the deputy secretary general of the CSTO, Valeriy Semerikov, met with Col-Lt. Busurmankul Tabaldiyev, the secretary of the Defense Council of Kyrgyzstan, and Kyrgyz Defense Minister Col-Maj. Taalaybek Omuraliyev.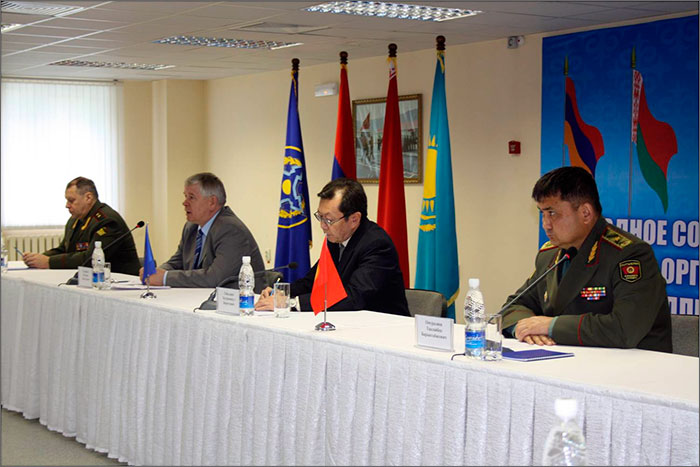 A CSTO session participants in Bishkek. Photo by T. Toktaliyev

"This will be a new kind of collective air forces," Mr. Semerikov said about the planned airborne units. "The planes will assist the coalition forces, military events, and provide transporting and reconnaissance. We are working on drafting necessary legally documents and coordinating with the CSTO member-states," 24.kg quotes him as saying.
Mr. Semerikov has also told the session that that the CSTO would hold a number of military training exercises in 2013. The Vzaimodeystviye-2013 [Cooperation-2013] exercises will be held in Belarus, while Kyrgyzstan will host Grom-2013 [Thunder-2013] aimed at combating illicit drugs.
"We will hold Cobalt-2013 exercises in Rostov Region, Russia, to evaluate the strength and capabilities of our peacekeeping forces. The Mirovoye Bratstvo-2013 [Global Brotherhood-2013] large-scale military training exercises will be the final joint exercise in Russia. Various international organizations, including the OSCE and the UN, will participate in it," the deputy secretary general said.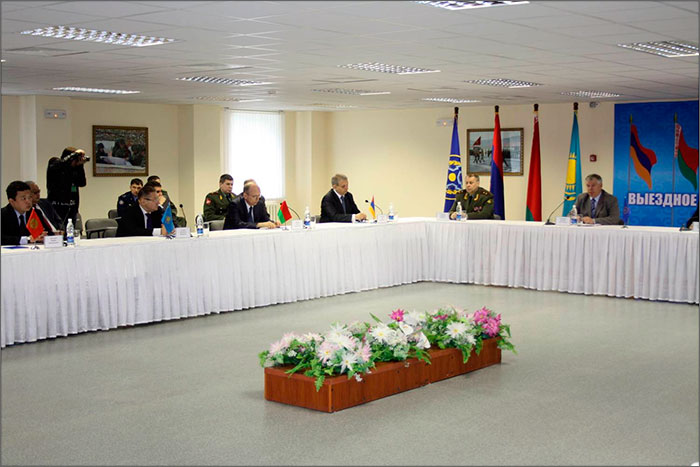 A CSTO session participants in Bishkek. Photo by T. Toktaliyev

According to the secretary of the Defense Council of Kyrgyzstan, the Russian airbase near Bishkek and the military subunits of the CRRF have strong potential to provide protection from external threats.
"The CSTO has greatly contributed to enhance the military component because we cannot ignore external threat. We must continue improving our capabilities," he said. "We can feel the help the CSTO provides us with in developing the military and political components of our region's security."
In the mean time, CSTO Secretary General Nikolay Bordyuzha and Kyrgyz President Almazbek Atambayev discussed details of an informal summit of the organization to be held Bishkek in May 2013. According to Mr. Bordyuzha, the summit will discuss the current state of collective forces and actions to be taken for perfecting them.
Fergana international information agency.