Uzbekistan launches tablets production
The OliveTelecom Uzbek-Indian joint venture started manufacturing tablet computers in Uzbekistan, RIA Novosti reports on 26 Jun 2013.
First batch of 1,000 tablets has already been produced and will be on sale in July. According to a company representative, the OlivePadV-T300 sports a 7-inch screen and uses Android 4.0 (Ice-cream Sandwich).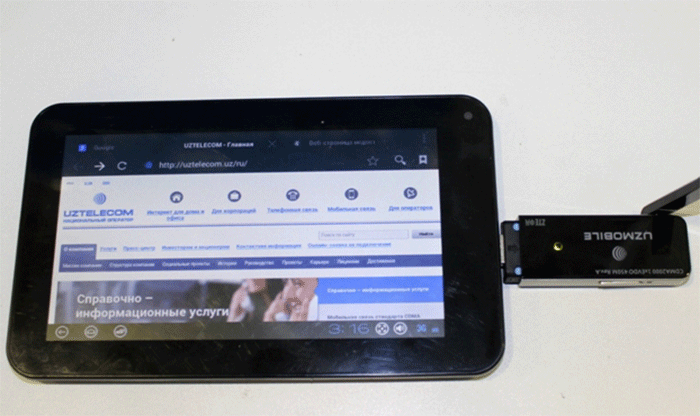 An OlivePadV-T300 tablet

According to Podrobno.Uz: the screen resolution is 480 x 800 pixels on a 7-inch TFT screen; the table has Wi-Fi, b/g/n connectivity, a USB 2.0 port, an earphone jack; 0.3 MP camera, 32 Gb of memory with microSD card compatibility; the RAM is 4 Gb, and the battery is 3600mAh. The UzbekTelecom's branch, UzMobile, will carry the tablet with the price tag of $179. The production capacity could reach 13,500 units a year by 2015.
The Olive Telecommunication and Uzbektelecom signed documents on establishing the OliveTelecom joint venture in the Navoi free industrial and economy zone in February 2012. The joint venture started producing CDMA-modems and CMDA-mobile phones this January at 10,000 and 38,000 units respectively. The initial investment capital is estimated at 6 million USD.
[Passage omitted: background information on UzbekTelecom and subscribers]
Fergana international information agency.Translated by Sophia Matveeva