Kyrgyz President promises "strong country" by 2016 but experts skeptical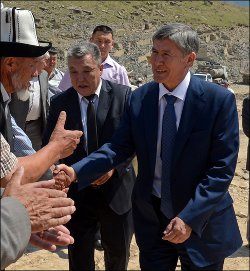 Almazbek Atambayev
During his trip to Bazar-Korgon District in the country's south on 2 Jul 2013,
Kyrgyz
President Almazbek Atambayev participated in the opening ceremony of the Datka electricity substation with the 500 kW capacity and a compensator with the capacity of 501 megavolts-ampere, which were built as part of the project of modernizing the electricity grids in the country's south, Tazabek reports. In his speech, President Atambayev promised Kyrgyzstan would become a strong country within two years.
But President Atambayev has first thanked the Chinese leadership and the TBEA Company management, which built the Datka substation. According to him, Osh, Batken and Jalalabad Regions will now enjoy autonomous electricity supply. "And in two years, Kyrgyzstan will have its own energy circle, which will ensure reliable electricity is supplied to consumers both in north and south of the country independently from the neighboring countries' energy systems. While reviewing the central part of the substation earlier today, we could see that everything is prepared beforehand to connect [Datka] to the Kemin substation [in Kyrgyz north]," the president has said.
"By 2016, we will start using the Kemin substation in the country's north and the 4058-km long high-voltage 500 kW line, which will reach Kemin from Datka. We are channeling 390 million USD for that purpose," President Atambayev added.
He expressed certainty that "Kyrgyzstan will rise up in the nearest future." "The feasibility study of an alternative North-South motorway was recently completed. I thought all that was fairytales. Many people say hydropower plants (HPPs) construction is not launching. Everything is being constructed; factories, plants and roads will be constructed," the president assured.
According to the president, there is need in water canals because people need water: "Each year, 10,000 hectares require water; then agriculture would develop."
"We started constructing the Verkhnenaryn cascade of hydropower plants with Russia and now it is the turn of Kambar-Ata HPP-1. The construction of these two HPPs will provide jobs for the regions' residents and will boost the country's exporting capacity. In future, we are planning to construct the Datka-Kemin-Almaty high-voltage electricity line in cooperation with Kazakhstan. We have also come to an agreement with China on building the Kyrgyzstan-China power line. I have a belief that we will deepen our joint work on energy with our great neighbor. Chinese President Xi Jinping's visit is expected this autumn; it is expected that issues over the construction of several HPPs on Sary-Jaz River will be resolved [during the trip]," the president informed the audience.
Touching upon the upcoming growth, President Atambayev also spoke about security issues. Particularly, in his words, the rearmament of the army will start in two years. "We will have a strong army and borders. Kyrgyzstan will be a strong country. The country's law enforcement bodies will be reformed and the borders will become reliable over the course of two years," KirTAG quotes him as saying.
According to the 24.kg agency's data, the Datka substation will become a significant energy knot, which will be connected to the Kemin substation and the Almaty and Khojand substations in Kazakhstan and Tajikistan, respectively. Doing so will allow increasing electricity exports. The Chinese government allotted 208 million USD for the Datka construction from as a concessional credit to the SCO member-countries.
* * *
Fergana Agency requested Kyrgyz experts to comment on President Atambayev's statements. The political scientist Mars Sariyev says, "The Datka substation will allow the country to shrug off its dependency on the electricity distribution station located in Uzbekistan; hence, providing electricity to the north would be autonomous."
Mr. Sariyev is certain that President Atambayev is relying on Russia and her military might when he makes such statements.
"All of his statements are based on the notion that Kyrgyzstan is moving closer to Russia. That is the only case, which would allow fully implementing what the president is saying. If the events were not unfolding in that direction, there is no ground to speak about Kyrgyzstan resolving its army problems or it would become a strong state," Mr. Sariyev concludes.
A security expert Miroslav Niyazov claims President Atambayev's statements are "hollow": "They are empty claims, which the president is often seen making. There are no supports for them in reality. This causes disappointment. One could believe him once or twice. But continuing [to make such statements] is not serious and damages his personal authority. We met no prerequisites to have either a strong army or well-protected borders. Intergovernmental commissions were unable to resolve this issue in 20 years, and they will not be able to do so in future.Therefore, heads of state must have political will in this matter, because problems [stemming from the issue] can cause not only local conflicts. Changing the situation with such a budget, which was appropriated by the officials, is impossible. Not understanding this and speechifying are things that presidents should not do."
To Mr.Niyazov's mind, total energy independence is "absurd." "We are rich in hydro-energy resources, and yet we are unable to cover the energy deficit in winters. In the summer, on the other hand, we produce more electricity than we consume. Therefore, fuel-based energy security must be ensured as well. This country needs a thermal electricity station [TEC]: Bishkek needs a second TEC because the city will freeze, should anything happen to the existing one. The electricity grid construction will indeed free us from our dependence on Uzbekistan and we will not pay for transiting [our own electricity from the south to the north via Uzbekistan's grids]. But even then one cannot speak of full independence in electricity supplying.Even if we build the Kambar-Ata [HPP cascade], filling its water reservoir will take several years and we will still face the [electricity] deficit in winters," Mr. Niyazov concludes.
Yekaterina Ivashchenko
Fergana international information agency.