Uzbekistan: College students in "barracks" to pick cotton, traffic violators engaged in cotton harvest
The cotton-picking campaign in Uzbekistan is always held under the authorities' total control in a militarized regime. Millions of citizens are taken to the fields to harvest cotton: students, state employees, and even private entrepreneurs.
On 20 Sep 2013, two human rights advocates, Yelena Urlayeva and Ivan Chochovskiy, monitored cotton picking in several districts in Tashkent Region. Ms. Urlayeva told Fergana, that no schoolchildren were observed in the monitored areas and they are at school. However, 16 to 18-year-old college students were forced to collect cotton. They are in "barracks mode" where they live nearby the assigned field for the harvest season since 17 Sep 2013.
"Colleges [near cotton fields] are empty. They now serve as places for children to spend the night at on the floor. Children are picking cotton from early morning till late evening to collect some 50-60 kg of assigned daily harvest. The cotton pickers are fed twice a day. The fields children are working on are guarded by militarized guards, local administration employees. A helicopter makes circles over the fields at all times," Ms. Urlayeva says.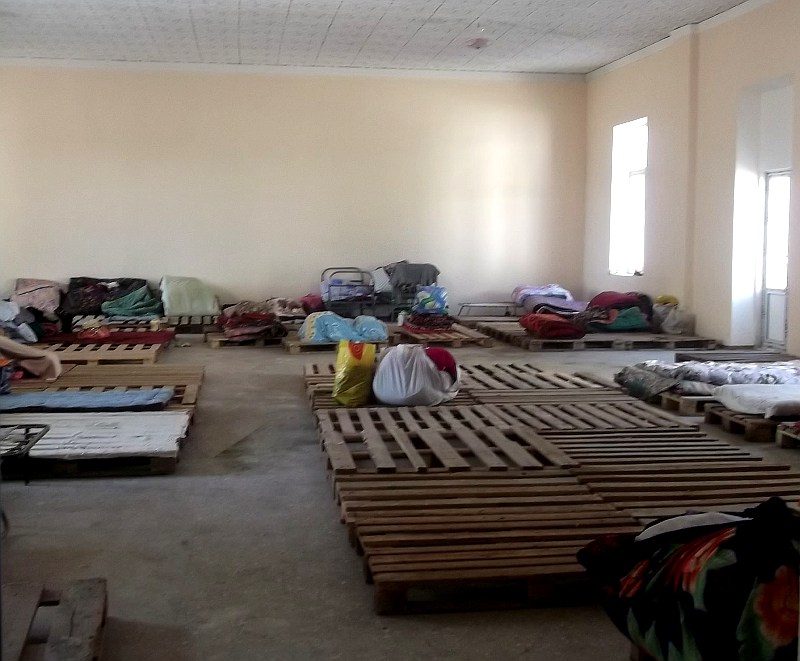 Military academy students near Tashkent are living in barracks. Photo by Yelena Urlayeva
"In case children fail to fill the norm, they are punished: no payment whatsoever even for the collected raw cotton," Ms. Urlayeva continues, who also says many children are facing malnutrition. As a result, 15 young men fled the "barracks" and they are now looked for.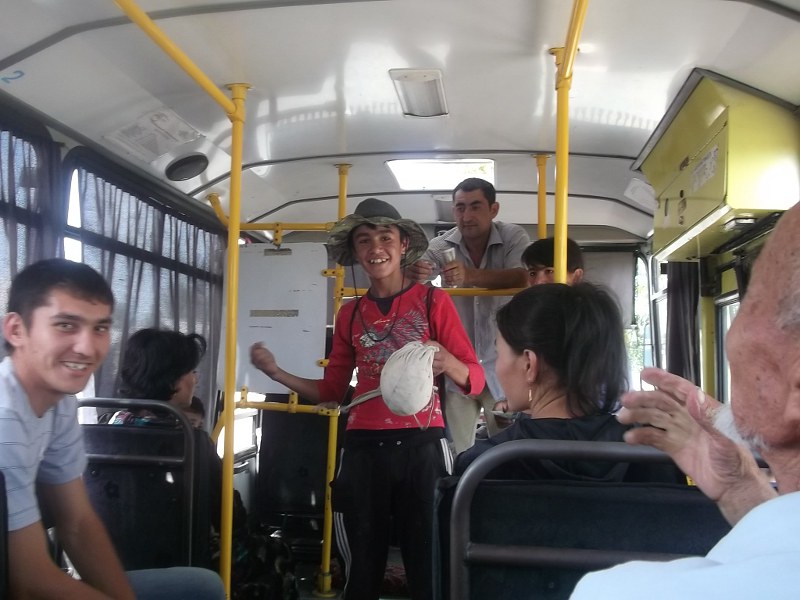 A boy demonstrates cotton-picking bag. Photo by Yelena Urlayeva
Fergana's own sources say that the government's decision not to engage schoolchildren in cotton-picking is forcing local authorities to find alternative cheap-or-free labor force. Another way to compensate for the forfeited labor—traffic rules violators.
According to a traffic inspector from Tashkent, who wished to remain unnamed, "we have an oral command from up there to send violators of traffic rules to cotton ('for a week or so') who are not fully engaged in other activities." The violator temporarily looses the driver's license, his personal data are verified and permitted to go under the condition of coming to so-and-so address to further travel to a cotton field.
Fergana continues its annual extended coverage of the cotton-harvesting season in Uzbekistan.
Fergana international information agency. Translated by Sophia Matveeva