Gulnara Karimova announces Forum Fund closure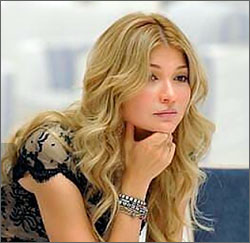 Gulnara Karimova
The
Uzbek
president's elder daughter, Gulnara Karimova, announced on her Twitter account late this week that she is closing the Fund for Culture and Arts of Uzbekistan, which she oversees. After this Twitter post, her account was briefly unavailable.
Ms. Karimova promised that she would conclude all the major projects the Fund was administering: Yangi Avlod [The New Generation] Festival, the Kelajak Ovozi [The Voices of Future] and Yil Ayoli [The Woman of the Year] contests, and the Bazaar-Art exhibition/fair. She has also guaranteed all of the laid-off Fund Forum employees would get jobs elsewhere.
Earlier, Ms. Karimova startled everybody by her tweet—"I am at a police statin." She has later clarified that she was not detained but came there looking for 10 activists of the Kelajak Ovozi center for youth initiatives. They were allegedly arrested the prior night.
Some time later Ms. Karimova posted a large text, in which she spoke about her relations with her mother and sister. In particular, she said her mother, Tatyana Karimova, controls the Abu-Sakhiy Market, which, according to Ms. Karimova, is "the functioning customs window to bypass the country's economy." Gulnara Karimova alleges that this company's plane shuttles to and from Uzbekistan and China, Turkey, and the UAE. To top it tall, the first lady's newphew—Akbar—was arrested last month after what Ms. Karimova says a year-and-half long affair against him and other people working for several factories in the Fergana Valley. "He and his big team, some of them are abroad already, used to work for her and my sister; they built many houses, dachas, apartments; they procured almost everything they wanted—from top-star parties for my sister to clothes and jewelry for my mother."
According to Gulnara Karimova, when Akbar fell out with Timur Tillayev, Lola's husband, ("maybe because of his next passion in Moscow, or maybe because of Akbar's overt religious zeal"), Tatyana Karimova arranged for inspections on businesses he used to control.
"His people were already imprisoned since early summer of 2012, and he was tried to get them out; he was ready to do anything. That is exactly why he returned to the country in August 2012. He gave away and enlisted everything he had in Uzbekistan and abroad at the very first demand to do so. My appeals had no impact on my mother; she was adamant and inspections of the Fergana Oil Refinery, fats and oils factory and other factories have been stepped up. People suffered more and further, despite promises! Ever since, Akbar is a ticking time bomb, which knows everything!" Gulnara Karimova continues.
She adds that when she tried to defend Akbar and tell everything to her father, "my mother 'cleaned it up' in quickest time and [had him] arrested in October 2013 for an unknown period [of time], having promised to destroy me too for that!"
To conclude her rather rambling speech, Ms. Karimova suggests, "Because of skirmishes among close people, so many people—someone's children and parents—are suffering."
To remind, Gulnara Karimova's business assets are in the crosshairs of Uzbek power wielders lately: the Fund Forum is under investigation, several TV and radio companies she or those around her controlled are pull off air, the popular Nirvana music stores and fashion boutiques are closed in Tashkent.
Fergana International Information Agency