Uzbekistan: Namangan Resident Faces 8 Years in Jail for Skype Call with Political Exiles
Kudratbek Rasulov, a 43-year old Namangan resident, faces up to eight years behind bars for holding a conversation over Skype with two exiled government opponents – journalist Tulkin Karayev and Erk opposition party leader Mukhammad Solikh, according to the Human Rights Alliance of Uzbekistan.
The alliance, known by its Russian initials PAU, security service agents installed hidden video cameras and equipment capable of intercepting telephone and Skype calls on telegraph poles outside Rasulov's house to capture what they deem compromising material.
Khusan Salyamov, who is acting as defense for Rasulov, said he has documents to confirm the claims.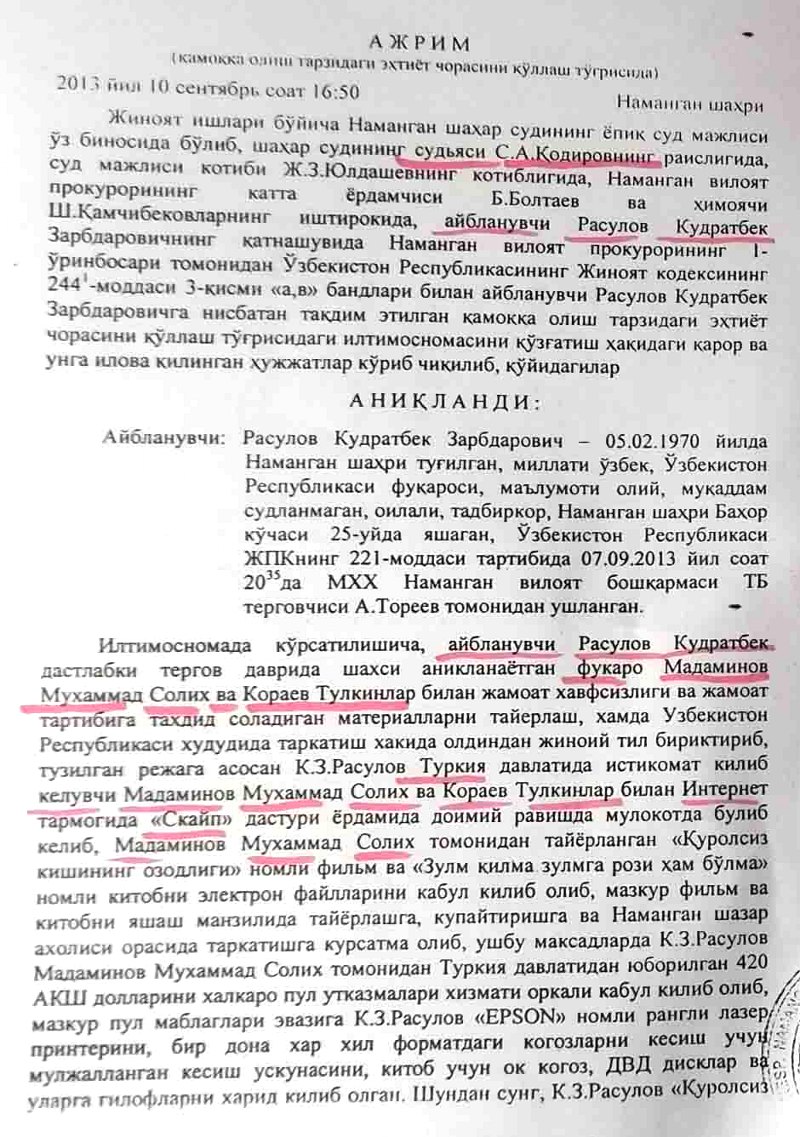 From the indictment issued by Namangan city court on September 10, 2013: "Kudratbek Rasulov together with Madaminov Mukhammad Solikh and Karayev Tulik, whose identity was established during investigations, was according to previously agreed plans engaged in creating material threatening social order and distributing them throughout Uzbekistan. Rasulov maintained regular contact with Turkey residents Madaminov Mukhammad Solikh and Tulkin Karayev, and using Skype received a copy of the film "Freedom of an Unarmed Man" and electronic copies of the book "Do Not Oppress, Not Consent to Oppression" and was given the tasked of reproducing those materials and distributing them among the population of Namangan. To that end, Rasulov was wired $420 by Solikh, and bought a colour Epson printer, equipemtn for cutting paper, paper for books, DVD discs. At his place of residence (Rasulov) copied a Gigabyte of content onto DVD discs and printed out three copies of the book."
A Fergananews source previously stated that Rasulov was arrested on September 7 at his home on charges of robbery, although the real motive was quite different – he was detained for downloading a video from an opposition website and later showing it to his neighbour. Moreover, Rasulov wrote several times for opposition media about impunity in the justice system of Namangan. But since freedom of speech is not a crime in Uzbekistan, Rasulov was charged over the concocted accusation of theft.
According to the Human Rights Alliance of Uzbekistan, Rasulov will all the same be charged not with theft, but producing and distributing materials undermining social order (article 244.1, Uzbekistan legal code), as well as receiving financial support to that end from Uzbekistan.
Hearings against Rasulov are expected in the nearest future, and will likely be held behind closed doors. Members of the Human Rights Alliance of Uzbekistan are expected to act on Rasulov's behalf.
Fergana international information agency.