Afghan Gen Dostum in unofficial visit to Uzbekistan, Kazakhstan
Abdul Rashid Dostum, a well known politician, the leader of ethnic Uzbeks of Afghanistan and the chairman of the Jumbush-e Milli-e Islami-e Afghanistan Party, paid an unofficial visit to Tashkent, Astana and Almaty.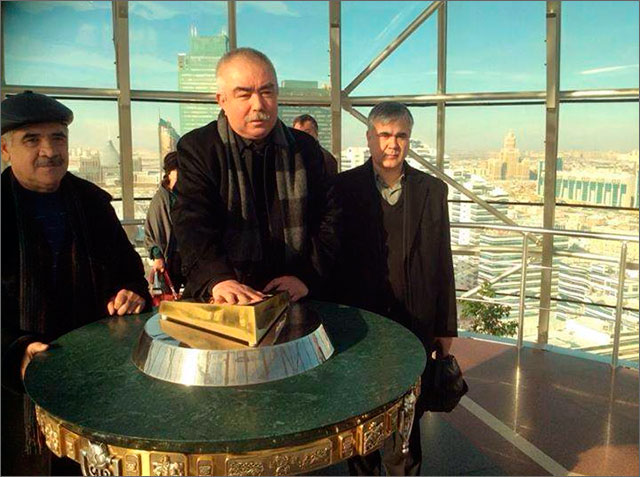 Mr. Dostum at the Bayterek monumental complex

The most probable goal behind the visit is securing support for Ashraf Gani Akhmadzay, who is running for president of Afghanistan at the upcoming elections on 4 Apr 2014. Perhaps Mr. Dostum intends to secure a potential military and technical assistance from the former Soviet countries.
The Novaya Gazeta learned that Gen Abdul Rashid Dostum was also planning to visit Bishkek, Kyrgyzstan, and Ashgabat, Turkmenistan, but his plans changed for unknown reasons and he left Central Asia for India in a hurry.
According to Aleksey Malashenko, an expert at the Carnegie Center in Moscow, "Dostum visited those countries, which could provide some sort of help and to remind about himself. Nobody knows how events will unfold following the withdrawal of the US troops in Afghanistan [by late 2014]. Apparently, Dostum wants to remain in politics and to play an important role using the Central Asia factor. He does not want to be written-off; his activism stems from this."
[Passage omitted: Gen Dostum gained fame for siding with the former USSR in fighting Afghan mojahedin and later Taliban. He unsuccessfully ran for president in 2004.]
Fergana international information agency.