Uzbek FM, US envoy discuss future bilateral ties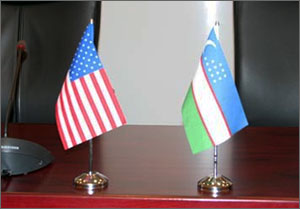 The minister of foreign affairs of Uzbekistan, Abdulaziz Kamilov, received US Ambassador to Uzbekistan George Krol on November 18. The two sides exchanged opinions on certain aspects of the Uzbek-US relations, including timetables and agendas for upcoming bilateral events, the Uzbek foreign ministry's press service frugally reports. The press service shed no light on "bilateral events" in question, nor details of the meeting itself were made available.
Meanwhile, the Vesti.Kg carried news, provided by "a certain center for analysis," that the USA and NATO are willing to leave unnecessary military equipment and weapons for Uzbekistan, while withdrawing from Afghanistan. According to the website's source, the coalition has about 15,000 APCs, 10,000 off-road vehicles, a big number of artillery and other armaments in the Islamic Republic of Afghanistan at this time. The official Tashkent will also enjoy services of instructors, who would teach them how to use NATO weaponry. In exchange, the analysts of said center claim, the Uzbek government agrees to allow non-government organizations' activities in Uzbekistan.
However, in February 2013, U.S. Assistant Secretary of State for South and Central Asia Robert Blake stated that the former Soviet republics in Central Asia would receive some parts of military equipment used in Afghanistan, save weapons. Assistant Secretary Blake explained "many Central Asian countries do not want" their territory to be used for withdrawing armaments from Afghanistan; therefore, the bulk part of these equipment would be either airlifted or withdrawn via Pakistan.
According to Assistant Secretary Blake, Uzbekistan asked the USA "to help improve self-defense" and expand bilateral trade and economic ties. "We have made it clear to the Uzbek side that it is important to achieve progress in the field of human rights, that this would allow us to do more in regards with [delivering] weaponry," Assistant Secretary Blake said.
Background: An intergovernmental agreement on airlifting US cargo and personnel via the Uzbek territory as part of ensuring security and restoration of Afghanistan was signed in Tashkent on 28 Mar 2012. According to the agreement, the transit of cargo and personnel will go through designated air corridors, to be established by the Uzbek side, with no stopovers inside Uzbekistan except for emergency landings or force majeure.
Fergana international information agency.