Turkey: "Uzbek imam" murder video emerges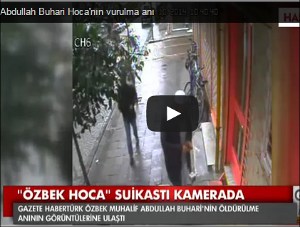 On 22 Dec 2014, the Turkish
Haberler.com
website featured a recording of a closed-circuit camera in Istanbul, which shows the assassination of Abdullah Bukhari, an ethnic Uzbek preacher. Sobir Shukur, a 30-year-old Russian citizen, Zelimkhan Makhtiyev, a 27-year-old Ukrainian citizen, and the Turkish citizen Eldar Aslan are main suspects in assassination.
The video shows how the shooter approaches Mr. Bukhari from behind while the latter is waiting at the door of an education facility he taught at, and shoots him from a very close range.
Abdullah Bukhari, a native of eastern Uzbekistan, was known in Turkey as "the Uzbek imam." The late preacher was a teacher of the Koran at an education foundation in Istanbul's Zeytinburnu District.
According to the Haberler.com, anti-terrorism units of Istanbul police apprehended the purported assassin, Zelimkhan Makhtiyev, within the following day. At the time of arrest, the suspect had a Ukrainian passport and a gun, whose Syrian origin was established by police.
The most experienced units of the Turkish secret services are involved in the investigation. The National Intelligence Organization provided assistance in establishing the identities and whereabouts of other suspects. As a result of a coordinated investigation, the police were able to arrest Shukurov and Aslan in Ankara and Antalya, respectively. Police state the latter two "ordered" the assassination.
Translation by Fergana international information agency.