Incumbent President Islam Karimov's reelection scheduled for March 2015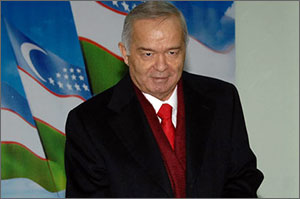 The Uzbek authorities officially launched a presidential election campaign with the elections scheduled for 29 Mar 2015, Central Elections Commission Chairman Mirza-Ulugbek Abdusalomov announced. The last presidential elections took place in Uzbekistan on 23 Dec 2007.
According to the "Presidential Elections in the Republic of Uzbekistan" law, any Uzbek citizen who is not younger than 35 years of age, fluently speaks the state language and has been living in the country permanently for at least 10 years immediately prior to the elections can be elected for the highest post in the country. Political parties are given the right to nominate candidates 65 days before the actual elections day. A president is now elected for a five-year term per President Karimov's December 2011 initiative to decrease the president's term in office back to five years instead of the then effective seven-year term.
Most probably, the upcoming March elections will take place following a script used a few times: several "opponents" to President Karimov will be handpicked; they will praise the incumbent head of state's achievements and throw support behind his activities and initiatives; state that they would continue President Karimov's policies, should they be elected president. President Karimov, meanwhile, will most probably enjoy around 90% of voters' support. After all, during the last presidential elections in December 2007, 88.1% of voters wanted him to stay in office for another seven years.
Background: Article 90 of the Uzbek constitution reads in part, "A person may not be elected to the office of President of the Republic of Uzbekistan for more than two consecutive terms." Islam Karimov will be 77 years old next month; he has been at the helms of the Uzbek state since 1989. The presidential hopeful Karimov was first elected to said office at a session of the Supreme Council of the Uzbek Soviet Socialist Republic on 24 Mar 1990. Later, Islam Karimov was popularly elected president of sovereign Uzbekistan for five years on 29 Dec 1991. This term was later extended by three years at a referendum, i.e. until late 1999. The second term President Karimov served was another eight, not even seven, years—between January 2000 and December 2007.
Fergana international information agency.