Kazakh ecologists: Syr Darya waters poisonous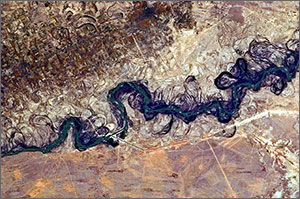 The Syr Darya River seen from a satellite
Kazakh ecologists registered a high concentration of poisonous substances in the longest river in Central Asia—Syr Darya—and claim they "do not recommend using its waters for either agriculture needs or fishery,"
Today.kz
reports.
Scholars at the South Kazakh State University (SKSU) named after Mukhtar Auezov researched the waters of the river for three years after securing a 600,000-euro grant from the NATO in 2011. The research is administered in four countries, which Syr Darya traverses: Kazakhstan, Kyrgyzstan, Uzbekistan and Tajikistan. The research will be completed in 2015, and its findings will be provided to the four countries' relevant state agencies.
The Kazakh ecologists established via this research that Syr Darya waters have a high concentration of heavy metals as mercury, lead, zinc, copper, chrome, nickel and molybdenum. According to SKSU Professor Uylesbek Besterkov, waters sampled from areas near Uzbekistan contained the highest concentration of poisonous substances. The scholar says cleaning these waters would be extremely difficult; it is necessary to establishes what country's factories were polluting it in the first place. According to the scholar's estimates, the waters in question could become acceptable at least years after appropriate cleaning.
The deputy director-general of an independent Kazakh agency for applied ecology, Malik Burlibayev, also stated earlier that Syr Darya waters were significantly polluted. Mr Burlibayev told a 2009 round table discussion on trans-border water issues that "Syr Darya is so polluted that its waters must be prohibited not only for drinking but also for irrigation." According to Mr Burlibayev, rice grown in Kyzyl-Orda Region, Kazakhstan, using waters from Syr Darya may not be consumed as it can cause oncological diseases.
"The highest number of oncological illnesses of digestive organs and congenital anomalies in children is observed in Kyzyl-Orda Regin. In 90% of cases, there are pesticides in mothers' milk," Mr Burlibayev claims. The reason for all these problems is the following: "We receive Syr Darya waters [from Uzbekistan] after they were used and heavily polluted with chemicals, which poisons crops and lands [undergo] second pollution. Therefore, the issues of water pollution must be resolved at the international level."
[Passage omitted: A Wikipedia entry on the river.]
Fergana international information agency.