More ISIL propaganda near Uzbek capital?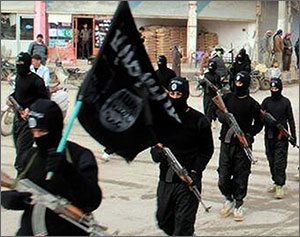 Early April 26, leaflets bearing the ISIS symbol—a black banner—were found pinned on the walls of a school and a college in the village of Khisaroy in the mountainous parts of Parkent District of Tashkent Region. The leaflets contained threats to the incumbent authorities and their supporters among the population, the independent Tashkent-based
Uzmetronom
website reported April 29.
As soon as the leaflets were reported to the law-enforcement bodies, armoured vehicles and units were dispatched to the village. The law-enforcers took control over the entire village and launched meticulous inspection and check-ups of all vehicles entering and exiting the village. The power-wielders also checked local residents' cellular phones, tables and notebook computers to identify whether those contained ISIL propaganda. An unofficial curfew was imposed on the village—the local residents are strongly recommended not to leave their houses after 2100 hours.
According to information Uzmetronom carries, power-wielders have reportedly detained several young men whose phones contained ISIL promotional videos. All of the detainees have recently returned from Sankt-Petersburg, Russia, and are believed to be the initiators of distribution of such promotional material among the Uzbek youth. Their accomplices and others affiliated with terror underground are searched for in the Fergana Valley and other parts of Uzbekistan.
Meanwhile, experts interviewed by Uzmetronom completely reject [the theory] that ISIL members or supporters are behind the leaflet distribution. The experts say an unregistered underground cell of a destructive nature could be behind this to sow panic and anxiety in the population's life. Several experts Fergana interviewed also doubt the ISIL was directly involved in the incident. Our experts also suggest the Uzbek secret services could be the actual distributors of the leaflets in question. After all, given almost unlimited powers police and army enjoy, no underground terrorist organisation can exist in Uzbekistan.
Background: An ISIL flag was found hanging on a bridge in Tashkent on 28 Aug 2014. As soon as the incident was reported, police arrived at the scene and took the flag down. Theories of secret service's "authorship" were entertained back then as well.
Fergana international information agency.